2021 Dirt Late Model Dream at Eldora Speedway
After Runner-Up, Chris Madden Still Chasing Eldora Glory
After Runner-Up, Chris Madden Still Chasing Eldora Glory
After charging forward in Saturday's Dream feature, it appeared Chris Madden might finally be headed for his long-awaited breakthrough victory at Eldora.
Jun 14, 2021
by Joshua Joiner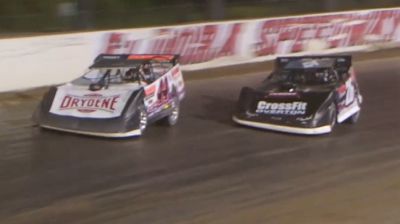 ROSSBURG, Ohio (June 12) — With his successful early trips to Eldora Speedway in the mid-2000s, a young Chris Madden earned a reputation as a likely contender any time he ventured north to Ohio for one of the historic half-mile track's crown jewel races. The Gray Court, S.C., driver who cut his teeth on the red clay ovals of the southeast was quickly earmarked as a likely future big race winner at Eldora's hallowed high banks.
Some 15 years later, after multiple near-misses in both Eldora's Dirt Late Model Dream and the World 100, Madden's status as a budding star surely destined to someday add a his name to the list of Eldora big race winners has slowly but surely transitioned to that of a seasoned veteran who ranks as one of, if not the best, drivers never to have won one of Eldora's major events.
After charging forward from his 10th starting spot in Saturday's 100-lap Dream XXVI feature at Eldora and taking the lead from Brandon Overton on a lap-75 restart, it appeared Madden might finally be headed for his long-awaited breakthrough victory at Eldora. Even Madden himself initially thought that this might finally be the moment his famous No. 44 machine landed in Eldora's victory lane after a crown jewel race.
"When I got to the lead, I really did. I really thought that was it. I thought we had it," said the now 46-year-old Madden. "But then that rubber came and I wasn't set up for that. I just didn't expect that and knew I was probably in trouble."
Indeed, the narrow strip of rubber around the low groove of Eldora's wide racing surface did prove to be trouble for Madden, and was ultimately a death knell for his chances of finally grabbing his first Eldora major win on Saturday. While the line of rubber allowed Overton's car to speed up in the closing laps, Madden's car became too tight, continually pushing him up the track before eventually allowing Overton to retake the lead for good on lap 86 on his way to completing a historic and highly profitable $273,000 sweep of Eldora's double Dreams week.
As he came to terms with yet another missed opportunity at Eldora, Madden stood beside his car roughly 100 feet away from Eldora's stage and watched as Overton, a 30-year-old driver from the southeast who, like a younger version of Madden seemed destined for Eldora success from early on in his career, celebrated his second Dream victory in less than 48 hours.
"Winning one of these crown jewels up here has been my goal ever since I started racing, and every one of them I don't win here is a missed opportunity," Madden said. "You've got to capitalize on any chance you get, especially at this place. The competition's so tough today. Brandon proved it this week. It's pretty amazing and hard to believe how good he is.
"I was real good, but then that little strip of rubber come right around the bottom and I just couldn't stay in it. I couldn't maneuver and couldn't turn no more. He was just the better car at that point. That's the difference tonight."
Saturday's disappointment adds to a long list of Eldora heartbreaks for Madden. Since finishing sixth in his first Eldora crown jewel start at the 2004 Dream, Madden has often been in contention at Eldora only to come up short or get taken out early.
That trend started with the 2006 World 100 when, after winning his heat race, Madden took the lead from Shannon Babb on lap 25 only to slow with a flat left-rear tire one lap later. In a race that would end up being remembered as one of the greatest moments in Dirt Late Model racing history thanks to Earl Pearson Jr.'s dramatic win over Babb, Jeep Van Wormer and Josh Richards, Madden became a footnote in settling for 16th.
Madden again led laps at the 2011 World 100, but ultimately faded to a sixth-place finish. In 2018 Madden was a heavy favorite after winning one of his prelim features and leading most of the other, but after a heat race slip up he started mid-pack in the feature and cut down a tire while running third midway through the race. He ended up charging from the tail of the field to finish fourth.
And perhaps most heartbreakingly, Madden was set to start from the pole of the 2020 Stream Invitational, the spectator-free event the ran in place of last year's Dream amid the coronavirus pandemic, but ignition issues on the starting grid forced him to scratch from the $50,000-to-win race.
"Winning one of these races up here is just so hard to do. It's one of the hardest things to do," said Madden, who is second to only Babb among drivers with the most combined World 100 and Dream starts without a victory in either. "You gotta have a lot of things go your way. Just to get in it stuff has to go your way. We had a lot go our way tonight, but we just weren't quite good enough to capitalize on it."
Madden's struggles early in the week at Eldora's double Dreams were a perfect example of just how difficult it can be to make a crown jewel at the track, let alone win one. After a subpar 16th-place finish on Wednesday in his prelim feature for the 27th Dream, Madden missed the main event line up for Thursday's Dream XXVII after being taken out in a hard consolation race crash that left his car with heavy damage.
After overnight repairs, Madden improved to a ninth-place prelim feature finish on Friday before finally finding his rhythm in his Dream heat race on Saturday. He moved up from fourth to finish second and put himself in position for his charge to the front in Saturday's 100-lapper.
"We've come a long way this week," said Madden, whose runner-up finish improves on his previous best Eldora crown jewel result of fourth that came in the Dream in both 2010 and 2018. "We struggled pretty much all week and pretty much destroyed this car the other night. But my guys worked their tails off getting it back together and today we hit on a few things and we were pretty good. Brandon, he's been the best all week, and to be able to compete with him there for a little while, I'll take that."
Along with his improved performance on Saturday, another bright spot for Madden is he gets another two chances at getting his coveted Eldora crown jewel trophy later this season when the track hosts double World 100s on Sept. 8-11.
"I always love coming here, but I'm definitely looking forward to that one," Madden said. "If I can just get in the race, I always think I have a chance. I struggle early qualifying and stuff, but I think I got something to win the race with. I think that's what you saw this week. If we have a racetrack like it was tonight, I definitely think I have the equipment to get the job done here. Just gotta get in the race and hopefully don't get in a wreck. If we can do that, I think we can finally get a win here."
If September's double World 100s week does finally give Madden his first Eldora crown jewel, it'll be a career defining win.
"Heck, I might retire if I ever win one of these," said Madden, whose resume already includes victories in the North-South 100, USA Nationals, Topless 100 and Firecracker 100. "I got me a few crown jewels, but one of these here has been on top of my list ever since I started racing. I've seen a few of them go away from me now and haven't gotten the job done yet. I thought I finally had it tonight, but we'll have to keep working on it. I ain't giving up that's for sure."