2021 Dirt Late Model Dream at Eldora Speedway
Dream Disappointment For Ross Bailes At Scales
Dream Disappointment For Ross Bailes At Scales
Ross Bailes speaks after his 8 pound disqualification following Thursday's first Dirt Late Model Dream consolation.
Jun 11, 2021
by Joshua Joiner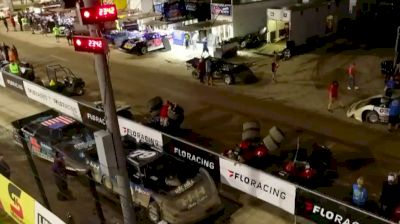 ROSSBURG, Ohio (June 10) — After his car weighted in 8 pounds light following his third-place finish in Thursday's first Dirt Late Model Dream consolation race at Eldora Speedway, Ross Bailes couldn't decide if he was more disappointed that the resulting disqualification would keep him from starting the night's 100-lap Dream feature or if because it negated the perseverance the Clover, S.C., driver and his team showed just to get the chance to cross the scales after the 20-lap prelim.
"It's disappointing because we didn't get in, but I think maybe it's worse because I feel like I drove my ass off to do it," said Bailes, who after struggling with fuel pressure issues during Wednesday's Dream preliminary program at Eldora advanced from 10th to sixth in his heat race on Thursday before charging from 11th to third in the consolation race to seemingly race his way into the $127,000-to-win Dream feature. "After the fuel problem we had and the way things went last night, I feel like we passed a ton of cars tonight. We just really worked hard to get a shot to get in the show and it almost paid off."
The disqualification was even worse because it would've easily been avoided — and nearly was — if Bailes and his team had followed through with their plans to add more weight to the car before Thursday's program. But after DIRTcar officials announced a last-minute rule change and allowed a pound-per-lap fuel burnoff rule for Thursday's feature. Bailes didn't think the extra weight would be needed even though he knew the rule didn't apply to the night's preliminary action.
"My guy, he put lead on today, but I told him to take it off because I knew we got the burnoff in the feature and I just didn't think we'd be cutting it close at all in the heat races and stuff," said Bailes, who in two previous trips to Eldora has one Dream main event start that produced a 13th-place finish in 2019. "If (race officials) hadn't said nothing about it, we probably would've left it on. But when they said we'd get burnoff, I just never thought it would be an issue."
As one of the larger drivers in the pit area, Bailes doesn't typically have to worry about his race car not meeting minimum weight requirements and was surprised to have the issue pop up at Eldora.
"I weigh 230 (pounds), so even with no lead on it at all we usually weigh 2,400 pounds," Bailes said of his Billy Hicks Racing No. 79 Longhorn Chassis. "We've just never had an issue with the weight like that with this car. I don't know if maybe I wasn't on the scales right or something, but you know, I pulled up and backed back on, so you wouldn't think it. But it just doesn't make sense."
Adding to Bailes frustration is that missing Thursday's 100-lap feature also means he missed out a chance to gain valuable experience in race conditions he doesn't typically see very often and in a car that he's still adjusting to at Eldora.
"I wish I would've made the feature just so I could see what my car does when it gets really slick," said Bailes, whose third-ever visit to Eldora this week is coming with the third team and in the third chassis brand. "I don't ever run on anything like that and just don't get a whole lot of chances to see what adjustments I need to make, especially with this car.
"I came the first time (to Eldora) with Barry's stuff (the Barry Wright Race Cars house car team) and the second time was with a different car (a Rocket Chassis with Big Frog Motorsports). The main thing is seeing what I need to do to the car to make it better. Make it suited for this track. I think we did that a little bit tonight, I just really wanted the chance to get in the 100-lapper and learn some from that, too."
Even without the long-race experience at Eldora in his current ride, Bailes is looking forward to another complete Dream program at Eldora with the 26th Dream set to kick off with twin split-field prelim features paying $10,000 each to win on Friday and Saturday's $127,000-to-win finale. Bails likes his chances of performing well in the two-day show.
"We still got a few little bugs to work out, but I think we're way better than we were last night," Bailes said. "I feel good about tomorrow and Saturday."
With uncertainty remaining about his car's capabilities in a long race at Eldora, Bailes didn't guarantee an impressive showing during the rest of his week at Eldora. But he did guarantee one thing: he and his team won't make the same mistake again.
"I'm excited to get to come back tomorrow and reset and do it all again," Bailes said. "We're gonna make sure we got all our I's dotted and T's crossed and do whatever we can to make up for it."