2021 Castrol FloRacing Night in America at Atomic Speedway
Contender Steve Casebolt Ready For Castrol FloRacing Night At Atomic
Contender Steve Casebolt Ready For Castrol FloRacing Night At Atomic
When the 2021 Atomic Speedway schedule was released over the offseason, it got Steve Casebolt's attention.
Apr 20, 2021
by Joshua Joiner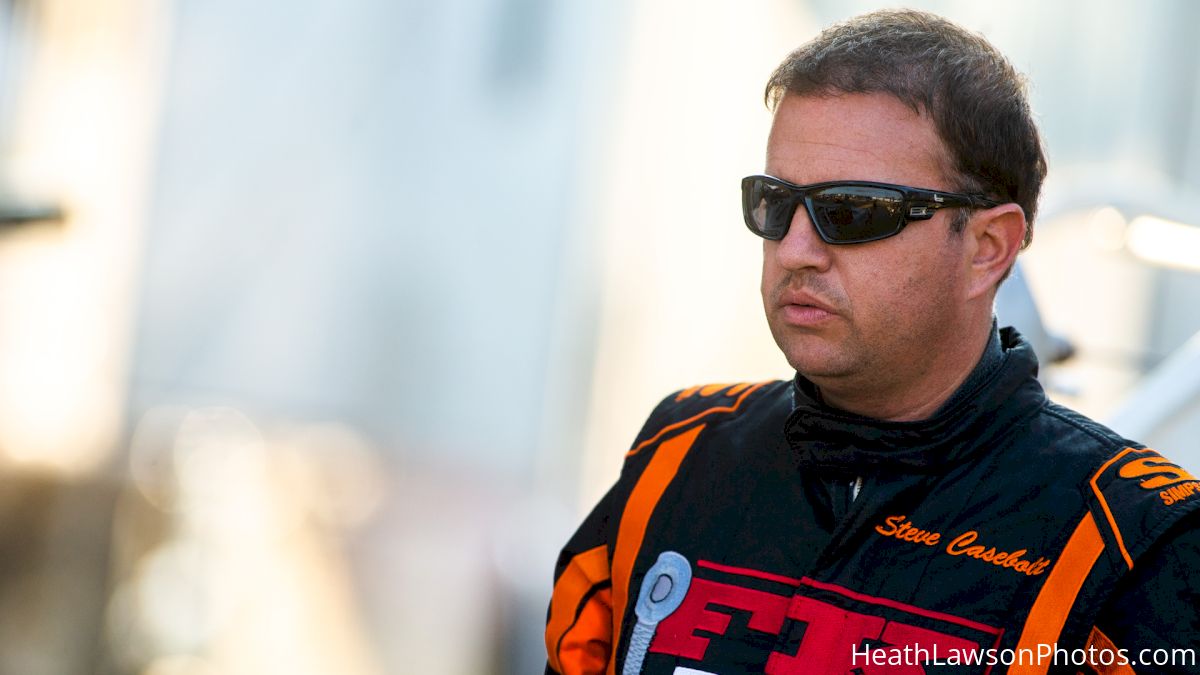 When the 2021 Atomic Speedway schedule was released over the offseason, it got Steve Casebolt's attention. With 16 scheduled Super Late Model races paying at least $3,000-to-win and four of them paying $12,000 or more at a track where he's been a frequent contender in recent years, Casebolt of Richmond, Ind., couldn't help but get excited about all the money up for grabs at the historic 3/8-mile oval in Alma, Ohio.
Watch Castrol® FloRacing Night In America At Atomic LIVE on FloRacing
"When I seen that schedule, yeah, I was pretty dang excited about it," said Casebolt, who has podium finishes in more than half of the 16 races he's entered at Atomic over the past two seasons, including four victories. "That's a lot of good paying races, and I've had a pretty good idea about what to do at that track the last couple years, probably better than I do anywhere else. I guess I've had kind of a home-track advantage."
With that in mind, Casebolt, the 42-year-old racer from Richmond, Ind., should be particularly excited as he prepares for Atomic's highest paying race of the season in Thursday's Castrol FloRacing Night in America event that offers $22,000 to the winner of the single-day race. But while Casebolt is certainly looking forward to Thursday's event, he's not quite as confident in his expertise at Atomic as he once was thanks to offseason changes to the track that included new dirt and an extension of the outside wall on both ends of the speedway.
Casebolt struggled to adjust to the changes in the only Late Model race at Atomic so far this season, finishing a disappointing 14th in March 21's Lucas Oil Late Model Dirt Series event.
"They had that Lucas Oil race there and we weren't too great at it," said Casebolt, a former Lucas Oil Series regular who has three series victories on his resume. "They changed the track way around from what it's ever been. It pretty much changed everything and it's like I'm starting all over. I don't feel like there's any home-track advantage now because the track's be changed so drastically."
Casebolt's biggest issue with the track's new look is the turn-three wall, which was extended from where it previously began well into turn three 240 feet down the back straightaway. For Casebolt, the extension has made entering the corner much trickier than it was before.
"You have to get as close to it as you can and not hit it, that's the problem," Casebolt said. "I felt like it wasn't a good idea, but it is what it is and everyone has to race on the same track. They also put a wall around one and two. That didn't change very much as far as driving it, but the wall in turn three, that's different for sure."
Even with his home-track advantage blunted somewhat, Casebolt is still optimistic about his chances in Thursday's race, which will serve as round two of the first-year Castrol FloRacing tour that features single-day mid-week events streamed live on FloRacing's online platform.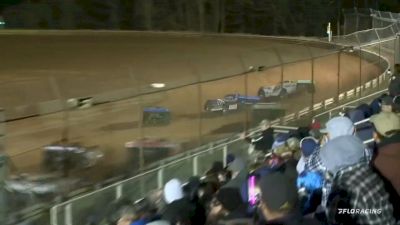 Highlights from the first round of Castrol® FloRacing Night In America at Tyler County.
"I think I still have a pretty good shot," Casebolt said of his chances in the race, which was pushed back one day from its originally scheduled date due to poor weather forecasted for Wednesday. "I have really good equipment. My Rocket car is really good and I have great Cornett engines. I have just as good of equipment as anyone else. I just maybe don't have the time to focus on it as other guys and I don't race as much. Practice makes perfect and I don't get as much practice as most of them. But yeah, I think I'm still competitive and can win big races like these."
Competing in big races, even at track's he's not 100 percent comfortable at, is nothing new for the veteran Casebolt. Along with famously pulling off an upset victory in the 2007 Dirt Late Model Dream at Eldora Speedway in Rossburg, Ohio, Casebolt's career resume includes three Lucas Oil Series wins, a World of Outlaws Morton Buildings Late Model Series victory and numerous regional tour and unsanctioned special event wins.
Once a prolific traveler with five full-time seasons on the Lucas Oil Series from 2006 through 2010, Casebolt's presence on the sport's national scene has dimmed over much of the past decade as he's curtailed his racing in order to spend more time with his wife Hayley and their two young daughters and to focus on his multiple business ventures.
Fielding a self-owned Rocket with help from crew members Billie Haager, Tate Swafford and Chuck Longbrake at the track and A.T. 'Bit T' Strutton in the shop, Casebolt has still managed to run around 40 to 50 races each season in recent years, although he only ran 24 events in 2020 due to Covid-19 restrictions limiting opportunities to race.
With Casebolt and crew sticking mostly to races at tracks within a reasonable drive of his eastern Indiana home, that's meant more regional and even weekly races than year's past, but Casebolt still enjoys it.
"I really like what I'm doing now," Casebolt said. "Racing's always been the most important thing to me. When I woke up, I thought about when am I going to race, how am I going to race, how am I going to get there, how am I going to get the equipment ready. That was my main focus. Now, racing is like third or fourth. A lot of stuff's changed for me as a person and a driver. I still enjoy it and I still want to do it, but my businesses have kind of taken priority over it and obviously my family is No. 1 right now. I have two little girls, so I don't get to race as much as I used to, but I definitely still enjoy it when I do race."
Of course Casebolt also enjoys it because he's still competitive. While he may not win at the rate of some of the sport's top drivers, he wins his fair share of races with 13 victories since 2018.
"I don't feel like I'm any more or any less of a threat to win than I ever was," Casebolt said. "I was never a guy that went out and won a prolific amount of races on any series. I've won with both (national tours) and I've won at Eldora. I have done all that, but I've never went out and kicked their asses all season long like some of these guys do. At this point, I don't think it's ever going to happen because I don't plan on trying to run a schedule like that again. But yeah, I think I'm just as good and have just as good a shot as I ever did, especially at tracks I'm good at."
After Covid-19 restrictions delayed the start to his 2020 season, Casebolt got off to a hot start last season with two victories in his first five races including a $10,000 Comp Cams Super Dirt Series victory in a rare trip to Legit Speedway Park in West Plains, Mo. But his momentum faded toward the end of the season with just one more win.
"We were really good last year. That car and engine, everything was just really good last year. I made a few mistakes as a driver at a few big races that cost us wins," Casebolt said. "I felt like I had a shot to win the Lucas Oil race at Portsmouth and I made a mistake and got in the wall. I really had a shot to win several pretty big races and I made mistakes that cost us or we had a few parts failures. Just bad circumstances that happens in racing sometimes. But we were good enough to have won a few more races than we did, that's for sure."
Casebolt hoped his 2020 late-season struggles wouldn't carry over to 2021, but so far the new year hasn't been much better with his only two races producing his 14th-place finish in Atomic's Lucas Oil race and a 19th-place DNF in the April 15 Castrol FloRacing Series opener at Tyler County Speedway in Middlebourne, W.Va. The good news for Casebolt, is he has a chance to turn it around Thursday at a familiar location.
"I've got some tricks up my sleeve that I want to try when I get there," Casebolt said of his plans for Thursday's race at Atomic. "They may not be any good, but I feel pretty good about it. Even with the changes (to the track surface and the turn-three wall) I think it'll work. Hopefully we'll unload fast, then just take it one step at a time and be there in contention during the feature.