2021 Lucas Oil Chili Bowl Nationals
Drivers That You Didn't Know Ran The Lucas Oil Chili Bowl
Drivers That You Didn't Know Ran The Lucas Oil Chili Bowl
For more than three decades now, the Lucas Oil Chili Bowl Midget Nationals has been a proving ground for racers from almost every discipline imaginable.
Jan 10, 2021
by FloRacing Staff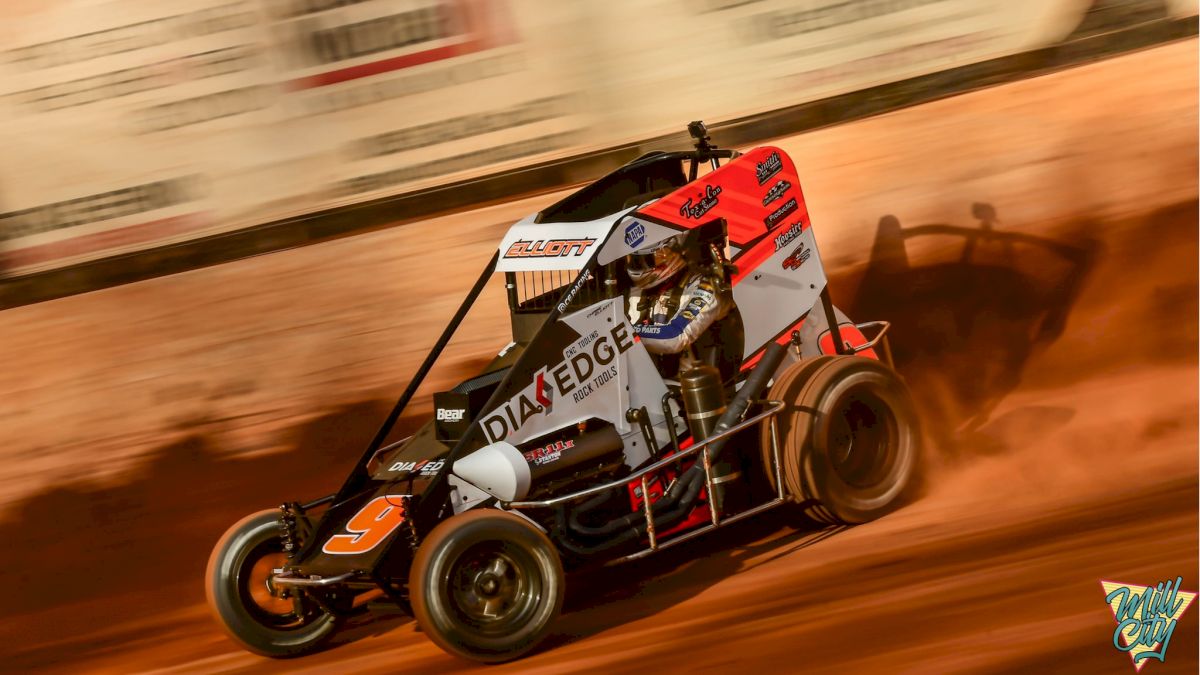 For more than three decades now, the Lucas Oil Chili Bowl Midget Nationals has been a proving ground for racers from almost every discipline imaginable.
Stars from NASCAR and IndyCar to Sprint Cars and Late Models, and much more, have been shedding their comfort zones and trying to tackle this daunting challenge for a long time now.
Leading into next month's 35th annual race, one could notice NASCAR's Chase Elliott, IndyCar's Santino Ferrucci, NHRA's Austin Prock, and a handful of other outsiders drawing attention on the entry list.
Why though? Well, Chili Bowl's season of winter makes it a paradise unparalleled in motorsports. With much of the community sitting idle in the middle of January, racers from all across the globe invade the cold, often snowy, metropolis of Tulsa, Oklahoma, and send the 918's economy booming.
Watch the Lucas Oil Chili Bowl Nationals LIVE on FloRacing
Akin to the Indianapolis 500, the Daytona 500, Monaco's Grand Prix, or the Knoxville Nationals, Chili Bowl is simply The Grandaddy of 'Em All when it comes to midget racing.
The beautiful part of Chili Bowl is the list of legends it attracts. It's not just the Larson, Bell, and Abreu of modern times or the Swindell, Kruseman, and Stewart of year's past, it's also the list of icons who have filled the gap with their own stardom.
With that said, let's take a look back on some of the noteworthy names that you might not have known attempted the Lucas Oil Chili Bowl Midget Nationals.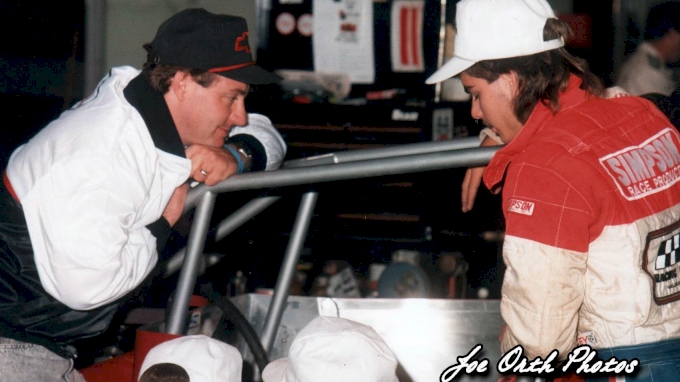 Ken Schrader and Jeff Gordon chat during the 1990 Chili Bowl.
Names like Schrader, Stewart, Bell and Larson are now synonymous with both the Chili Bowl and NASCAR, but before them all came Jeff Gordon in 1990. At the height of his rise through the midget and sprint car ranks at 18-years-old, Gordon contested the fourth annual event and finished 16th.
The news of current John Force Racing Top Fuel star Austin Prock returning next month with Hayward Motorsports sparks memories of former drag racing icons putting the parachutes away for push trucks. Ron Capps (2004) and Gary Scelzi (2008) are both NHRA Funny Car champions who each advanced as far as the H-Main in Saturday's CBN finale.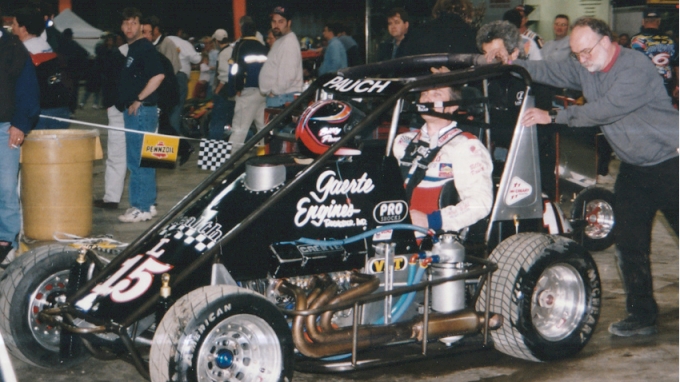 In 2000, Billy Pauch drove for Chili Bowl champion, John Lawson.
Before he went on to win three Indianapolis 500 poles and three IndyCar victories, Ed Carpenter was a two-time Chili Bowl participant in 2000 and 2001. In fact, he opened the new millennium as a heat race winner and nearly qualified for the 14th annual main event.
Preceding Larry Wight – a 2017 preliminary winner – in the category of northeastern modified legends striking gold in Tulsa was Billy Pauch and Brett Hearn. Both drivers made the main event in 1996-97, while Pauch stunned the crowd by winning his preliminary over eventual Chili Bowl champions, Billy Boat and Jay Drake.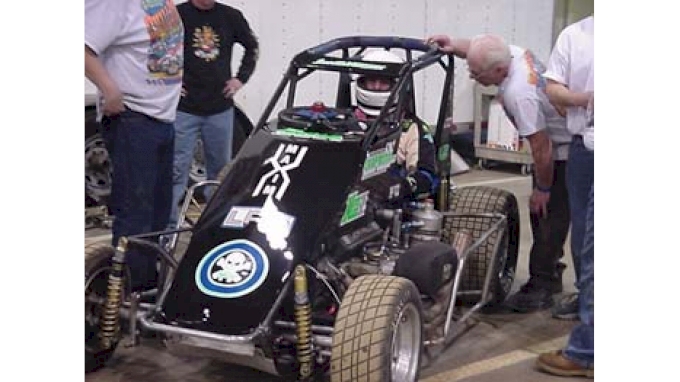 Bloomquist straps into his Maxim Midget in 2003.
In 2002, Scott Bloomquist, a dirt late model icon, made his first attempt at the Chili Bowl. His run ended in the C-Main, but left him hungry enough to return for more in 2003, this time donning his famous No. 0. The eight-time Dirt Late Model Dream champion and four-time World 100 king qualified for his preliminary feature the next year and almost transferred to Saturday's B-Main.
Like Black Sunshine, many of his full-fender friends have tried their fate in the open-wheel spectacle. Most notably, Tim McCreadie topped the 2006 Chili Bowl and stole the Golden Driller in January before going on to win the 2006 World of Outlaws Late Model Series crown later that year.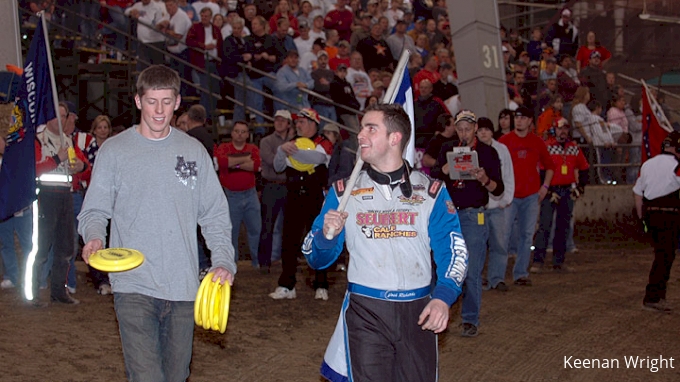 Josh Richards (right) nearly made the Chili Bowl main event in his '06 debut.
Other late model legends to contest the Chili Bowl include The Million Dollar Man Donnie Moran in 1995-96, Bart Hartman from 2004-08, Rocket Man Josh Richards from 2006-09, B-Shepp Brandon Sheppard in 2011, Superman Jonathan Davenport in 2017, and The New Deal Hudson O'Neal in 2018.
Sticking out from that group is Richards, a champion with both the World of Outlaws Late Models and Lucas Oil Dirt Late Models. In his Tulsa debut in 2006, a then-17-year-old Josh finished 11th in his preliminary feature and fell one spot short of making Saturday's finale from the B-Main.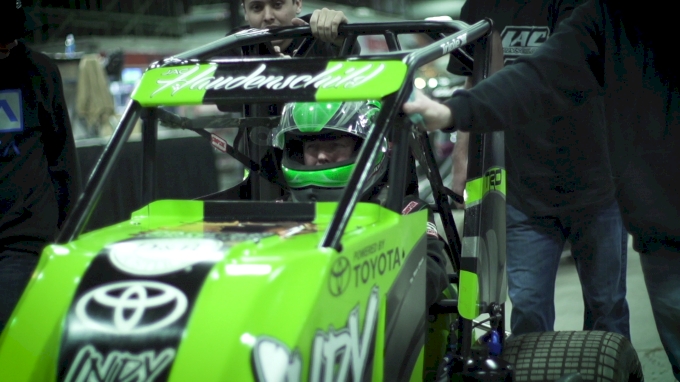 "The Wild Child" was always a thrill at the Chili Bowl.
Living up to their World of Outlaws moniker, The Greatest Show on Dirt has provided several of Chili Bowl's greatest hits between champions Swindell, Hillenburg and Blaney, along with close contenders like Kinser, Lasoski, Pittman and Sweet.
Additional Outlaws that have chased Driller's include Donny Schatz, Jac Haudenschild, David Gravel, Sheldon Haudenschild, Jason Meyers, Cody Darrah, Doug Wolfgang, Joey Saldana, Shane Stewart, Paul McMahan, and plenty others.
Just think, that's only a small taste of the massive helping Chili Bowl hands out each January.
Tune into FloRacing next month (January 11-16, 2021) to see who might surprise you and roll onto the track for the 35th annual Lucas Oil Chili Bowl Midget Nationals.