2023 South Carolina 400 at Florence Motor Speedway
Will Kevin Harvick Race Late Models After His NASCAR Retirement?
Will Kevin Harvick Race Late Models After His NASCAR Retirement?
Kevin Harvick explained his post-NASCAR retirement racing plans on the "Dale Jr. Download" podcast.
Nov 13, 2023
by Rob Blount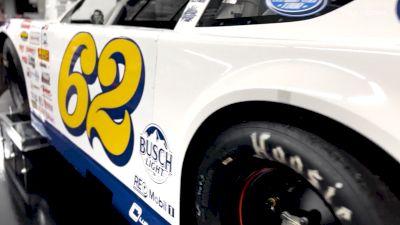 Kevin Harvick just wrapped up what is sure to be a NASCAR Hall of Fame career just over a week ago, but he's already been thinking about the next time he might get behind the wheel of a race car.
While it won't be in a NASCAR Cup Series race, Harvick told Dale Earnhardt Jr. on the "Dale Jr. Download" that he isn't completely done racing just yet.
"I'm not sure yet, but the door is open," Harvick said on the Dale Jr. Download podcast. "I'm not going to drive Cup ever again. I can't be competitive, and I can't make my mind say, 'I'm going to run top 30 today.'"
Harvick, who co-owns the CARS Tour with Earnhardt, Jeff Burton, and Justin Marks, made his return to Late Model racing earlier this year in a CARS Tour race at North Wilkesboro Speedway.
Since then, his Kevin Harvick Inc.-owned Late Model Stock Car has made multiple appearances with Layne Riggs and now Josh Berry behind the wheel. Berry most recently finished third in that car at the Fall Brawl at Hickory Motor Speedway this past weekend. He'll also be in that car at the South Carolina 400 at Florence Motor Speedway this weekend, and the Thanksgiving Classic at Southern National Motorsports Park the weekend after.
KHI also recently purchased a Super Late Model that it intends to enter in the Snowball Derby at Five Flags Speedway in Pensacola, Florida next month with Stewart-Haas Racing driver Ryan Preece behind the wheel.
"We're probably going to run a couple Late Model Stocks next year full-time," explained Harvick. "Through this process of the CARS Tour stuff, it's rekindled that fire of 'I like seeing race cars in my shop.'"
Harvick explained that he expects to have multiple drivers that are represented by KHI Management run his Late Models throughout next season at some of the bigger events.
But he also expressed interest in racing them himself as well, and also potentially doing some NASCAR Xfinity Series races on occasion as well.
"I think I want to drive something, but I don't know what yet," said Harvick. "It's going to be grassroots, or it's going to be something fun."
Harvick, who is stepping into the broadcast booth for NASCAR on FOX full-time beginning in February, said that any racing he personally gets to do would have to be on a weeknight or when FOX's portion of the season ends in early June.
"I think I can race the Super Late Model during the week, because they have a lot of Tuesday night races and Thursday night races during the week, and I think that's something I want to go do. But I need to drive it first."