2023 Islip 300 at Riverhead Raceway
Matt Hirschman Finally Conquers Riverhead Raceway In The Islip 300
Matt Hirschman Finally Conquers Riverhead Raceway In The Islip 300
Results, highlights, and more from the 2023 Islip 300 at Riverhead Raceway.
Nov 12, 2023
by Rob Blount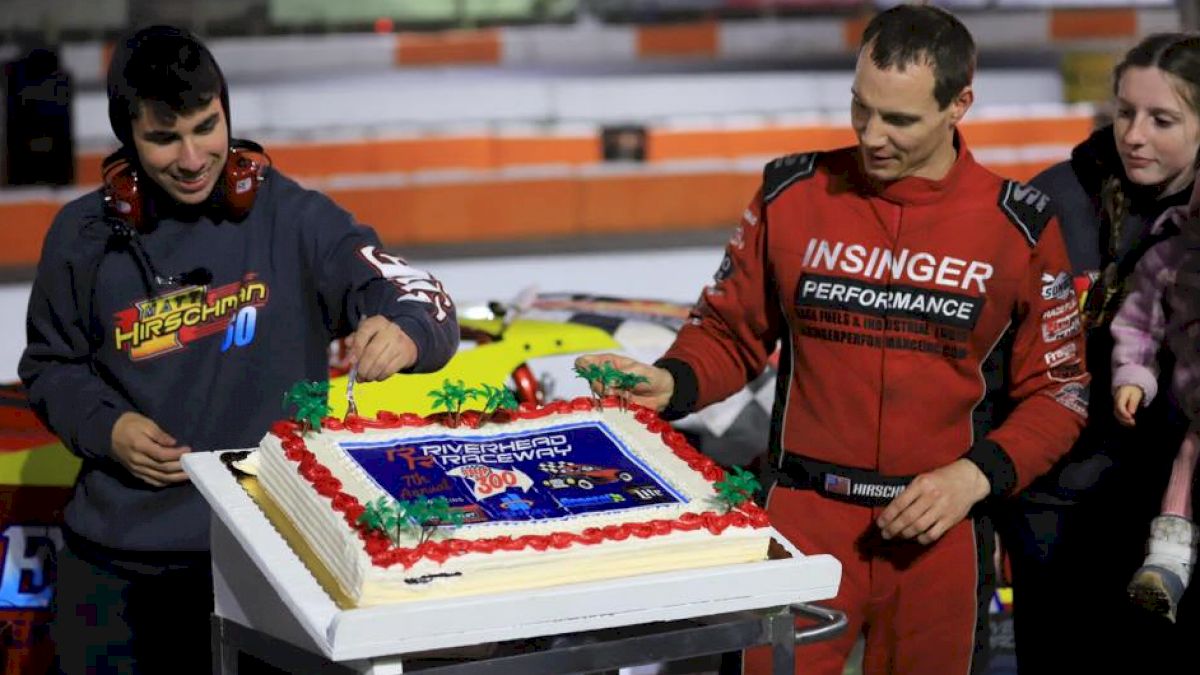 It's hard to believe there are still tracks out there at which Matt Hirschman doesn't have a win. Amazingly, there are still some, and until Saturday night, Riverhead Raceway was one of them. Incredibly, the entire Hirschman family had never won at the challenging Long Island quarter-mile bullring. But Hirschman finally conquered the track in Saturday's seventh annual Islip 300.
Hirschman looked like he would finally break the family's winless streak at Riverhead in last year's Islip 300, but late contact while battling for the lead forced him to finish third that night. This year, Hirschman made sure there wouldn't be any late-race contact as he drove away from the field in the waning laps.
The Northampton, Pennsylvania driver dominated most of the race, taking the lead early after qualifying in the second place. Hirschman led much of the way aside from when he was cycled to the middle of the field after pit stops. When Hirschman got back to the lead, he stayed there, driving away from challengers like Timmy Solomito, Justin Bonsignore, and Craig Lutz.
In the end, Hirschman took the victory over Mark Stewart, Solomito, Roger Turbush, and Kyle Ellwood.
Winning Quote From Matt Hirschman
"This thing was fast out of the box today. I always thought I didn't like the track, but maybe I just didn't like the cars I was driving because this thing was good today. I could do what I wanted with it, and I never had a car here that did that. I think the Hirschman's have been coming here since 1989 and we've never left here with a trophy. A lot of times we left here cursing that Indian out in the street. This is one a lot of people thought I'd never check off the list." - Matt Hirschman
2023 Islip 300 Highlights

2023 Islip 300 Results
| | |
| --- | --- |
| Pos. | Driver |
| 1 | Matt Hirschman |
| 2 | Mark Stewart |
| 3 | Timmy Solomito |
| 4 | Roger Turbush |
| 5 | Kyle Ellwood |
| 6 | Owen Grennan |
| 7 | Paulie Hartwig III |
| 8 | Dylan Slepian |
| 9 | Jack Handley Jr. |
| 10 | Dave Sapienza |
| 11 | Justin Brown |
| 12 | Matthew Brode |
| 13 | JR Bertuccio |
| 14 | Justin Bonsignore |
| 15 | Craig Lutz |
| 16 | Chris Young |
| 17 | JB Fortin |
| 18 | Chase Grennan |
| 19 | John Beatty Jr. |
| 20 | Lou Strohl |
| 21 | Andy Jankowiak |
| 22 | Allan Pedersen |
| 23 | Walter Sutcliffe |
| 24 | Tom Rogers Jr. |