2023 Islip 300 at Riverhead Raceway
Strong Entry List For Saturday's Islip 300 At Riverhead Raceway
Strong Entry List For Saturday's Islip 300 At Riverhead Raceway
A strong field of cars is heading to Riverhead Raceway for the 7th Annual Islip 300 on Saturday.
Nov 9, 2023
by Rob Blount
The Islip 300 at Riverhead Raceway has quickly established itself as one of the bigger races of the year in the Northeast. Now in its seventh year, the Islip 300 has a stacked entry list consisting of many Riverhead regulars and some of the NASCAR Whelen Modified Tour's best.
Headlining the entry list is three-time NASCAR Whelen Modified Tour champion, Justin Bonsignore. Bonsignore, from Holtsville, New York, grew up racing at Riverhead Raceway and now has 11 NWMT wins at the Long Island quarter-mile oval, which is tied for the most all-time with Mike Ewanitsko. But amazingly, Bonsignore does not have a win in the Islip 300.
Now, to be fair, Bonsignore has only made starts in three of the six races to date, and he did finish third in 2020. But he also has two finishes of 19th or worse. He finished 19th out of 20 cars in the inaugural Islip 300, completing just 43 of the 300 laps. And he finished 25th out of 28 cars in 2021.
But this is still Justin Bonsignore at Riverhead Raceway that we're talking about. He won two of the three NWMT events there this year. We know that if Bonsignore is in a race at Riverhead, the trip to victory lane goes through him.
Next up on the list that we will highlight is Northampton, Pennsylvania's "Big Money" Matt Hirschman. The legendary driver from "Mud Lane" is still seeking a win in the Islip 300, though he came extremely close last year. The results sheet will show a third-place finish, but Hirschman was right there until he was nudged aside by eventual winner Anthony Nocella with just a few laps remaining.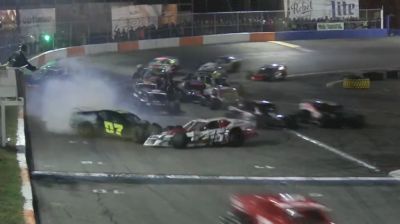 Watch: Highlights From The 2022 Islip 300 At Riverhead Raceway
There's also a stout field of Riverhead Raceway regulars looking to take the victory, led by Tom Rogers Jr. The Riverhead, New York native is tied atop the all-time wins leaderboard in the Modified division at Riverhead with one of the all-time greats, "Chargin'" Charlie Jarzombek. Jarzombek and Rogers both have 63 wins, 13 victories clear of third-place on the list. Rogers tied Jarzombek back in July when he scored the victory on the night that Riverhead Raceway celebrated its 73rd year of operation.
Another driver that will be tough to beat is former NASCAR Whelen Modified Tour competitor and winner at Riverhead, Timmy Solomito. The Islip, New York driver went to victory lane in two of 2023's Crown Jewel Series races. He scored the win in August's Bubba 150 and also won October's Cecil Palm Tree 66. Solomito has only made two starts in the Islip 300, with a best finish of 14th in 2021. Solomito is a nine-time NWMT winner with three of those victories coming at his home track of Riverhead Raceway.
One of the many interesting aspects of the Islip 300 is that there is also a race within a race taking place. The Islip 300 will conclude the 2023 Crown Jewel Series and decide who is crowned the winner of the Ted Christopher Cup. Currently, Kyle Ellwood leads defending Crown Jewel Series champion John Beatty Jr. by 36 points. Beatty finished second in last year's Islip 300, while Ellwood will be making his first Islip 300 start this weekend.
The Islip 300 concludes an exciting 2023 NASCAR Advance Auto Parts Weekly Series season of racing at Long Island's only remaining race track. Every event at Riverhead Raceway from the 2023 season can be watched on-demand on FloRacing. Saturday's Islip 300 will be streaming live to FloRacing subscribers. Fans can subscribe to FloRacing by clicking here.
2023 Islip 300 Entry List (as of 11/8)
Tom Rogers Jr.
Allan Pedersen
JR Bertuccio
Justin Brown
Andrew Krause
JB Fortin
Dave Sapienza
Kyle Ellwood
Jack Handley Jr.
Craig Lutz
Chris Young
John Beatty Jr.
Justin Bonsignore
Chase Grennan
Andy Jankowiak
Matt Hirschman
Timmy Solomito
Owen Grennan
Paulie Hartwig III
Walter Sutcliffe
Mark Stewart
Zane Zeiner
Lou Strohl
Roger Turbush
Matthew Brode