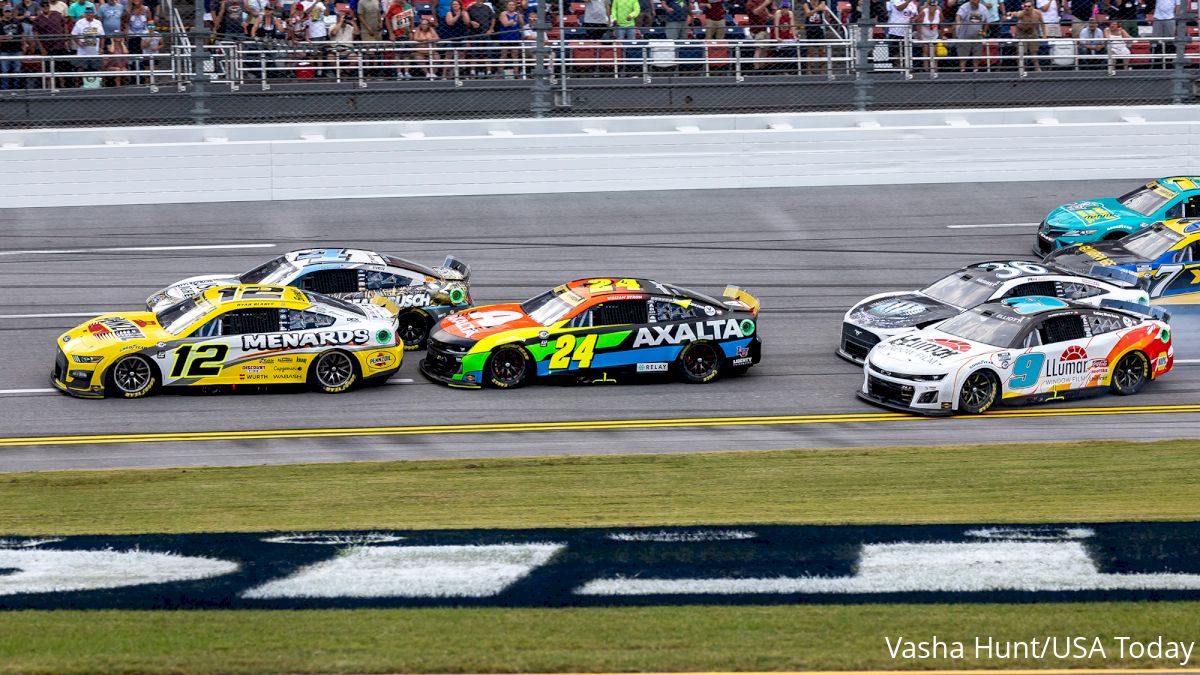 Whether you're a fan of Kevin Harvick or not, nearly all of the NASCAR community and fanbase has been cheering for the driver of the No. 4 Ford Mustang to break into victory lane at least once in his final season in the NASCAR Cup Series.
That moment nearly came on Sunday afternoon in the YellaWood 500 at Talladega Superspeedway. Harvick was leading the charge on the outside lane with momentum coming from behind, but his pusher, Riley Herbst, got turned around by Corey LaJoie triggering a multi-car crash right at the checkered flag. After losing his pusher, Harvick was barely edged at the line by Ryan Blaney by 0.012-second for the win.
Though in the end, it wouldn't have mattered anyway. Harvick was disqualified in post-race technical inspection for having unsecure windshield fasteners. Harvick's car was in violation of Sections 14.4.6.2.F and 14.1.E and P. The former states that "windshield fasteners must remain secure for the entire event," while the second rule pertains to "Overall Assembled Vehicle Rules."
Harvick's crew chief, Rodney Childers, took to social media platform X (formerly Twitter) to explain that there were no ill-intentions behind the unsecured windshield fasteners.
In a post that has since been deleted, Childers wrote: "There have been times I've got caught doing something I shouldn't have. Today got DQ'd for the car buffering in the draft all day and some windshield bolts vibrating out. My guys had silicon on the threads and gobbed on the tip. Still came out. Not sure what else we could do."
Blaney was confirmed as the race winner in post-race tech, and now is locked into the Round of Eight in the playoffs, joining William Byron as the only other locked-in driver heading into the elimination race at the Charlotte Roval this Sunday afternoon.
Byron finished second behind Blaney on Sunday. Denny Hamlin finished third, Corey LaJoie fourth, and Austin Cindric completed the top five.
YellaWood 500 at Talladega Superspeedway Results
| | | |
| --- | --- | --- |
| Pos. | No. | Driver |
| 1 | 12 | Ryan Blaney |
| 2 | 24 | William Byron |
| 3 | 11 | Denny Hamlin |
| 4 | 7 | Corey LaJoie |
| 5 | 2 | Austin Cindric |
| 6 | 31 | Justin Haley |
| 7 | 9 | Chase Elliott |
| 8 | 41 | Ryan Preece |
| 9 | 36 | Riley Herbst |
| 10 | 99 | Daniel Suarez |
| 11 | 13 | Chandler Smith |
| 12 | 38 | Todd Gilliland |
| 13 | 14 | Chase Briscoe |
| 14 | 20 | Christopher Bell |
| 15 | 5 | Kyle Larson |
| 16 | 45 | Tyler Reddick |
| 17 | 10 | Aric Almirola |
| 18 | 19 | Martin Truex Jr. |
| 19 | 17 | Chris Buescher |
| 20 | 16 | AJ Allmendinger |
| 21 | 34 | Michael McDowell |
| 22 | 47 | Ricky Stenhouse Jr. |
| 23 | 23 | Bubba Wallace |
| 24 | 22 | Joey Logano |
| 25 | 8 | Kyle Busch |
| 26 | 43 | Erik Jones |
| 27 | 77 | Ty Dillon |
| 28 | 48 | Alex Bowman |
| 29 | 78 | BJ McLeod |
| 30 | 15 | Brennan Poole |
| 31 | 21 | Harrison Burton |
| 32 | 6 | Brad Keselowski |
| 33 | 3 | Austin Dillon |
| 34 | 54 | Ty Gibbs |
| 35 | 42 | Carson Hocevar |
| 36 | 51 | JJ Yeley |
| 37 | 1 | Ross Chastain |
| 38 | 4 | Kevin Harvick |