2023 High Limit Sprint Series at Lernerville Speedway
Dale Jr., Lucrative Purse Bedazzle Lernerville's High Limit Sprint Car Stop
Dale Jr., Lucrative Purse Bedazzle Lernerville's High Limit Sprint Car Stop
An appearance by Dale Earnhardt, Jr. and a hefty purse make Tuesday's High Limit Sprint Car Series race at Lernerville Speedway a can't-miss event.
Sep 26, 2023
by Kyle McFadden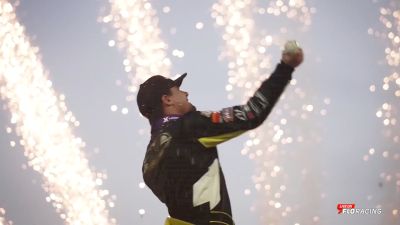 Kyle Larson didn't have to give Dale Earnhardt Jr. much of an incentive in order to attend Tuesday's High Limit Sprint Car Series event at Lernerville Speedway in Sarver, Pennsylvania.
Actually, Earnhardt only asked one favor of Larson: race in June 28's CARS Tour event at North Carolina's Caraway Speedway aboard a JR Motorsports entry.
"He came to me at North Wilkesboro (during NASCAR's All-Star weekend in May) and asked if I'd run a CARS Tour race for him, and he'd come support one of our events," Larson said. "I thought that was amazing that was already on his mind. So, yeah, I'm excited to have him there."
Earnhardt's Dirty Mo Media team will be on the grounds of the 4/10-mile clay oval, scheduled to record an episode of the Dale Jr. Download at 5 p.m. with Larson and fellow High Limit co-promotor Brad Sweet as the show's guests.
"I'm super thankful that he's engaging with our sport," Sweet said. "Anything like that is going to help elevate what we're trying to do with the High Limit Series. Super thankful and super cool that Dale Jr. is going to be at a High Limit race at Lernerville. I think that's really, really cool."
Aside from Earnhardt's presence, the $50,000-to-win Commonwealth Clash has already been pegged as one of the biggest races on the 2023 Sprint Car calendar. Larson, the 2021 NASCAR Cup champion, and Sweet, the four-time reigning World of Outlaws champion, headline a driver roster that's expected to include some of the nation's top touring drivers.
RELATED: High Limit Sprint Car Series at Lernerville Speedway Entry List
Located right outside Pittsburgh, it's also the perfect location to attract top regional personalities from the Sprint Car hotbeds of Central Pennsylvania and Ohio. The $140,000 total purse is also the richest in the track's 55-year history.
"Lernerville, for one, is capable of hosting a big event with the infrastructure as far as stands," Sweet said. "It can seat a lot of people. Two, it's one of the best racetracks and it has been for a very, very long time. It's put on great races over the years. It has a big Late Model event (July's Lucas Oil Late Model Dirt Series Firecracker 100). It has a great following.
"I truly miss racing at Lernerville. It was a track that was tough at the beginning of my career. But as we went on, I've had a lot of success there and a lot of great battles there. Man, I've seen a lot of fans there. When it wasn't on our schedule with the World of Outlaws, obviously whatever happened, it was at the top of my list for High Limit. They were super thankful and wanted to do something with us. It was an easy partnership to start up.
"Obviously at $50,000-to-win, Tuesday night at Lernerville, is going to get anybody's attention. Throw in Dale Jr. and hopefully a lot of fans, and hopefully me and Kyle and all the stars (like) Rico (Abreu) can battle it out. I'm just super excited to race in it, too."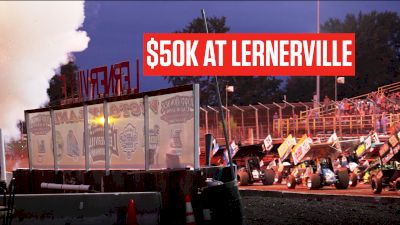 VIDEO: Kyle Larson and Brad Sweet preview High Limit at Lernerville on the High Limit Room Podcast.
From the absence of an outside wall (minus the frontsretch) to its reputable racing surface, Larson and Sweet both describe Lernerville as a track unlike any other on the circuit. It's a place that's "hard to get traction," Larson says, but not to the point where racing grooves are limited.
"It's just a great track because you can run kind of all over it," Larson said. "I've seen Brad there a number of times get going late in the race with the wing in the trunk, ripping the cushion. You get Donny (Schatz), or somebody like that, rolling the bottom. (David) Gravel, if he's there, he's good at rolling the bottom.
"Rico, he wasn't there at the (July 18) All Star (Circuit of Champions) race (at Lernerville), so he's going to be really fast. His car has been really good in the slick. Brent Marks, he was really strong there. Buddy Kofoid was the guy I had to beat to win the All Star show (on July 18).
"It's a tough place. It's tough to get traction. It gets a big curb if there's moisture. It gets a big cushion that's tricky to run. It's just a cool place. Really wide. Lots of options there."
Lernerville's racy nature is exactly what Larson and Sweet had in mind when branding Tuesday's event as one of the biggest on the calendar this year. So much so that they're confident they'll turn out at least one new Sprint Car fan from the night in Earnhardt.
"I hope he really enjoys his time. I hope he just thinks the racing is as cool as we all do," Larson said. "I hope the fans can honestly give him a little bit of space so he can enjoy it. I want him to have a great experience where this is not the only Sprint Car event he ever goes to. I want him to have such a good time he's looking forward to going to more and more.