2023 NASCAR Whelen Modified Tour at Riverhead Raceway
Results: Justin Bonsignore Scores Fifth NASCAR Modified Tour Win Of Season
Results: Justin Bonsignore Scores Fifth NASCAR Modified Tour Win Of Season
Results, points standings, highlights, and more from the NASCAR Whelen Modified Tour "Eddie Partridge 256" at Riverhead Raceway.
Sep 17, 2023
by Rob Blount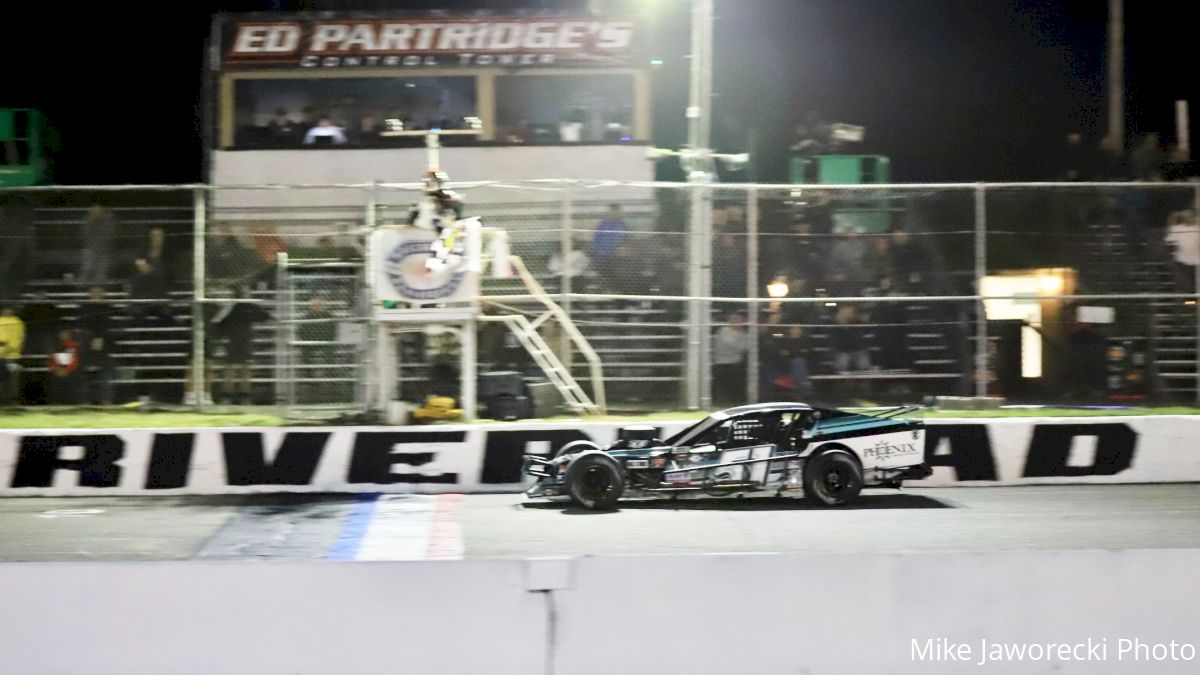 The battle for the NASCAR Whelen Modified Tour championship has been like riding a seesaw. One second you're on top, and the next you're looking up at the guy who is on top waiting for your chance to be on top again. After the Tour's third and final trip to Riverhead Raceway this season, Justin Bonsignore is back on top looking down at Ron Silk.
Saturday's Eddie Partridge 256 was one for the ages, as is this entire title fight. Once again it was Bonsignore and Silk waging war at the front of the field, throwing haymaker after haymaker at one another until the checkered flag waved with Bonsignore out in front and Silk finishing in third.
The win is the fifth of the season for the three-time champion, who now takes over the points lead by just three markers over Silk as the Tour heads south for the final time this season to the historic North Wilkesboro Speedway on September 30 with just three races remaining on the schedule.
The win was also the 11th of his career at his home track of Riverhead Raceway. That ties him with Mike Ewanitsko for the most all-time NASCAR Whelen Modified Tour victories at the historic quarter-mile bullring on Long Island.
Riverhead Raceway regular Mark Stewart got by Silk in the final corner to finish second. Silk finished third with Austin Beers in fourth and JR Bertuccio in fifth.
Winning Quote From Justin Bonsignore
"It's been coming to that. It was a heavyweight fight for sure. It was going to be whoever did it last, and I wasn't going to be done like I was done at Wall Stadium. My guys didn't like how I lost that race and gave it away. I timed it perfect tonight. Sometimes you've got to be aggressive in this deal. I was going to get wrecked if I let him get back behind me down the front straightaway there." - Justin Bonsignore
NASCAR Whelen Modified Tour "Eddie Partridge 256" Highlights

NASCAR Whelen Modified Tour "Eddie Partridge 256" Unofficial Results
| | | |
| --- | --- | --- |
| Pos. | No. | Driver |
| 1 | 51 | Justin Bonsignore |
| 2 | 81 | Mark Stewart |
| 3 | 16 | Ron Silk |
| 4 | 64 | Austin Beers |
| 5 | 2 | JR Bertuccio |
| 6 | 66 | Timmy Solomito |
| 7 | 88 | Roger Turbush |
| 8 | 82 | Craig Lutz |
| 9 | 32 | Tyler Rypkema |
| 10 | 18 | Ken Heagy |
| 11 | 22 | Kyle Bonsignore |
| 12 | 01 | Melissa Fifield |
| 13 | 26 | Gary McDonald |
| 14 | 3 | Jake Johnson |
| 15 | 5 | John Beatty Jr. |
| 16 | 58 | Eric Goodale |
| 17 | 34 | JB Fortin |
| 18 | 96 | Matthew Brode |
NASCAR Whelen Modified Tour Points Standings
| | | | |
| --- | --- | --- | --- |
| Pos. | Driver | Points Total | Margin |
| 1 | Justin Bonsignore | 635 | - |
| 2 | Ron Silk | 632 | -3 |
| 3 | Austin Beers | 597 | -38 |
| 4 | Kyle Bonsignore | 517 | -118 |
| 5 | Tyler Rypkema | 495 | -140 |
| 6 | Doug Coby | 462 | -173 |
| 7 | Craig Lutz | 407 | -228 |
| 8 | Ken Heagy | 400 | -235 |
| 9 | Melissa Fifield | 363 | -272 |
| 10 | Jake Johnson | 362 | -273 |
| 11 | Matt Hirschman | 332 | -303 |
| 12 | Anthony Nocella | 328 | -307 |
| 13 | Anthony Sesely | 297 | -338 |
| 14 | JB Fortin | 292 | -343 |
| 15 | Eric Goodale | 285 | -350 |
| 16 | Jon McKennedy | 254 | -381 |
| 17 | Dave Sapienza | 247 | -388 |
| 18 | Tommy Catalano | 213 | -422 |
| 19 | Gary McDonald | 211 | -424 |
| 20 | Patrick Emerling | 196 | -439 |
NASCAR Whelen Modified Tour Remaining Schedule
| | |
| --- | --- |
| Date | Track |
| September 30 | North Wilkesboro Speedway |
| October 8 | Thompson Speedway Motorsports Park |
| October 26 | Martinsville Speedway |