2023 NASCAR Whelen Modified Tour at Riverhead Raceway
Epic NASCAR Modified Tour Title Fight Heads Back To Riverhead Raceway
Epic NASCAR Modified Tour Title Fight Heads Back To Riverhead Raceway
The NASCAR Whelen Modified Tour heads back to Riverhead Raceway with just one point between Ron Silk and Justin Bonsignore.
Sep 14, 2023
by Rob Blount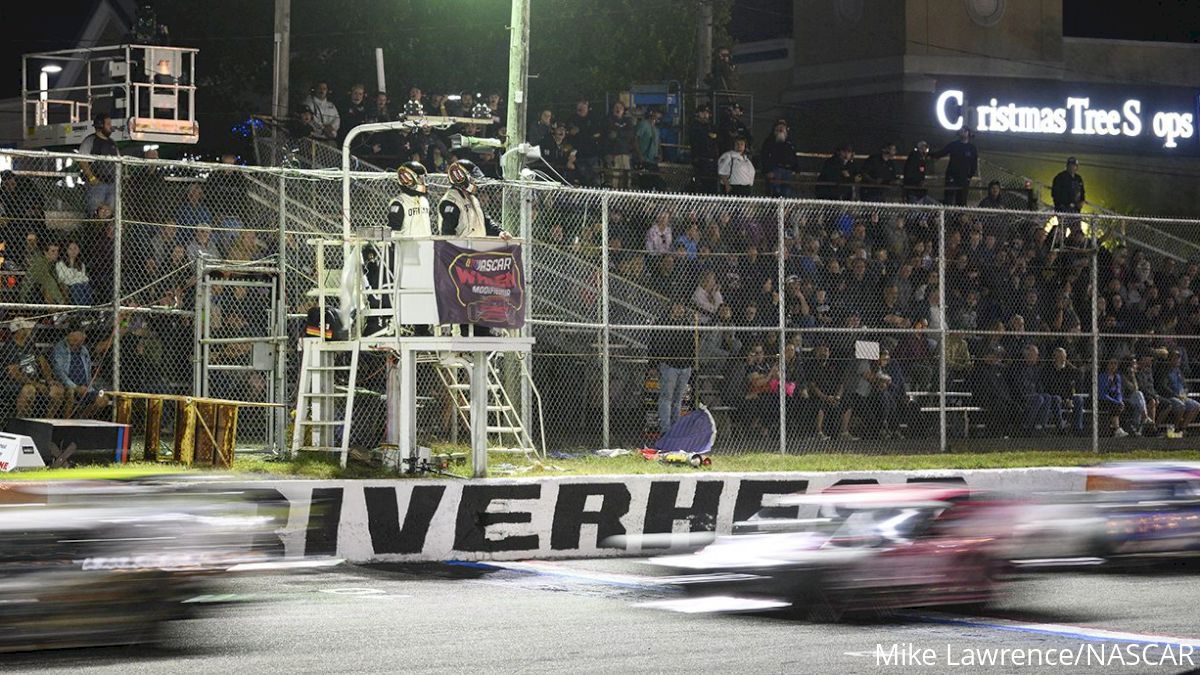 The NASCAR Whelen Modified Tour heads back to Long Island's Riverhead Raceway on Saturday night for the third and final time of the season, and this time with so much on the line. There's just four races left on the calendar for the season, and just one point separates Ron Silk from Justin Bonsignore as they head out to "The Head."
The 2023 season has been a two-man battle for much of it. 2011 champion Ron Silk versus three-time champion Justin Bonsignore. If one of them wins, the other one has usually finished right behind them in second.
Their stats are nearly identical. Each driver has four wins, 12 top-fives, and 13 top-10 finishes in 14 starts. Bonsignore has led 486 laps to Silk's 463 laps. Silk's worst finish was a 12th-place run last time out at Monadnock. Bonsignore's worst finish was a 15th-place run at Oswego the week before. Their biggest statistical difference? Bonsignore has six poles this season to Silk's none.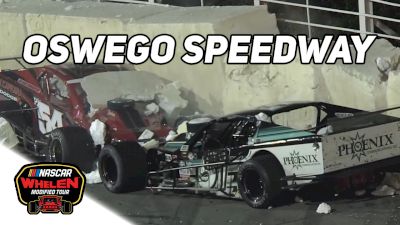 Watch: Bonsignore's Day Ends Early At Oswego Speedway
All of that to say that Silk and Bonsignore have nearly mirrored each other all year. Two races ago it looked like Silk had finally put the title on lock-down when Bonsignore crashed at Oswego after contact with a lapped car. There was no way Bonsignore could come back with how fast and consistent Silk has been.
But then just a week later, there's Silk spinning and taking contact on just the second lap of the race at Monadnock Speedway. And then there was Silk going for another spin on the very next restart. And then there was Silk getting lapped by Bonsignore, not once, but twice before the checkered flag finally put an end to Silk's miserable day. And Bonsignore, broken thumb and all, takes the win that night. And then suddenly the championship fight was back on.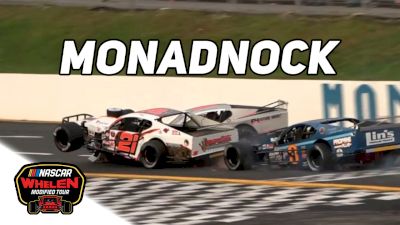 Watch: Silk Spins Twice At Monadnock Speedway
And now the Tour heads back to Long Island to take on the tight confines of the tiny ¼-mile bullring of Riverhead Raceway. A place that Bonsignore knows so well. After all, he got his start there. And now he's won 10 times there. An 11th win would put him tied for the most NWMT wins of all-time at Riverhead with Mike Ewanitsko. You might say there's no better place for Bonsignore to be headed to this weekend.
Then again, Riverhead has also been very kind to Silk as of late. Who has led the most laps in both visits there this season? Silk has. Who finished second to Bonsignore in May there? Silk did. Who won there back in June? Silk did.
But there's an added wrinkle to this race that we didn't see in the first two races at Riverhead this season. Actually, there's two added wrinkles. First, this race is 256 laps long, 56 laps longer than the scheduled difference in each of the other two Riverhead races. Secondly, this race has live pit stops in the infield; something that is only being done for the second time ever at Riverhead.
If there's one edge Bonsignore has, it comes on pit road. It's no secret that Bonsignore's Ken Massa Motorsports team has been consistently the fastest on pit road for many years now. His crew gains him spots nearly every trip to the pits. That will be a major advantage for Bonsignore, who, by the way, won at Riverhead last September, which was the only other time live pit stops had ever been done there.
And let us not forget about the young gun lurking in the shadows. He has some distance to cover, but he's right there if Bonsignore and Silk both have troubles together. That driver is Austin Beers, who is 32 points back. Beers has surprised all season, scoring five poles and two victories. He's led 505 laps, the most of any driver all season too. 63 of those 505 laps led came at Riverhead in June, but he faded back to finish 10th that night. Actually, Riverhead has been the place of Beers' two worst finishes all season. He finished 17th in May.
With one point separating the top two, and 32 points separating the top three with just four races left, the NASCAR Whelen Modified Tour is now appointment television.
Saturday's Eddie Partrige 256 at Riverhead Raceway will be streamed live on FloRacing to all FloRacing subscribers. To become a subscriber, click here.
NASCAR Whelen Modified Tour "Eddie Partridge 256" Entry List
| | | |
| --- | --- | --- |
| No. | Driver | Crew Chief |
| 01 | Melissa Fifield | Jake Marosz |
| 2 | JR Bertuccio | Michael Bologna |
| 3 | Jake Johnson | Gregory Fournier |
| 05 | John Beatty Jr. | Greg Smith |
| 06 | Sam Rameau | Randy Rameau |
| 16 | Ron Silk | Phil Moran |
| 18 | Ken Heagy | Greg Gorman |
| 22 | Kyle Bonsignore | Cam McDermott |
| 26 | Gary McDonald | Chad McDonald |
| 32 | Tyler Rypkema | Zach Truesdail |
| 36 | Dave Sapienza | Greg Kleila |
| 46 | TBA | Douglas Ogiejko |
| 51 | Justin Bonsignore | Ryan Stone |
| 64 | Austin Beers | Ron Yuhas |
| 66 | Timmy Solomito | Shawn Solomito |
| 81 | Mark Stewart | Chris Turbush |
| 82 | Craig Lutz | Ryan Barbieri |
| 88 | Roger Turbush | Jarrod Hayes |
| 96 | Matthew Brode | Martin Condit Jr. |