2023 USAC Haubstadt Hustler at Tri-State Speedway
Hustlin' For $20,000: USAC & MSCS Sprints Face Off Saturday At Tri-State
Hustlin' For $20,000: USAC & MSCS Sprints Face Off Saturday At Tri-State
The richest Haubstadt Hustler to date is on tap for the USAC AMSOIL Sprint Car National Championship and Midwest Sprint Car Series Saturday night.
Sep 14, 2023
by FloRacing Staff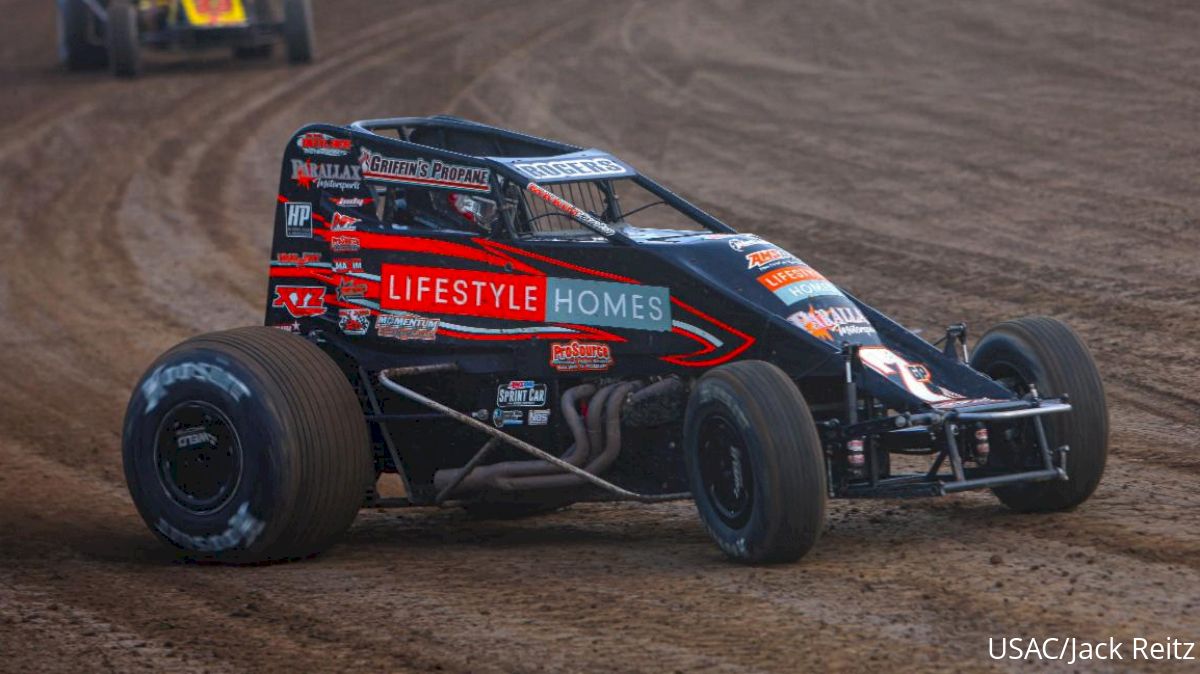 The richest Haubstadt Hustler to date is on tap for the USAC AMSOIL Sprint Car National Championship and Midwest Sprint Car Series Saturday night at Tri-State Speedway in Haubstadt, Indiana.
Forty laps will lead to a $20,000 payday for one driver and one team this weekend at The Class Track's 1/4-mile dirt oval during the 16th running of the Haubstadt Hustler.
A long(er) distance, a big payout, the prospect of Jadon Rogers repeating, Kyle Cummins setting an all-time record and the possibility of an emerging first-time USAC National Sprint Car points-paying race winner such as Daison Pursley, Carson Garrett and others, are more than enough to whet the appetite.
But that only scratches the surface, with the Haubstadt Hustler presenting Round 2 of the USAC NOS Energy Drink Hoosier Trifecta and the penultimate round of the Bubby Jones Master of Goin' Faster Presented By Spire Sports + Entertainment series.
Check out the hotly contested races and all the storylines we'll have our eyes peeled for Saturday in southern Indiana.
Rogers Runnin' It Back
Countless individuals have clutched onto the dream of winning their first career USAC AMSOIL Sprint Car National Championship feature race. Some are able to realize that dream but, for most, it remains but a fleeting notion that never is seized.
It was "carpe diem" for Jadon Rogers (Worthington, Indiana) during the 2022 Haubstadt Hustler, as he led the final five laps to score his first career USAC feature victory.
It had been a long time coming for the 2020 USAC National Sprint Car Rookie of the Year, the same season in which he raced from his 14th starting position to finish second during his first Haubstadt Hustler start.
He's also the most recent winner at Tri-State, scoring the Midwest Sprint Car Series show on Sept. 3. He ran fourth with USAC there in the spring of this year, equaling his best performance of the season with the series.
Furthermore, he seems to have found a home with Michael Dutcher Motorsports, finishing fifth, fourth, seventh and fourth in four of his past five starts with the team, as he angles to return to victory lane for the first time in a calendar year with USAC and also provide Dutcher his first USAC win since 2015.
A Dutcher-owned car won the Haubstadt Hustler in 2013 with Kevin Thomas Jr. at the wheel.
Cummins One Way
Two-time Haubstadt Hustler winner Kyle Cummins has been the barometer many others have measured themselves against when it comes to racing at Tri-State Speedway.
Cummins (Princeton, Indiana) is tied atop the list for all-time USAC National Sprint Car victories at the track, having won six times, including the Haubstadt Hustler on two occasions in 2016 and 2019.
With one more victory, he'd become the king of USAC Sprint Car racing at Tri-State in terms of total wins.
However, he's been shut out of victory lane in each of his last five outings with USAC at TSS, dating back to the spring of 2021, the longest such stretch of his career.
Cummins, who swept to victory in all eight of his sprint car starts at Tri-State in 2019, already has won twice this year at TSS with MSCS – during May's Memorial Weekend Classic and August's Hoosier Sprint Nationals.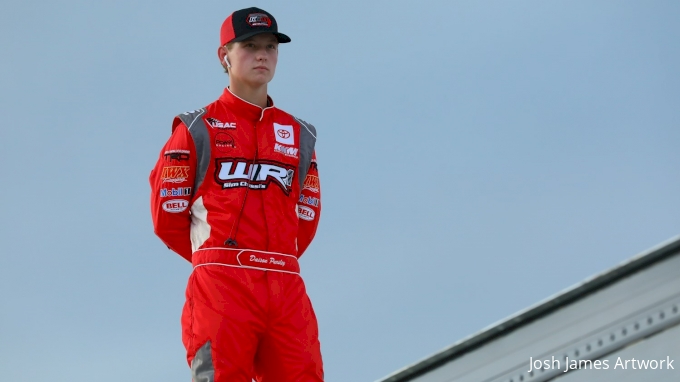 Daison & Carson, First One?
Daron Clayton (2006), Hunter Schuerenberg (2008), Blake Fitzpatrick (2010), Carson Short (2016), Stephen Schnapf (2020) and Jadon Rogers (2022) all know the feeling well.
They've all experienced a first career USAC National Sprint Car feature win at Tri-State Speedway.
Daison Pursley and Carson Garrett are two individuals looking to experience the same feeling this Saturday night during the Haubstadt Hustler. Both have ties to the southern Indiana dirt oval.
Mind you, yes, Pursley (Locust Grove, Oklahoma) did win a non-point paying USAC Sprint Car feature at Volusia Speedway Park in Florida to kick off the season, but another on Saturday actually would be his first points-paying victory with the series.
The top rookie in the 2023 USAC National Sprint Car standings, he finished eighth in his Haubstadt Hustler debut in 2021, which also marked his first career USAC Sprint Car start with the KO Motorsports team, a team that is a regular fixture at Tri-State.
Meanwhile, Garrett (Littleton, Colorado) already has won twice with MSCS this season – once in May and again in June.
He ran seventh in the spring with USAC at Tri-State but has grown by leaps and bounds ever since.
With USAC, he finished with a career-best second place result (by inches) at Illinois' Macon Speedway and has run inside the top 5 multiple times since. Now, he's primed to be USAC's first "first-time" Sprint Car winner of 2023.
Trifecta Round 2
And then, there were three.
Justin Grant, Kyle Cummins and Logan Seavey are gunning for their share of the USAC NOS Energy Drink Hoosier Trifecta, the second round of which arrives during Saturday's Haubstadt Hustler.
Two Trifecta events remain, with a pair of $20,000-to-win showdowns – Saturday at Tri-State and Oct. 7, during Lawrenceburg Speedway's Fall Nationals.
Grant took Round 1 of the Trifecta in August at Kokomo's Smackdown ahead of Cummins and Seavey. Now, Grant is chasing a clean sweep worth more than $100,000 in total prize money, if he can win at both Tri-State and Lawrenceburg.
The driver with the highest average Trifecta finishing position, who also finishes inside the top 3 in the trio of events, will earn the prize – over $100,000 to win all three, a $20,000 bonus to finish second or better in all three and $10,000 to score a top-3 result in all three races.
Bubby Jones Penultimate Round
Emerson Axsom leads a hotly contested title race in the Bubby Jones Master of Goin' Faster Presented By Spire Sports + Entertainment standings.
The 10-race miniseries for the USAC National Sprint Cars takes on Round 9 on Saturday at Tri-State, a series in which Axsom (Franklin, Indiana) possesses a 13-point lead over C.J. Leary (Greenfield, Indiana).
Jake Swanson (Anaheim, California) remains 41 points out of the lead, with defending "Bubby" champ Brady Bacon (Broken Arrow, Oklahoma) 49 markers back. Mitchel Moles (Raisin City, California) is 59 tallies behind the leader.
The driver accumulating the most points throughout the 2023 Bubby Jones Racing Master of Goin' Faster series will be rewarded with a $10,000 prize. Furthermore, the championship-winning crew chief will collect a $2,500 bonus.
Winners of the Bubby Jones races thus far in 2023 include Leary (May 6 at Eldora), Bacon (May 23 at Terre Haute), Swanson (June 3 at Knoxville), Axsom (June 16 at Williams Grove), Grant (June 17 at Port Royal), Leary (July 22 at Kokomo), Axsom (July 28 at Bloomington) and Matt Westfall (Sept. 9 at Texarkana 67).
Two Bubby Jones events remain in 2023, starting at Tri-State Speedway on Saturday and ending Oct. 7, at Lawrenceburg Speedway.
Different Format & "Point"Ing It Out
At this time of the season, much of the talk surrounds the season-long championship points races.
While Saturday's Haubstadt Hustler, co-sanctioned by the Midwest Sprint Car Series, will pay points toward the USAC National Sprint Car title race, the points only will be distributed in the form of appearance points.
All participating USAC National Sprint Car licensed drivers and entrants will receive 50 points across the board for their participation in the event, regardless of finishing position Saturday night.
The MSCS format of group qualifying to set heat race lineups and a draw to determine the feature inversion will be utilized for the Haubstadt Hustler, as has traditionally been the case in this event.
April's Spring Showdown at Tri-State, also co-sanctioned by USAC and MSCS, routinely uses the USAC format.
That takes points out of the equation for the night, meaning teams and drivers might play it a bit less conservatively when it comes to taking chances, and perhaps, on the setup. But knowing this group, there's not much "conserving," when $20,000 and bragging rights are on the line.
Race Details
Saturday's program at Tri-State Speedway features the USAC AMSOIL Sprint Car National Championship (co-sanctioned by the Midwest Sprint Car Series), as well as the Midwest Mini Sprint Association.
The pits will open at 2 p.m. Central, with grandstands opening at 3:30 p.m. The drivers' meeting will be at 5:30 p.m., and cars will be on the track at 6 p.m., followed by qualifying and racing.
Adult general admission tickets are $30, students (ages 13-18) are $20 and children 12 and under free. Pit passes are $30 for members and $35 for non-members.