2023 PDRA Carolina Nationals
PDRA's 10th Season Gets Back On Track At Red Line Oil Carolina Nationals
PDRA's 10th Season Gets Back On Track At Red Line Oil Carolina Nationals
After over a month off, PDRA resumes with the Red Line Oil Carolina Nationals, Sept. 14-16, at Darlington Dragway. Watch live on FloRacing.com
Sep 12, 2023
by Courtney Enders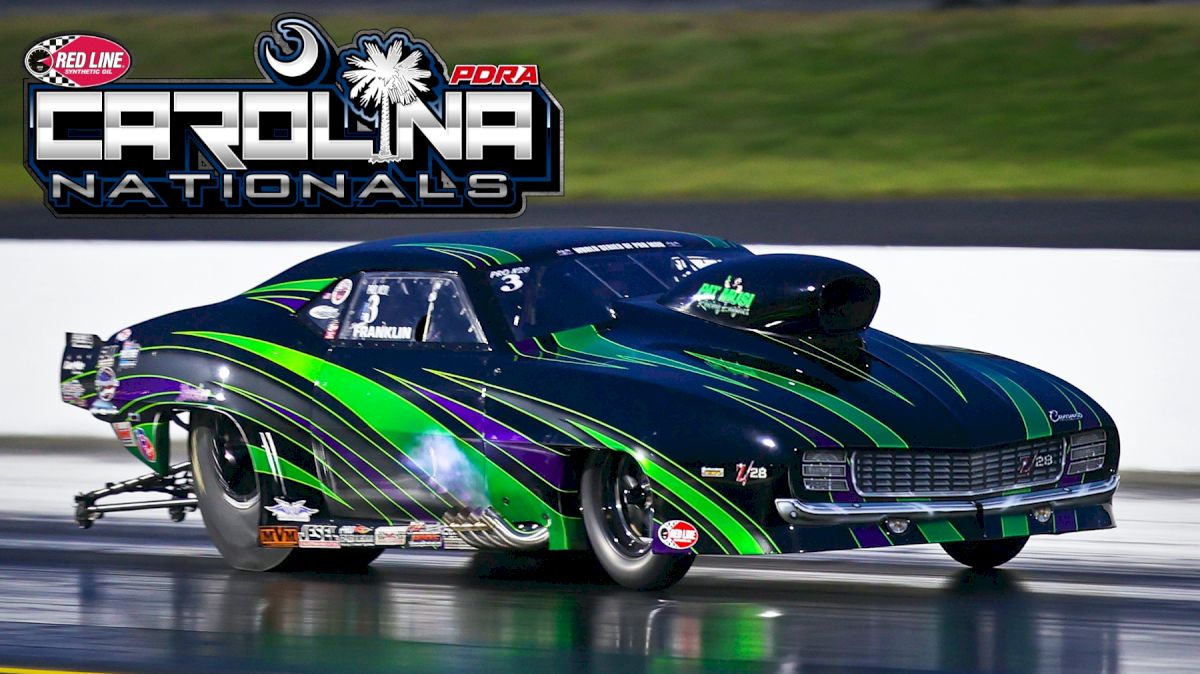 HARTSVILLE, S.C. (Sept. 11, 2023) – After over a month off, the Professional Drag Racers Association (PDRA) is resuming its 10th season of eighth-mile drag racing with this weekend's Red Line Oil Carolina Nationals, Sept. 14-16, at Darlington Dragway. The historic South Carolina track will play host to the PDRA's sixth of eight championship points-earning events on the 2023 schedule.
"We've had an action-packed first half of the season, so I know our racers were ready for a break after our last race in Martin, Michigan, but they're all charged up and excited for the Carolina Nationals," said Tyler Crossnoe, series director, PDRA. "Championship battles are heating up, and things are going to move pretty quickly from here on out. We're just over a month away from crowning world champions at the Brian Olson Memorial World Finals. Racers are going to be fighting hard for all the points they can rack up at Darlington and beyond."
In Switzer Dynamics Pro Nitrous, two-time world champion Tommy Franklin in the Musi-powered "Jungle Rat" '69 Camaro is closing in on four-time and reigning world champion Jim Halsey. Franklin won the most recent race on tour, adding to his Norwalk win. Halsey also has two wins this season, though he also has a pair of runner-up finishes in his Fulton-powered "Daddy Shark" '68 Camaro. Recent first-time winner Marcus Butner and teammate Jay Cox, as well as past world champion "Tricky" Rickie Smith, are also in the top five.
WS Construction Pro Boost presented by P2 Contracting and Ty-Drive saw an interesting development in its championship scenario at the last race when points leader Ken Quartuccio crashed his ProCharged '69 Camaro in eliminations. Two-time Pro Nitrous world champion Jason Harris went on to win his second event in the ProCharged "Party Time" '69 Camaro, taking over the points lead in the process. Quartuccio plans to be back in competition this weekend. The top five in points also includes GALOT Motorsports driver Travis "The Carolina Kid" Harvey, P2 Contracting's Kurt Steding, and season-opener winner Melanie Salemi.
The championship battle in Liberty's Gears Extreme Pro Stock presented by AED Competition is fierce, as the top eight drivers are separated by less than an event win worth of points. Past world champion Chris Powers is the points leader with one win in his Sonny's Racing Engines '21 Camaro. Rookie Alan Drinkwater is second with a win and a runner-up finish in his Kaase-powered IronListing.com '08 Mustang. Two-time and reigning world champion Johnny Pluchino is back in the title hunt after winning the most recent race in his Kaase-powered Feather-Lite Batteries '13 Mustang. Elijah Morton and Dillon Voss round out the top five with a runner-up finish each.
M&M Transmission Pro 632 rookie Jeff Melnick holds a commanding lead entering the final three races of the season after winning three of the first five races in Alan O'Brien's AMC-powered Greenbrier Paving & Excavating '20 Camaro. Another driver experiencing a breakout season, Doug Nicholl, is second in points with a win, a runner-up, and two No. 1 qualifier awards in his Musi-powered '68 Camaro. With a win and a runner-up finish, reigning world champion Amber Franklin is third in her Musi-powered, Red Line Oil-backed "OG Jungle Rat" '69 Camaro. Lexi Tanner and Jason Ventura are chasing their first wins of the season in fourth and fifth, respectively.
Drag 965 Pro Nitrous Motorcycle will return to the mix at Darlington after sitting out the last race. Past Pro Jr. Dragster world champion Brayden Davis, son of reigning world champion Travis Davis, is on top of the class with two wins in the first three races aboard his father's Timblin Chassis Hayabusa. He's also the points leader in Coolshirt Systems Pro Jr. Dragster presented by PRP. Past world champion Chris Garner-Jones has a win and a runner-up on his T.T. Jones Racing Hayabusa to sit second going into Darlington. Kuwait's Meshal Al-Saber has been consistent on Brad McCoy's Q80 Racing entry, putting him third in points.
PDRA's newest class, Afco Racing Super Street presented by Menscer Motorsports, is also back on the PDRA tour this weekend. Young gun Blake Denton is the points leader after winning the last two events in his Musi-powered '76 Camaro. He's also been the No. 1 qualifier at all three races. Dan Whetstine is seeking his first win of the season in his ProCharged Mustang, but he's used consistency to put him in the second spot. Drivers like Paul Curry, Matt Schalow, and season-opener winner Derek Mota will try to stop Denton's streak.
The Carolina Nationals will also feature the PDRA's ultra-competitive sportsman classes. The points leaders going into Darlington are Donny "Hollywood" Urban in MagnaFuel Elite Top Sportsman presented by PAR Racing Engines, Steve Furr in Laris Motorsports Insurance Elite Top Dragster, Al Davidowski in MagnaFuel Top Sportsman presented by Corbin's RV, and TG Paschal in Laris Motorsports Insurance Top Dragster. Edelbrock Bracket Bash presented by COMP Cams, which does not compete for a championship, will give local bracket racers the chance to race on the PDRA national stage.
The PDRA's Jr. Dragster classes round out the Carolina Nationals lineup. The points leaders are Brayden Davis in Coolshirt Systems Pro Jr. Dragster presented by PRP and Ayden Tilghman in Classic Graphix Top Jr. Dragster presented by PRP.
Tickets are available for $20 on Thursday, $25 on Friday, and $30 on Saturday. Children 12 and under get in free. Tickets can be purchased at PDRA660.com or at the gate.
Fans who can't attend the race in person can watch the official event livestream on FloRacing.com.
Pre-race testing will take place from 10 a.m. to 7 p.m. on Thursday. Top Sportsman and Top Dragster qualifying will then begin at 7 p.m. All other classes will start qualifying on Friday, beginning with the Jr. Dragster classes at 9:30 a.m. Pro qualifying begins at 2 p.m., while Friday Night Fire featuring two back-to-back pro sessions, begins at 5:30 p.m. Saturday's on-track activities begin with Jr. Dragster final qualifying at 9:30 a.m., followed by sportsman eliminations. Pre-race ceremonies and pro eliminations kick off at 3:30 p.m.