2023 NASCAR Whelen Modified Tour at Riverhead Raceway
Kyle Larson And Chase Elliott Have Pit Road Run-In At Kansas Speedway
Kyle Larson And Chase Elliott Have Pit Road Run-In At Kansas Speedway
Hendrick Motorsports teammates Chase Elliott and Kyle Larson had a run-in on pit road late in Sunday's Hollywood Casino 400 at Kansas Speedway.
Sep 11, 2023
by Rob Blount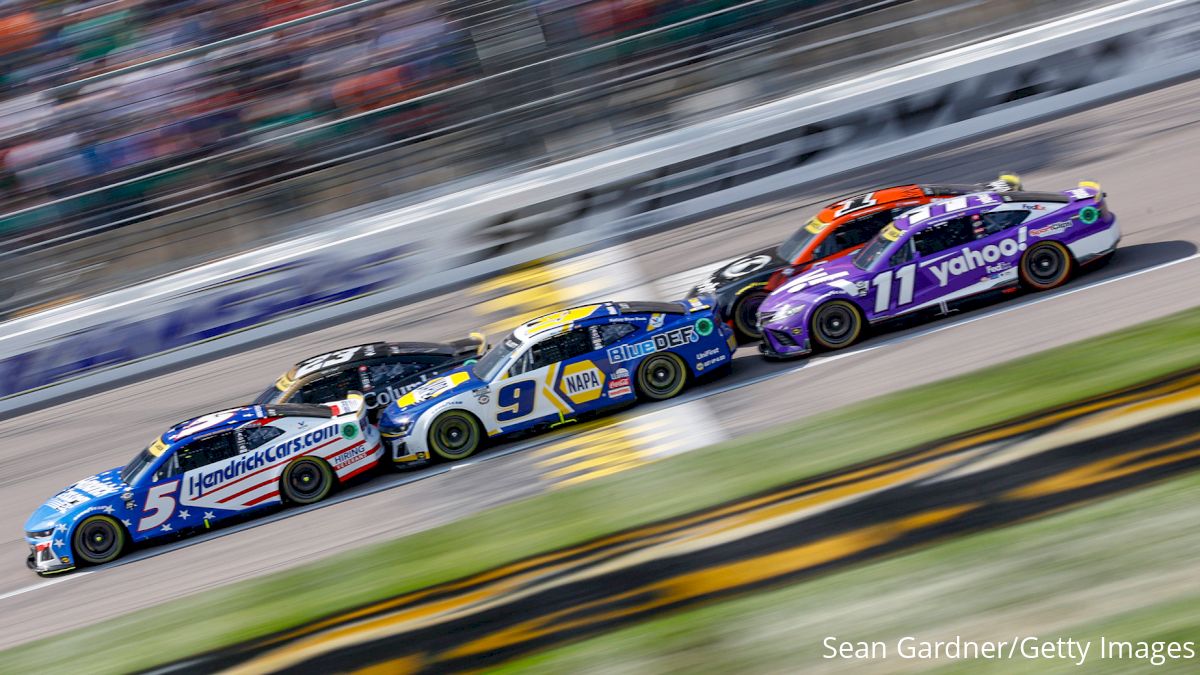 Kyle Larson led 99 laps and won a stage before finishing fourth in Sunday's Hollywood Casino 400 at Kansas Speedway, but that's not what anybody will remember from his day in the heartland. Instead, it will be the run-in that he had with teammate Chase Elliott that will make the promotional reels.
Larson and his Hendrick Motorsports teammate came off pit road during the final caution of the day side by side in the middle of a four-wide situation. Larson was to Elliott's left, and Elliott had eventual race winner Tyler Reddick to his right. Brad Keselowski came out of his stall and nearly drove into Larson's door, causing Larson to adjust to his right just a bit where Elliott already was.
The two teammates made slight contact on pit road, but more came a few feet down the road when a seemingly upset Elliott chased down Larson and slammed him in the right side of his No. 5 machine. After the race Elliott addressed the situation with Larson before Larson had climbed out of his race car.
Larson went on to finish fourth while Elliott would finish in the sixth position following a green-white-checkered restart.
When asked after the race by NASCAR on FOX reporter Bob Pockrass if he was sending a message to Larson, Elliott replied, "Oh there was no message."
Chase Elliott finished sixth on a solid day. What he said afterward and whether he was sending a message to Kyle Larson after the contact as they were exiting their pits. pic.twitter.com/zodqNJrwIF

— Bob Pockrass (@bobpockrass) September 11, 2023
"I knew we were three-wide leaving," explained Larson on the NBC broadcast. "The six is pitted in front of us and I'm trying to leave as much space as I can. He's coming out into the lane quickly because he wants to slow us down. I tried to leave as much space as I could and obviously I made contact with him (Elliott), but if I didn't I feel like I was going to clobber the six in the right front. I thought the safest bet for all of us was for me to squeeze out a little bit.
"I understand why he was mad."

Chase Elliott went to Kyle Larson's car after the race. Take a look at the contact racing off pit road. #NASCARPlayoffs pic.twitter.com/KJNQXlcDax

— NASCAR on NBC (@NASCARonNBC) September 10, 2023
"I understand why he's mad, or was mad in the moment. I hope when he sees the replay he understands I didn't have any space. It's a bummer, but I'm glad that neither of us got tore up there and we could get a good finish."
This is not the first time that Larson and Elliott have had any sort of run-in. The two drivers got together fighting for the win at Auto Club Speedway in Fontana, California in 2022. Larson moved to his right just as Elliott made a move for the same real estate and it resulted in Elliott getting squeezed into the wall. Larson's spotter, Tyler Monn, took responsibility for that incident.
The NASCAR Playoffs head to Bristol Motor Speedway for the first elimination race of the Playoffs on Saturday night. Larson is already safely locked into the second round after winning the Playoffs opener at Darlington Raceway last weekend. Elliott failed to make the playoffs this year following his multiple absences this season due to a snowboarding injury and a one-race suspension.