2023 USAC Silver Crown at WWT Raceway
Big, Fast, Bold: Seven Storylines For USAC Silver Crown Return To The Arch
Big, Fast, Bold: Seven Storylines For USAC Silver Crown Return To The Arch
To the Arch we go, as 26 USAC Silver Crown National Championship drivers and cars show the way to St. Louis this Sunday at World Wide Technology Raceway.
Aug 24, 2023
by FloRacing Staff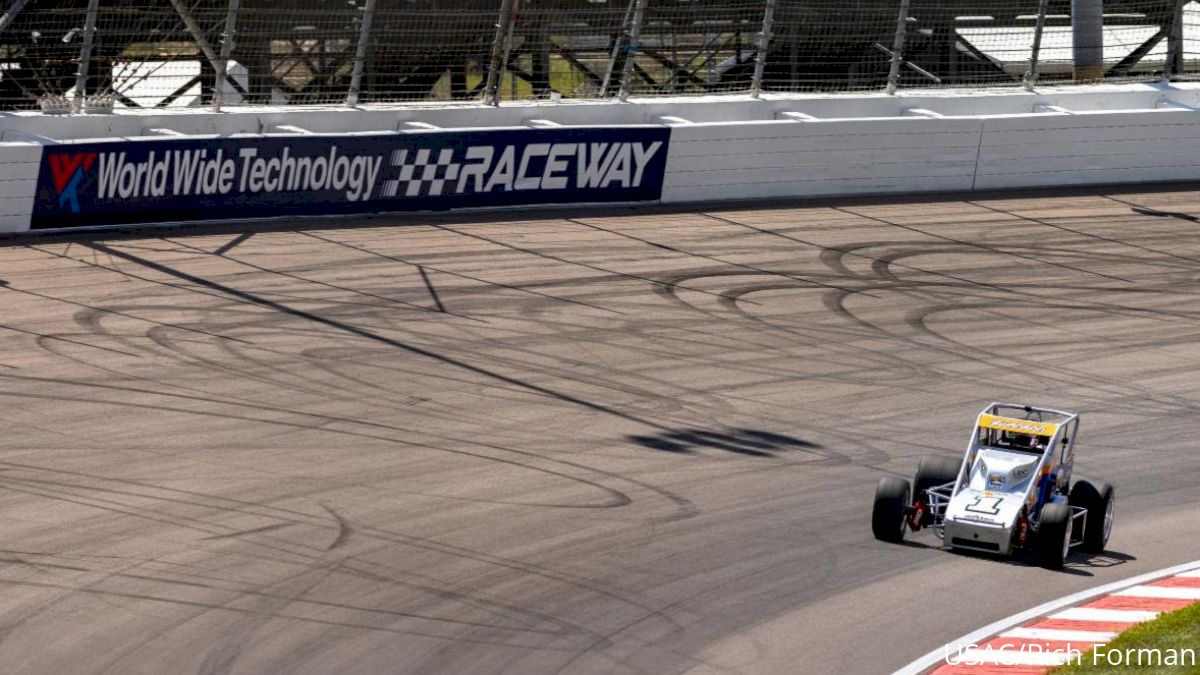 To the Arch we go, as 26 USAC Silver Crown National Championship drivers and cars show the way to St. Louis this Sunday at World Wide Technology Raceway.
Technically, the address belongs to Madison, Illinois, just east of the Mississippi River. There lies the biggest, fastest and boldest track on the 2023 USAC Silver Crown schedule.
At 1.25-miles, the venue holds the USAC Silver Crown speed record. The speedometer regularly hits 180 miles per hour on the straightaways. And drafting, yes drafting, will be among the keys to success in the 100-mile, 80-lap OutFront 100.
Here's seven storylines that have our interest piqued for Round 8 of the champ car season.
How Fast Can They Go?
World Wide Technology is the biggest and fastest circuit on the USAC Silver Crown trail. Last year's early practice speeds showed drivers hitting above 180 mph on the straightaway.
When Kody Swanson came out to qualify, his attempt was downright historic.
Swanson set a world speed record for a traditional USAC Silver Crown car during the session with a time of 30.675 seconds, which translates to 146.699 mph, eclipsing the former speed record for a traditional Silver Crown car, set by him, at Iowa Speedway with a 146.212 mph in 2012.
The term "traditional" is used in this manner due to the utilization of a "New Generation" "Super Speedway" car that was used in competition solely during the years of 2006-2007. Aaron Pierce turned a qualifying lap of 175.012 mph during the brief era in USAC history at Florida's Homestead-Miami Speedway in 2006.
Swanson's time trial run was monumental in a multitude of manners. It also broke Chris Windom's 9-year-old series track record at WWT of 31.082 seconds and 144.778 mph, set in 2013.
The pole position has been a comfy place for Swanson.
All three times he's won the pole for a pavement USAC Silver Crown race in 2023, he's gone on to win the race – Madison, Winchester and Toledo. In 2022 at WWT, he started on the pole, before falling back, but he ultimately returned to the forefront and to victory lane.
Father And Son Reunion
A rare occurrence of a father racing against his son in USAC Silver Crown competition will take place at WWT Raceway on Sunday.
Idahoans Davey Hamilton and Davey Hamilton Jr. both have competed with the series at WWT, but never together. The elder Hamilton finished eighth in 1998, while his son led 15 laps and finished as the runner-up in 2022.
Unique is that the younger Hamilton has raced against both his father and son in the USAC Silver Crown series. Ken Hamilton competed with Davey at the Pikes Peak International Raceway round in 1998. A Davey versus Davey Jr. battle has commenced twice before, both in 2017, at Phoenix and Salem.
Only five previous father-and-son duels have occurred in a USAC Silver Crown feature event.
Jim McElreath and his son, James, were the first to do so in 1975 at Du Quoin and went head-to-head on a total of seven occasions with the series. Twice, they ran together in the top 10: (Jim third and James seventh at Du Quoin in 1976) and (James fourth and Jim sixth at Springfield in 1977).
Mike McCreary and son David McCreary competed against one another at the Cal Expo State Fairgrounds in 1994. Wayne Reutimann Sr. and his son, Wayne Jr., faced off in 2007 at Phoenix International Raceway.
Chuck and C.J. Leary attempted to become the most recent father-son duo to attempt the feat during the 2019 Hoosier Hundred at the Indiana State Fairgrounds, but Chuck did not make it into a transfer spot during the semi-feature to qualify for the feature.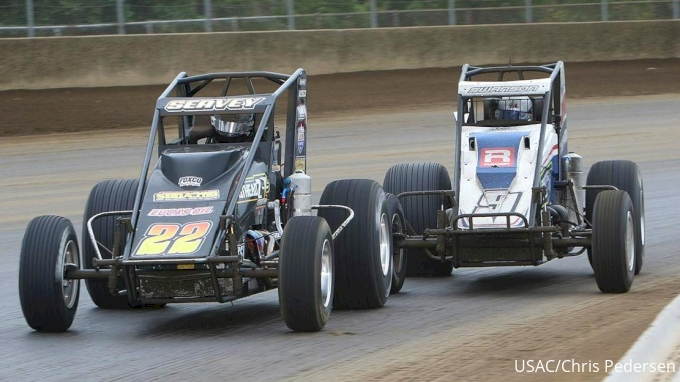 Kody Vs. Logan: Chapter 863
One year ago, Kody Swanson entered the WWT round with an 18-point lead on Logan Seavey in the USAC Silver Crown championship race.
Swanson subsequently won the pole and the race, while Seavey suffered a mechanical issue and dropped out early. From that point forward, Seavey played catch up to Swanson, before ultimately finishing second in the standings for the second consecutive year behind Swanson.
This time, the gap is much the same – 16 points. Between the two drivers, they've won the last four Silver Crown events. Swanson has captured the last three on pavement, while Seavey has scored two-straight on the dirt.
Four events remain starting Sunday at WWT, then it's on to Du Quoin on Sept. 2, at Eldora on Sept. 22-23 and at IRP on Oct. 14.
Two pavement and two dirt races are left, and both drivers have the shown the ability to run inside the top 5 with great regularity when they do not win. Avoiding DNFs is going to be the key moving forward and could very well tell the tale between the two at season's end.
The Midnight Ride Of USAC Racers
A double-duty weekend awaits for four individuals with a busy stretch ahead, especially between Saturday night and Sunday morning.
Justin Grant, C.J. Leary, Logan Seavey and Matt Westfall will be playing in the dirt for three consecutive nights at Kokomo Speedway on Thursday, Friday and Saturday during Elliott's Custom Trailers & Carts Sprint Car Smackdown XII.
Once Saturday night's feature at Kokomo is finished, those four will be making the 4.5-hour middle-of-the-night drive to WWT in order to make it to the track in time for the first Silver Crown practice session at 8 a.m.
Last week, Seavey became the third driver to win two USAC National features on different tracks in the same calendar day.
Though all the races are on different days this weekend, the time frame is relatively the same, and the task will be just as daunting for these four. Rest up and hydrate, guys!
Double Duty! 👊

👉 @JustinGrant40

👉 @CJ_Leary_

👉 @Logan_Seavey

👉 @WestfallRacing

All 4⃣ take on @kokomospeedway with the USAC @AMSOILINC National Sprints Thursday through Saturday.

Then it's off to @WWTRaceway Sunday morning for 100 miles of USAC Silver Crown racing. pic.twitter.com/HfuC5MUnTE

— USAC Racing (@USACNation) August 23, 2023
Does Anybody Else Feel A Draft In Here?
Unique to the WWT Raceway is the experience of the draft in a USAC Silver Crown car.
In a soon-to-be-released article by Pat Sullivan, Justin Grant and Kody Swanson revealed the benefits of this phenomenon.
Grant explained how he could be 10 or 12 car lengths back from the cars in front of him. As soon as they went side-by-side, it punched a big hole in the air, and Grant was able to drive right to their back bumpers with ease.
Swanson spoke of his ability to get a run on another car event at three-quarters throttle but cautioned that if you get your timing wrong and pull out of line at the wrong time, it feels like you have a big parachute coming out of the back of your car.
A Growth Spurt On The Entry List
It was just a handful of years ago that the Silver Crown car count at WWT Raceway was a major struggle.
In 2013, just 16 cars took the green flag, and in both 2014 and 2016, the number dropped to 13 each year.
The number rose back to 22 for the series return in 2022, and for this Sunday's race, 26 cars and drivers have announced their intentions of competing in the event.
That's double the count from seven years ago and comes on the heels of the first Silver Crown race to have a car count of more than 40 – last Saturday on the dirt at Springfield.
Bischak Rising
Derek Bischak (Angola, Indiana) is on the biggest roll of his USAC Silver Crown career entering Sunday's OutFront 100.
Bischak collected his best USAC Silver Crown finish of fourth this past May during the Hoosier Hundred at Lucas Oil Indianapolis Raceway Park. He then upped his best career result to third at Winchester in July and equaled it during the first week of August with another third at Toledo.
The 2019 USAC Silver Crown Rookie of the Year had been plagued by unlucky mechanical issues after similar great runs in recent years, but now, their program is hitting on all cylinders, and the team has become a prime contender to become the series' next first-time winner.
Race Details
This Sunday at World Wide Technology Raceway, the USAC Silver Crown National Championship races in conjunction with the NTT IndyCar Series.
Team load-in is 5:30 a.m.-7 a.m. Central on Sunday morning. Teams may also load-in on Saturday night from 8-9 p.m.
Spectator gates will open at 7:30 a.m. USAC Silver Crown Series practice is set for 8 a.m., with Honest Abe Roofing Qualifying slated for 10:15 a.m., pre-race ceremonies at noon and the 100-mile feature event at 12:15 p.m.
Tickets range in price from $50-$108 for adults. Tickets for ages 12 & under are $10. Advance tickets are on sale now at: metrotix.com/events/detail/indycar.
Coverage of Sunday's USAC Silver Crown event will be live on FloRacing.