2023 USAC Silver Crown at Winchester Speedway
26 Entries, 100 Laps On The Banks: USAC Silver Crown Takes On Winchester
26 Entries, 100 Laps On The Banks: USAC Silver Crown Takes On Winchester
Twenty-six USAC Silver Crown cars highlight the entry list for this week's Rich Vogler Classic Presented By The Pallet Builder at Winchester Speedway.
Jul 19, 2023
by FloRacing Staff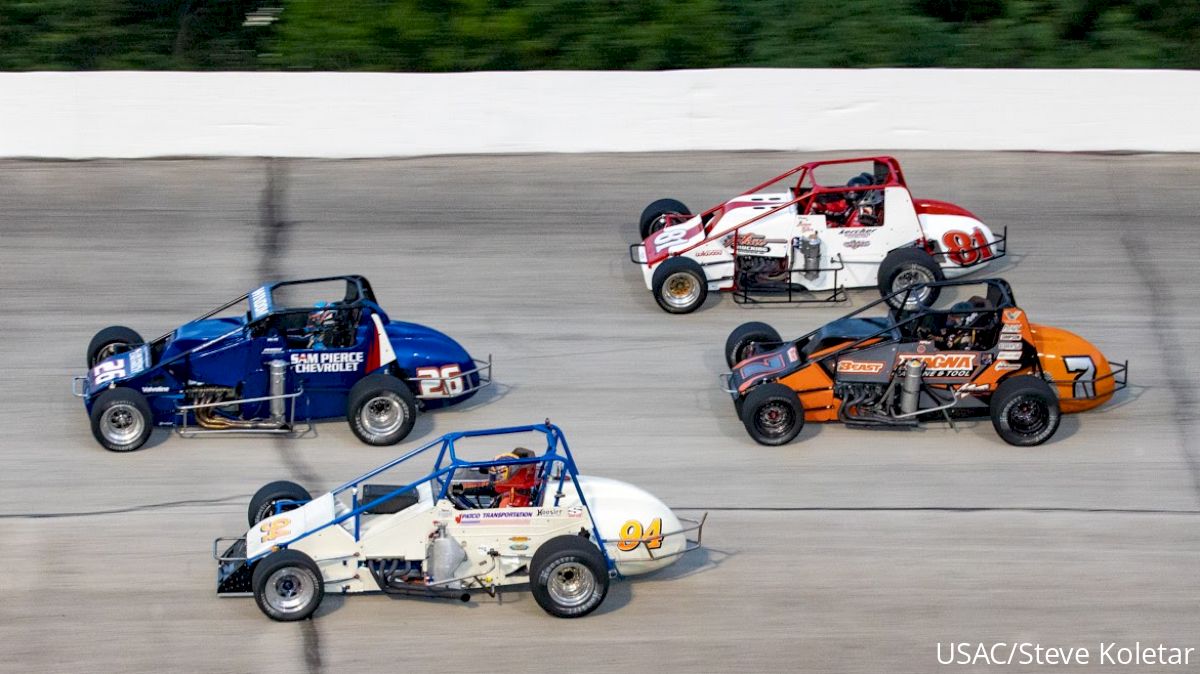 Twenty-six USAC Silver Crown cars and drivers highlight the entry list for this week's Rich Vogler Classic Presented By The Pallet Builder at Indiana's Winchester Speedway on Thursday.
It's the largest USAC Silver Crown field to greet the 37-degree banks in what will be the series' third Winchester appearance. Previous fields of 19 and 21 raced in 2021 and 2022, respectively.
In fact, this year's event is the largest lineup of cars and drivers for any USAC event at Winchester since 26 sprint cars were on hand for the April 2008 edition of the Rich Vogler Classic.
Winchester Winners, Series Champs
Thursday's field features each of the two past USAC Silver Crown winners at Winchester, USAC Silver Crown champions Justin Grant in 2021 and Kody Swanson in 2022.
Swanson, a seven-time series titlist, aims to become the first repeat winner of the Rich Vogler Classic since Tracy Hines did so in a midget during the 2012 and 2013 editions at Indianapolis Raceway Park.
Swanson (Kingsburg, California) finished as a close runner-up to Grant in 2021 and walloped the field in 2022 by a 10-second margin.
Swanson also has won the pole in each of the past two years at Winchester, and his time of 14.459 seconds in the 2021 qualifying session stands as the track record. That translates to an average speed of 124.49 mph around the half-mile paved oval.
Grant (Ione, California) is one of three past Rich Vogler Classic winners in Thursday field at Winchester, along with Swanson and Bobby Santos.
Swanson is a three-time winner, having also captured the event twice in a Silver Crown car at Lucas Oil Indianapolis Raceway Park in 2016 and 2019, while Santos collected a pair in the champ cars at IRP in 2012 and 2017.
A View From The Front At Winchester
Santos (Franklin, Massachusetts) led 18 laps early in the 2021 Vogler Classic en route to a third-place result.
He also finished in the third position during an Auto Value Super Sprint feature at Winchester in 2019.
Current USAC Silver Crown point leader Logan Seavey (Sutter, California), the 2018 USAC National Midget champion, showed his pavement racing chops at the Winchester round in 2022, finishing an impressive second.
Meanwhile, C.J. Leary's fourth-place run in 2022 came after starting in the 19th spot, before advancing 15 positions in the main event. On his qualifying run, the Panhard bar broke at the exit of Turn 2 on his second lap, and he narrowly avoided outside wall contact.
Leary (Greenfield, Indiana) also competed in a CRA Super Late Model at the track during the 2011 World Stock Car Festival 100 at the age of 15.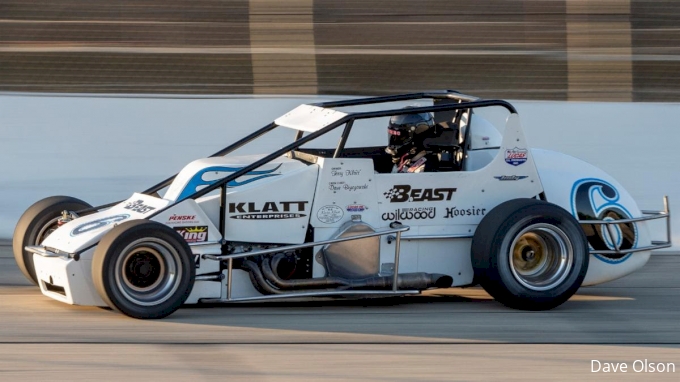 Taylor Ferns (Shelby Township, Michigan) made her first run at Winchester an impressive one in 2022, recovering from a mid-race spin to round out the podium with a third-place finish.
Kyle O'Gara (Beech Grove, Indiana) collected a career-best USAC Silver Crown result of fifth in the 2021 Vogler Classic, earning hard charger honors after starting in the 15th spot. He finished 10th in 2022.
The Winchester experience of Travis Welpott (Pendleton, Indiana) goes back to the late 1990s with the USAC National Midgets.
The 1993 UMRA TQ Midget champion and 2000 NAMARS Midget champion earned a career-best Silver Crown finish of sixth in the 2021 Vogler Classic and ninth in 2022.
Winchester, Indiana's own Matt Goodnight finished seventh during his homecoming race on the banks in 2021.
Kyle Robbins (New Castle, Indiana), running on a limited basis with Silver Crown series this year, was an eighth-place finisher in his first Winchester visit in 2021, as well in his second appearance in 2022.
Derek Bischak's first Winchester Speedway open-wheel racing experience came in 2021 with a ninth-place finish in Silver Crown action. He bested that performance with a sixth in 2022.
The 2019 Silver Crown Rookie of the Year from Angola, Indiana, previously had finished in the top 5 of a SUPERPRO stock car race at Winchester in 2007.
Mike McVetta (Grafton, Ohio) made his first career Silver Crown start at Winchester in 2021. His best career performance with the series came in his following start at Winchester, where he scored a seventh after starting 14th.
At Winchester in 2013, McVetta set the supermodified track record of 13.801 seconds in qualifying, then won his heat race and finished second in that afternoon's feature.
First Look With The Crown Cars
Dakoda Armstrong (New Castle, Indiana) has won on Winchester's banks in ARCA Menards Series competition, scoring a major victory at the 2011 Winchester 200. His open wheel experience at Winchester includes an eighth-place finish with the USAC National Sprint Cars in 2008.
Dakoda's cousin, Caleb Armstrong (New Castle, Indiana), returns to Winchester for the first time since winning an Auto Value Super Sprint race at the track in 2019. He has taken over the reins of Legacy Autosport's No. 19, which has been wheeled to a pair of podium finishes this season by driver Tyler Roahrig.
Caleb's most recent USAC start came in 2014 when he was named Silver Crown Rookie of the Year.
Matt Westfall (Pleasant Hill, Ohio) has made a multitude of midget and sprint car starts at Winchester with USAC and NAMARS, but Thursday will mark his debut at the track in a Silver Crown machine.
Davey Hamilton Jr. (Boise, Idaho) finished as the runner-up with the King of the Wing Sprint Car series at Winchester in 2016. Likewise, Billy Wease (Noblesville, Indiana) previously finished 16th with the King of the Wing Sprint Car series at Winchester in 2014.
Making their first appearances in competition of any kind at Winchester include the Kyle Steffens (St. Charles, Missouri), plus 2023 USAC Silver Crown Rookie of the Year contenders Trey Burke (Alvin, Texas), Wayne Johnson (Tuttle, Oklahoma) and Kaylee Bryson (Muskogee, Oklahoma), who is driving the Sam Pierce Racing car that was driven to a fourth-place finish at Winchester in 2021 by Aaron Pierce, and to a front row starting position in 2022 with Chris Windom.
The Race
Thursday night's Rich Vogler Classic race occurs a day before the 33rd anniversary of Vogler's passing in a 1990 USAC National Sprint Car event at Salem (Indiana) Speedway.
Vogler captured nine USAC driving championships in his career: 1978, 1980, 1983, 1986 and 1988 National Midget, 1980 and 1989 National Sprint Car and the 1984 and 1985 Speedrome Regional Midget.
Vogler's 171 USAC feature wins rank No. 1 all-time: 96 National Midget, 35 National Sprint, four Silver Crown, 17 Regional Midget, nine Western States Midget (two also were National), five Arizona Midget (four also were Western and one also was National), eight Speedrome Midget and four Midget Special Event.
The Details
Constructed in 1914, these 37-degree banks have hosted the most courageous and lionhearted drivers throughout the past century.
This Thursday night, the bravest of the brave put their mental and physical focus to the test for 100 laps.
Spectator Gates will open at 4 p.m. Eastern, practice will start at 5 p.m. and qualifying will get underway at 7 p.m., followed by an autograph session, pre-race ceremonies and the 100-lap main event. Crown Vics also will be in action.
General admission tickets are $30 for ages 13 & up. General admission tickets are free for ages 12 and under. Reserved seating is $35 for ages 13 & up and $15 for ages 12 & under. Pit passes are $35 for members and $40 for non-members.
Tickets will be available at the gate on race day. You can also save $5 buying advance tickets online at usacracing.ticketspice.com/2023-elite-promotions.
The event can be watched live and on-demand at FloRacing.