2023 NASCAR Whelen Modified Tour at Seekonk Speedway
Matt Hirschman Dominates NASCAR Whelen Modified Tour At Seekonk Speedway
Matt Hirschman Dominates NASCAR Whelen Modified Tour At Seekonk Speedway
Matt Hirschman led all 150 laps from the pole to take his second NASCAR Whelen Modified Tour victory of the 2023 season at Seekonk Speedway.
Jun 11, 2023
by Rob Blount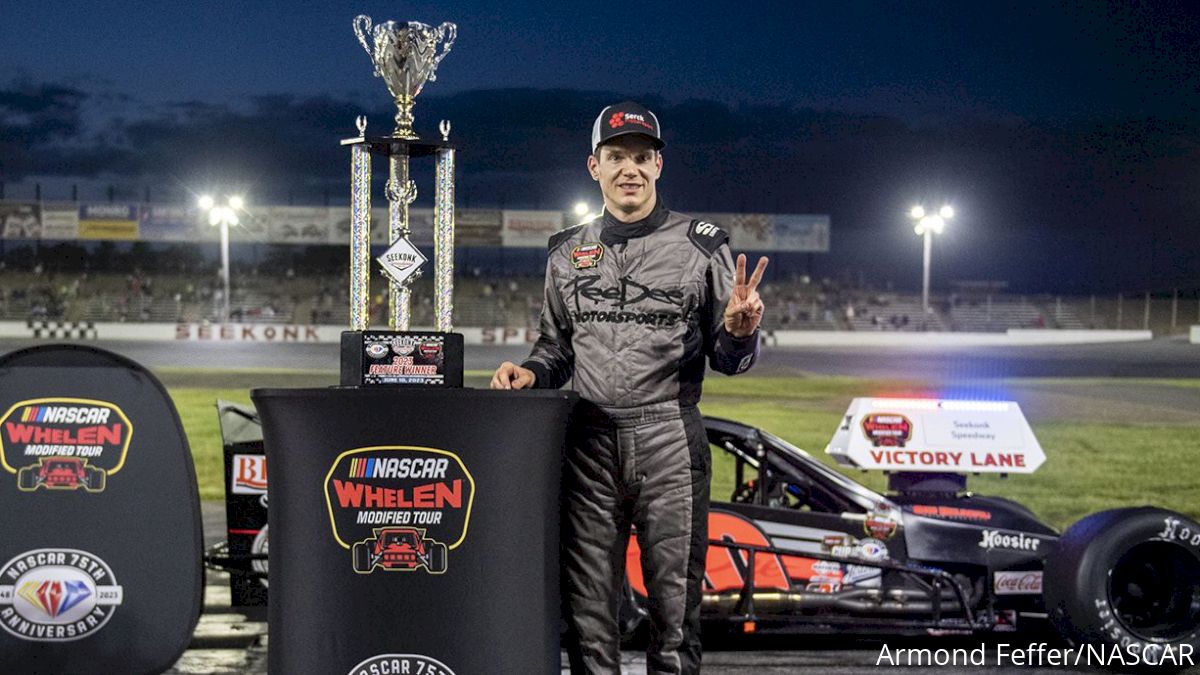 Matt Hirschman has won a bunch of times at the Massachusetts bullring of Seekonk Speedway, but Saturday's win was his most impressive yet. Hirschman won the pole to kick off his dominant Saturday night. The Northampton, Pennsylvania driver led every single one of the 150 laps run and finished the race with just four cars on the lead lap. The victory is the second of the season and second in a row for Hirschman. Hirschman is now the only driver to have won multiple races so far this season.
Winning Quote From Matt Hirschman
"Pretty dominant performance doing it from the pole. It's the first time we won a pole this year. I thought we would have had some by now. That put us out front and it's not a pit stop race, so as long as you have a car that can handle you can keep it out front. That's the best place to be. I believe this was a very big unknown for all the teams because of the pavement and the characteristics of the track changed. I think I'm going to like it. This has always been a good track for me, but not a great track. But now winning a Whelen Tour race here we've kind of won it all here." - Matt Hirschman
Highlights From Seekonk Speedway
NASCAR Whelen Modified Tour Points Update
Ron Silk entered Saturday's race at Seekonk Speedway with a narrow three-point lead over three-time champion Justin Bonsignore following the most recent race at Lee USA Speedway. Silk, the 2011 champion, finished one spot ahead of Bonsignore at Seekonk to extend his points lead.
NEXT RACE: NASCAR Whelen Modified Tour at Riverhead Raceway - June 24
LAST RACE: NASCAR Whelen Modified Tour at Seekonk Speedway - June 10
NASCAR Whelen Modified Tour at Seekonk Speedway Unofficial Results
| | | |
| --- | --- | --- |
| Pos. | No. | Driver |
| 1 | 60 | Matt Hirschman |
| 2 | 7 | Doug Coby |
| 3 | 16 | Ron Silk |
| 4 | 51 | Justin Bonsignore |
| 5 | 19 | Anthony Sesely |
| 6 | 34 | JB Fortin |
| 7 | 79 | Jon McKennedy |
| 8 | 64 | Austin Beers |
| 9 | 22 | Kyle Bonsignore |
| 10 | 92 | Anthony Nocella |
| 11 | 82 | Craig Lutz |
| 12 | 36 | Dave Sapienza |
| 13 | 32 | Tyler Rypkema |
| 14 | 46 | Justin Brown |
| 15 | 25 | Brian Robie |
| 16 | 18 | Ken Heagy |
| 17 | 01 | Melissa Fifield |
| 18 | 26 | Max Zachem |
| 19 | 3 | Jake Johnson |
| 20 | 6 | Woody Pitkat |
NASCAR Whelen Modified Tour Remaining Schedule
| | |
| --- | --- |
| Date | Track |
| June 24 | Riverhead Raceway |
| July 8 | Wall Stadium Speedway |
| July 15 | New Hampshire Motor Speedway |
| July 29 | Claremont Motorsports Park |
| August 5 | Lancaster Motorplex |
| August 16 | Thompson Speedway Motorsports Park |
| September 2 | Oswego Speedway |
| September 9 | Monadnock Speedway |
| September 16 | Riverhead Raceway |
| September 30 | North Wilkesboro Speedway |
| October 8 | Thompson Speedway Motorsports Park |
| October 26 | Martinsville Speedway |