2023 High Limit Sprint Series at Wayne County Speedway
Sheldon Haudenschild Set For High Limit Sprints Homecoming At Wayne County
Sheldon Haudenschild Set For High Limit Sprints Homecoming At Wayne County
Sheldon Haudenschild wants to make Tuesday's High Limit Sprint Car Series race at Wayne County a yearly event Sprint Car fans circle on the calendar.
May 15, 2023
by Kyle McFadden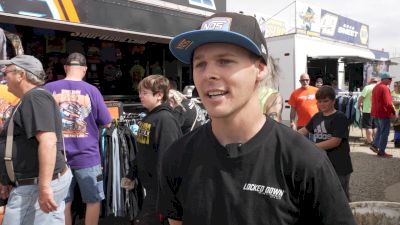 ORRVILLE, Ohio — Sheldon Haudenschild's love for Wayne County Speedway runs deeper than it merely being his hometown track just 15 minutes from where he grew up in Wooster, Ohio.
The 3/8-mile oval Haudenschild calls home in his heart is also home to the biggest achievements of his racing career: where he first won in a wingless Sprint Car in May 2013, his first All Star Circuit of Champions feature victory in July 2014, and a World of Outlaws Sprint Car Series feature victory in Sept. 2020.
Milestone moments aside, Wayne County's where it all started for Haudenschild and his crew chief Kyle Ripper, who before anything else is Haudenschild's longtime friend that's happened to have a significant hand almost every step of the Ohio driver's racing journey.
"Me and Ripper, that's where we grind our teeth, and put the time in when we started racing," Haudenschild said. "Would love to add a High Limit (Sprint Car Series) race to that. … It's stomping grounds at home and the fans show up. I feel the love when I'm there. Ripper feels the love when he's there. That goes a long way. It pumps you up and gets you motivated. It puts a little pressure on you for sure."
The love and pressure Haudenschild speaks of meets Tuesday night at Wayne County, the site of High Limit's third race in the series inaugural season. Haudenschild will not only be racing in front of a hometown crowd, but he's the promoter of the Sprint Car-only event paying $32,023-to-win, the largest purse in Wayne County history.
Tuesday's race, with sponsorship from NOS Energy Drink, is formally titled Sheldon Haudenschild's Buckeye Brawl presented by DAC Pete Products. It would be Haudenschild's second go-around as a promoter if it weren't for Mother Nature washing out last September's High Limit exhibition event at Wayne County.
"Last year was a bummer. I think, even last year, throwing it together pretty short notice was going to be big," Haudenschild said. "Looking forward to this year, having a little more time to let people know about it, and being able to actually promote it a little bit; work on some stuff that we wanted together with the High Limit Series. … Looking forward to it. I feel we've all been communicating really well and have a good game plan going to it.
"To be the highest-paying Wayne County race is going to be awesome," Haudenschild added. "Yeah, just looking forward to that part of it. I feel like, growing up racing there, to get an Outlaw show there was huge. But to able to get something to pay a good amount of money is exciting to me."
Haudenschild's thoroughly enjoyed his participation in the High Limit Series thus far, whether that'd be working behind the scenes with fellow World of Outlaws driver Brad Sweet and his series officials, or actually competing in events like April 11's season opener at Lakeside Speedway in Kansas City, Kan.
What Haudenschild appreciates the most is Sweet's listening ear, that he welcomes feedback from the racer's point of view when it comes to fine-tuning logistics, track prep, and the overall experience for race fans and competitors alike.
"Being able to have input on that is the best thing as a racer, having racers running it," Haudenschild said. "You feel like your input is actually thought about and put to work a little bit. For me, that's what's exciting, being able to have input on something; see of it works or not and have trial and error that way."
"I think, with Wayne County, it's hard to not have a good show," he added. "Just exciting on that front. Hopefully we can put on a good race and the fans are pumped, and get out of there at a good time. I think that's one thing for racers and fans, you don't want to drag it out. That's one of our main goals: to run a smooth show."
Haudenschild will be facilitating an autograph session with Tuesday's competitors that'll begin at 4 p.m. right as the spectator gates open.
"That's what's exciting for the fans is being able to have that atmosphere with all the drivers," Haudenschild said. "Yeah, looking forward to that. Hopefully all the drivers can be there when the fans are rolling in, giving them a good experience."
"Hopefully we can produce something cool out of that," he added. "NOS has stepped up big time. We have some giveaways and stuff from them. Stuff like that for the crowd to look forward to."
Tuesday's field is also shaping to be the largest in High Limit's short history, too. As of Monday morning, 59 prospective entries are registered for the third race of the inaugural High Limit season. There's also a $3,000 bounty on Haudenschild, so someone could leave Orrville, Ohio, with a whopping $35,023.
"It's exciting. I haven't raced (Kyle) Larson and Rico (Abreu) there in a long time," Haudenschild said. "I think they are the two guys that are going to be there at the end of this deal.
"All the guys that are there know how to win," he added. "I think the car quality is great. Just excited for the whole thing, from the fans that show up in the stands, to the ones that'll be watching. That's huge. To be able to put Wayne County on the map like that, and to be paying a good amount of money. That's what it's all about. Hopefully we can win."
As for the future of the Haudenschild-promoted race at his hometown track, the World of Outlaws driver would like to make the event a yearly happening and something that Sprint Car fans circle on their calendar in the coming years. He's optimistic that can come to fruition.
"If we can keep paying this type of money and have a race sponsorship supporting it like NOS, let's do it," Haudenschild said. "We've had tons of great people — local sponsors — jump onboard that are really pumped for it. That's huge for us as promoters, having local sponsorships and NOS obviously kicking in and supporting you. You feel like you can't lose. If we can keep doing stuff like that, I'd say we keep doing it."