2023 PASS & ACT Community Bank 150 Weekend at Thunder Road Speedbowl
Derek Griffith Wins PASS Super Late Model Battle At Thunder Road Speedbowl
Derek Griffith Wins PASS Super Late Model Battle At Thunder Road Speedbowl
Derek Griffith turned around his stretch of bad luck by winning Saturday's PASS 150 at Thunder Road Speedbowl.
May 7, 2023
by FloRacing Staff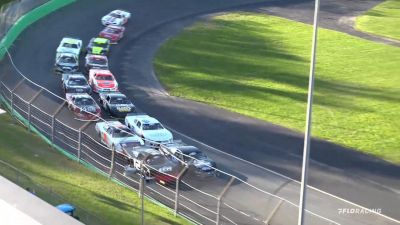 Barre, VT — As part of a reimagined opening weekend for the 64th season of stock car racing at Thunder Road International Speedbowl, the Pro All Stars Series (PASS) invaded the State of Vermont on Saturday. The PASS Super Late Models once again stirred the bowl at Thunder Road along with the PASS Modifieds and R&R Race Parts Open Street Stock Series to kick-off the 2023 racing season with plenty of octane and horsepower to fuel the thrills and spills of the triple-header event.
After several weeks of rain-outs for the Maine-based Super Late Model Series, the PASS North and National Series troupe were finally able to continue their 2023 season. By taking the two heat race wins, Gabe Brown and Derek Griffith led the field to green with Griffith quickly taking control. The Hudson, New Hampshire native maintained his leading position all while Brown, D.J. Shaw and Evan Hallstrom put on the pressure from behind. A late race spin by Dennis Spencer brought Hallstrom to battle with Griffith as the former Thunder Road weekly racer went toe-to-toe with the nationally recognized hot-shoe.
Through multiple caution periods, the battle between Griffith and Hallstrom continued to heat and cool as the two switched positions on the restart constantly, one not quite getting the edge over the other. On the final restart with just over ten laps remaining, Griffith showed his veteran capabilities and charged away from Hallstrom to claim the PASS Super Late Model 150, his second-career Thunder Road victory. D.J. Shaw fought the good fight all race long to come home second followed by Hallstrom who took down his third, third-place finish in Pro All Stars Series competition.
The PASS Modifieds brought Thunder Road to life in more ways than one. Young Evan Roy became the first victim of the Widowmaker frontstretch wall in his heat race, meeting Thunder Road for the first time behind a tow truck. Come feature time Brandon Varney showcased himself as class of the field leading his fellow Modifieds the whole way through. Not a run-away by any means, with Spencer Morse and Spencer Vaughn all over his rear bumper from green to checkers. Varney took down his first Thunder Road win in a very excited Victory Lane followed by former Thunder Road winner Spencer Morse and Vaughn rounding out the podium.
The R&R Race Parts Open Street Stock Series returned to Thunder Road to assist the PASS pros on lid-lifter Saturday. Twenty-two V-8 Street Stocks from across New England converged on Thunder Road as they were led to green by longtime twin state racer Chris Riendeau and defending Stafford Speedway champion Adam Gray. Riendeau took the jump but was quickly chased down by defending Thunder Road champion Sam Caron before Kris Watson and Brian Caswell tangled on the front stretch.
The battles up front continued to grow physical between Riendeau, Caron and Jason Woodard concluding on laps 58 and 59 as the Thunder Road regulars came to blows with the invader. After muscling his way around, Sam Caron went on a tear through the final fifteen circuits to take the R&R Race Parts Open Street Stock 75. Chris Riendeau came home second followed by Jason Woodard for third to round out the evening's events.
Sunday brings the 25th Annual Community Bank N.A. 150 at Thunder Road on Sunday, May 7th. The stars and cars of the American-Canadian Tour go toe-to-toe with the weekly Thunder Road Maplewood/Irving Late Models, the Lenny's Shoe & Apparel Flying Tigers, rk Miles Street Stocks and the Burnett Scrap Metal Road Warriors. Annual Class Day activities celebrate the 2022 track champions and the 2023 class of racers begins at 12:55pm with post time for the Community Bank 150 set for 1:30pm. Grandstands open at 10:00am on Sunday with general admission pricing set at $30 for adults, kids 12 to 6 are $10 with children 5 and under free!