2023 Spring Nationals at 411 Motor Speedway
A New Dirt Late Model Chassis Won A Race Last Weekend
A New Dirt Late Model Chassis Won A Race Last Weekend
Cory Hedgecock drove his BMF Race Cars chassis to victory lane for the first time in Saturday's Schaeffer's Spring Nationals race at 411 Motor Speedway.
Mar 14, 2023
by Robert Holman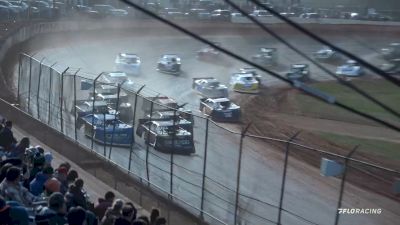 SEYMOUR, Tenn. — Cory Hedgecock's pet project took a major leap Saturday at 411 Motor Speedway.
Hedgecock drove his fledgling chassis brand, BMF Race Cars — a collaboration between Hedgecock, his father Chad and renowned fabricator Bruce Nunnally — to a $15,000 victory in 411's Tennessean, topping a solid 45-car field in the 71-lapper sanctioned by the Schaeffer's Spring Nationals.
Though Hedgecock scored a pair of Crate Racin' USA Winter Shootout Series victories in a BMF Race Car, Saturday's triumph marked the car's first Super Late Model victory. It was the third night on this particular chassis after a pair of Spring Nationals races in Georgia earlier this month.
Saturday's victory was satisfying for Hedgecock, who is typically one of the favorites at the Mitch McCarter-owned oval each time he unloads. Hedgecock said he feels the pressure "until there's this kind of race where there's Jimmy (Owens), (Mike) Marlar, and Ricky (Weiss) and Dale (McDowell), just a lot of good cars."
"When I was coming to green, it's like the first seven guys ... and they 100 percent belong to be there ... I was just like, 'Man it's going to be hard to dig my way past these guys.' I can dig my way past my people, the way I'm going to interpret it, the regional, more Ray Cook (series), Southern All Star guys. But as far as national people, other than one car in front of me, as far as I'm concerned, they're all national people. So it's just tough."
Outrunning such a stellar field, even at his home track, is certainly a boon for Hedgecock and his upstart chassis business. Winning always sells race cars.
"Happy. Thrilled. Can't think of a better way to do the BMF deal with me and dad," Hedgecock said. "We've got nine or 10 of them I think assembled. I think four or five of them has already won, 22 of them sold to date. A lot of good people. We're working on one national guy who hopefully will come through. Maybe tonight made a statement for that to kind of seal the deal on that one. And if we can it would be great."
Chad Hedgecock's Eagle Race Engines in Knoxville, Tenn., where both he and Cory build powerplants for a variety of motorsports applications and are also certified Crate Late Model engine rebuilders, is the family's bread and butter. Cory said the new chassis venture is still second to building motors.
"Our engine shop is our main priority. We're able to live off that," Cory Hedgecock said. "That's our main Monday through Friday 8-5. So the race car deal, man, it's not our full-time gig, so if we're able to build 30 to 45 cars a year, which is going to be probably all were able to physically do with the help we have and how quick we can get frames built between Bruce and stuff like that — Bruce has got other stuff going on — he can't just sell his soul to me, unless it gets to the point where we're like Rocket (Chassis) and we're selling 200 cars a year and if it gets to that point it's a whole other ballgame.
"Until then, where we are is where we are and we're very content with that. We think we've learned some stuff racing and want to share that with all of our guys and the same thing when we find something tricker on an engine package, immediately (I say) here's what we got. The car program is going to work the same way. We've had good luck and good success so far and hopefully it will continue."
Working with Nunnally is a big key. Nunnally also constructs the Sniper Chassis for Canadian-turned-Tennessean Ricky Weiss and is a certified Rocket Chassis repair service. He's worked at both C.J. Rayburn's and with Scott Bloomquist. Both Nunnally's Brucebuilt Performance and the Hedgecock's Eagle Race Engines are in the same building complex, their front doors a mere 20 feet apart. It's hard not to think about building chassis when one of the sport's premier fabricators is next door.
"We've worked together on and off. Probably last Septemberish we got with Bruce and thought hey let's go down this road," Hedgecock said. "Between me, him and dad, we put all our thoughts together. Obviously he's a very smart fabricator and knows everything that we don't know as far as structurally, like putting a bar on this 45 (degree angle) compared to laying it this way I understand it's still a triangle, but with intel, what are we doing on the other side of that triangle. He's very, very, very intelligent when it comes to that. Between all three of us I think we've got a pretty good package and hopefully we can continue.
"We did a B1 (chassis) with him earlier, fives years or so ago, and that deal worked out good. It was Bruce's car and we had good success out of that deal too and I'm really not even sure why or how that deal unfolded. Me and dad has tossed the idea around for almost two years. On my level of racing, I think we're on a level where we could do it."
Finding a niche for BMF Race Cars in an already flooded market if chassis builders may be the toughest part. No two brands are the same, but Cory Hedgecock said they're not all that's different either.
"In the grand scheme of things other than structurally speaking, everyone is within ... nobody is just off the beaten path here," Hedgecock said. "Between Longhorn, Rocket, Black Diamond, us, Ricky (Weiss), Scott (Bloomquist), I think you could lay them all on a jig, and nobody is just going to be like holy hell, the motor is moved 6 inches one way or another. (Instead) it's a half-inch here or a half-inch there, the upper A-frames are on a different angle and stuff like that. Nobody is just in left field obviously.
"At the end of the day as long as you have a good mechanically acting race car and nothing is just weak, flexing and bending to hell and back or something of that nature, then at the end of the day it's just (a frame) and it depends on who's sticker you put on it. And the car doesn't know whose sticker you put on it. As long as it's a good race car and it will steer and it's got some good scotch and stuff like that, and then really you'll be able to make anything work."
Proving that is up to Hedgecock the driver. He's won in Rockets and he's won in Black Diamonds. Now is a winner in Super Late Model competition in his own BMF car.
"The good guys have proven it time in and time out, the (Jonathan) Davenports and (Mike) Marlars and Brandon Overtons. I don't care what they get in. They can literally get in a wheelbarrow and be fast in it," he said.
Hedgecock is smart enough to know that it'll take more than just winning races himself to sell the car though. When his customers start winning, that's when eyebrows will start to raise. So to get to that point, Cory said both he and his father are a open book — for now.
"So far, everyone that we've dealt with, we are very one-on-one because we want to get this deal rolling," Hedgecock said. "We can only do so much and at a certain point we'll have to cut that off to an extent until somebody, I hate to say it, pays for that help. But right now, he who buys a car gets full Cory and Chad help because we need the help. We need the notebooks building thicker and thicker and thicker. Right now, we showed speed, we got speed, we just need a bigger notebook.
"That's what beat me in qualifying. I just screwed up and it buried us. Qualifying means so much anymore especially on that kind of track where it's just dirty. But you still got to be maneuverable and you've got to be able to make everything work and luckily we can. We've had good luck and I have no complaints so far. Right now this thing steers better than anything I've ever been in and it rotates still and at the end of the day it'll get tight, but you can steer out of the push and that's a big deal for me."