2023 Spring Nationals at Senoia Raceway
Wil Herrington Toughs It Out For Spring Nationals Win At Senoia
Wil Herrington Toughs It Out For Spring Nationals Win At Senoia
Wil Herrington won a rough and tumble Spring Nationals Series race at Senoia Raceway on Saturday night.
Mar 5, 2023
by FloRacing Staff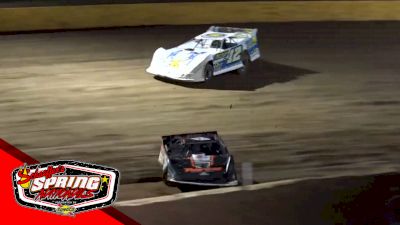 SENOIA, Ga. — On a night when more than half of the 43 entries elected not to compete because of rough track conditions, Wil Herrington hung in there the longest. The Hawkinsville, Ga., driver was among those entered in Saturday's $10,053-to-win Schaeffer's Spring Nationals event at Senoia Raceway and when drivers began loading up after time trials due to the overwhelmingly choppy conditions, Herrington was in the minority.
After speaking with his car owner Colton Miller, Herrington opted to stick around and run the feature, a move that paid off via his first career Spring Nationals triumph.
It wasn't easy though. Despite finishing a comfortable 14.458 seconds ahead of Clover, S.C.'s Ross Bailes — Bailes and third-finishing Parker Martin Jr. of Milledgeville, Ga., tangled in turn four on the final lap and both limped to the finish — the main event was a rough and tumble affair.
Only six of the 18 starters were still on the track at the completion of the feature, which was trimmed to 35 laps from its scheduled 53. Sixth-finishing Austin Horton of Whitesburg, Ga., was still on the track at the end, while Commerce, Ga.'s Payton Freeman finished fifth despite watching the final two laps from the pit area after his G.R. Smith-backed ride suffered a suspension failure that included a damaged J-bar and broken driveshaft.
The track, roughened by two days of steady rain leading up to the event, was truly unkind. Even so, Herrington insisted that his JCM Motorsports team never really considered loading up.
"Not really. We didn't," said Herrington as he sipped an adult beverage while standing just inside his team's hauler. "Really we kind of looked at it like it was kind of like (the Gateway Dirt Nationals inside the Dome in St. Louis, Mo.). It was rough there. You run a little faster here. Everybody was (loading up) and I called the boss man and said, 'Hey a few guys have loaded up,' and he said, 'Ok, then go win.' I felt like he was fine with it so I was fine with it."
With Miller's blessing, Herrington went out and did exactly what the boss ordered. It was a dominating performance made easier not only by the absence of stars like Mike Marlar of Winfield, Tenn., and Brandon Overton of Evans, Ga., who qualified first and second in the first group just head of Herrington before deciding not to put their equipment at risk, but also by the early departure of Ashton Winger, who led laps 9-14 before smacking the wall in turn four.
Winger, of Hampton, Ga., started sixth and quickly made his way to second before taking the lead from Herrington on lap nine. He was cruising at the head of the pack when his Jeff Mathews-owned machine suddenly turned right and slid nose first into the wall.
"I think what happened is on the right front we have one of those plastic braces and it broke and got up under the right front tire and it's so rough out there that whenever I landed it just kind of jerked the wheel right I think," Winger said. "Luckily I was able to get slowed down enough so I didn't hit it too hard. Just a freak accident on a rough racetrack. That's part of it.
"(The) shock, lower (control arm), upper (control arm), everything's still intact. You can see on the right front tire where something spliced it. It didn't go flat or anything, it just got against it and when you're out there bouncing around and your wheel is already kind of going back and forth, you're in very little control as it is. Just kind of a freak accident deal."
Like Herrington, Winger put a call in to his car owner, Jeff Mathews, before deciding to compete.
"A lot of guys loaded up after qualifying and we contemplated on it. It's a risk-reward that you take," Winger said. "Shoot, when the guy who is the fastest time in Group A and the guy who is second to me in Group B (both load up), you got to look at it. I called my car owner and we talked about it and we made the decision to run the heat race. (In the heat) we kind of had a freak deal happen there on the start.
"I still feel like we're good enough to win (the feature) from sixth and I think our car showed we were good enough to win. Whenever I got to the lead there I was just going to try to ride and protect for as long as I could. We ran second there in the heat and I felt like we had a good enough car and they worked on the racetrack there where you could at least go around, it was half a lane to a lane that was smooth. Just the longer we went, it got rougher and rougher."
Herrington said he wasn't overly concerned when Winger went blasting by on lap nine, but when Winger wound up in the fence just a few laps later, he took it as a warning.
"When he got by me I thought, well, we still got a long ways to go, I'm just going to kind of sit here and be patient," Herrington said. "When (Winger crashed), that did make me slow down enough so if I did catch a hole I wouldn't just knocked the whole nose off of it. You just try to make the best decisions you can in that stuff right there. After Ashton had crashed I think we ran about four or five laps honestly, (crew chief and spotter) Brian (Green) had gave me a big lead with the sticks, so at that point it was just watch him and make sure that if I slowed down I could still keep my lead and I was OK to keep slowing down. At that point I knew that I was okay and that I could take care of the car then."
Taking care of their cars is what most driver entering the second race of the Ray Cook-promoted tour intended when they loaded up early. Cook said he didn't blame them, but he was certainly wasn't going to blame Senoia Raceway officials — the same group that, facing remnants of Hurricane Nicole, covered nearly the entire racing surface last November in order to get the Castrol FloRacing Night in America-sanctioned Peach State Classic in the books. Cook noted how hard the crew at the Pollard-family track worked.
"I've said all night long, no one has done nothing wrong," Cook said. "I don't fault anyone that loaded. I don't fault those that didn't load, you know what I mean? Everybody's individual circumstances are different. Some people like a track like that, some don't. Some are worrying about $20,000 (for Sunday's Southern All Star Series event at Cherokee Speedway in Gaffney, S.C.) and some wasn't. Some aren't going to Gaffney. Everybody's situation is different. Nobody done nothing wrong. The track didn't do nothing wrong. We didn't, none of the drivers.
"It was just circumstances of the weather that caused it. We had a beautiful day. This is the prettiest day you could've had here in March, blue skies. There's no way you could call it off. We really had no way of knowing the track was going to end up like this. Hindsight is always 20-20, but I thought everybody here did a good job under the circumstances. Some people are gonna say whatever, but I mean the Pollards did all they could possibly do."
Track officials indeed did make an effort to rework the track on three occasions after the action got rolling. But the fixes were short-term only. Herrington said he had little choice but to make do with what was available and go as fast as he could while it lasted.
"(Turns) one and two I could actually make decent laps through there," he said. "Not great laps obviously, but decent enough laps that I felt like I wasn't going to just destroy the race car. I could get through there around that bottom pretty good and I was OK. But (turns) three and four it got so bad there that you couldn't even pick a line that was halfway smooth. The top of (turns) three and four, the middle of three and leaving four, was actually a good lane, but it got so bad getting in (to turn three) where everybody had been turning their cars getting into turn three, that even if you rolled across it you would still catch other holes or ruts. Then you were so close to the wall that it just made it too sketchy.
"You thought you were going to tear it up, so I just elected to kind of start running straight into the corner, almost stopping. I seen Brian and he was showing me a big enough lead that I just want to make sure I had something to finish the race with. We had a tire that was going down ... it actually went flat in victory lane ... so I didn't want to see that green-white-checkered (finish) because I could tell that something was going wrong. I figured it was just a replay of Gateway again (when he was overtaken on a late restart). But, I done a lot of praying and it was just our turn. I'm just blessed with this opportunity with JCM to get out and hit bigger races. We'll just keep working and try to get some bigger wins."