2023 NASCAR Whelen Modified Tour 200 at New Smyrna Speedway
Ron Silk Wins NASCAR Whelen Modified Tour Slugfest At New Smyrna
Ron Silk Wins NASCAR Whelen Modified Tour Slugfest At New Smyrna
Ron Silk held off Justin Bonsignore in a thrilling late-race battle to win the NASCAR Whelen Modified Tour season opener at New Smyrna Speedway.
Feb 12, 2023
by NASCAR Roots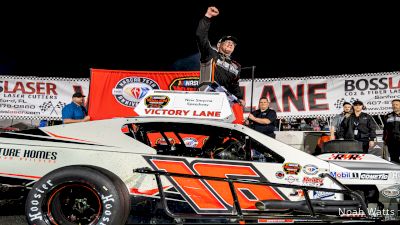 NEW SMYRNA BEACH, Fla. — Veteran Ron Silk endured the entire 2022 NASCAR Whelen Modified Tour season without visiting Victory Lane.
It took Silk just one race in 2023 to end his dry spell, as he held off Justin Bonsignore in an enthralling late-race battle to claim the New Smyrna Beach Area Visitors Bureau 200 at New Smyrna Speedway on Saturday night.
Silk knew the cars prepared by Haydt Yannone Racing were always capable of taking home checkered flags, which is why he felt a strong sense of catharsis to finally earn his first victory with the organization.
"It's always good to win," Silk said. "I had a great car last season and a lot of chances to win but couldn't get over the hump. To get it over with in the first race feels good. That's a lot of pressure off of us."
The last time Silk visited Victory Lane came at Oswego Speedway in 2021. Nobody could touch Silk in Kevin Stuart's Modified that evening, as he led a race-high 111 laps before defeating Matt Hirschman by more than two seconds.
RESULTS: NASCAR Whelen Modified Tour at New Smyrna Speedway
Saturday's triumph would not come as easy for Silk, who needed a late caution to fight his way into the top spot ahead of Bonsignore, Hirschman and the dominant car of the evening in six-time NASCAR Whelen Modified Tour champion Doug Coby.
Bonsignore pressured Silk during the closing laps before making an aggressive dive into Turn 1 that gave him his first lead of the night. Silk ultimately returned the favor a couple laps later with a similar move, which gave him enough of a cushion to hold off Bonsignore.
Despite being disappointed over his second-place run, Bonsignore was satisfied with a strong performance after a mechanical failure sidelined him at New Smyrna last season after just 31 laps. He also commended Silk for racing him aggressive but clean to settle the season opener.
"We wanted to win, but this was a good start to the year compared to what happened last year," Bonsignore said. "We made a good adjustment on that last pit stop and freed the car up just a little bit. If we got the lead, I felt like we could have held [Silk] off, but I couldn't get enough of a gap to prevent him from making that same banzai move on me.
"As soon as you lay the bumper to somebody else, it opens the door for them to do it back to you, and that's just good, hard racing."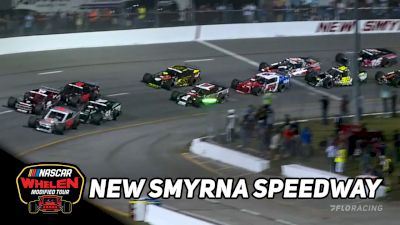 VIDEO: Watch highlights from the NASCAR Whelen Modified Tour at New Smyrna Speedway.
Bonsignore nearly suffered a similar fate to his recent outing at New Smyrna. With 32 laps remaining, a bad entry into Turn 1 by Bonsignore while battling Silk caused him to get turned by Coby, triggering a multi-car pileup that left Bonsignore mostly unscathed and with solid track position.
Now that New Smyrna is behind him, Bonsignore is eager to defend his victory from Richmond Raceway last year as he looks to carry the momentum from Saturday into his fourth NASCAR Whelen Modified Tour title.
"We were pretty frustrated to leave [New Smyrna] last year dead last," Bonsignore said. "It's so much easier to kick the season off on a good foot. This was a solid second place run and it makes things easier as we chase points this year. We'll take this break before Richmond [Raceway] and try to get better."
Silk also hopes he can add a second NASCAR Whelen Modified Tour championship to his resume at the end of the year, but he intends to cherish the prestigious 1948 Cup for the time being.
Inspired by the trophy Red Byron received when he won the very first NASCAR race at Daytona Beach, The 1948 Cup was a tremendous reward for Silk, whose own career in the NASCAR Whelen Modified Tour dates back to 2003.
Silk has always possessed a fond appreciation for Modified racing that includes New Smyrna's prestigious World Series of Asphalt Stock Car Racing. He is confident his own history in the NASCAR Whelen Modified Tour will include plenty more celebrations long after New Smyrna on Saturday.
"It's really cool for our team to get this win," Silk said. "This is one of my favorite tracks, and I love Speedweeks. To have Ben Kennedy from NASCAR come out and present us [the 1948 Cup] with all the history and nostalgia that goes along with it is awesome."
Hirschman, who was involved in an early collision with Tyler Rypkema, overcame the early adversity to salvage a third-place finish, with Anthony Sesely and Coby completing the top five.
Jake Johnson, Dave Sapienza, Austin Beers, Anthony Nocella and Tommy Catalano were the rest of the top-10 finishers.
A replay of the New Smyrna Beach Area Visitors Bureau 200 can be seen on CNBC on Saturday, Feb. 19 at 10 a.m. ET.
The NASCAR Whelen Modified Tour will be off for seven weeks before returning to action at Richmond Raceway on March 31 at 6:30 p.m. ET. The race will be streamed live on FloRacing.