2023 US Street Nationals
Complete US Street Nationals Results
Complete US Street Nationals Results
Class by class results from the 18th Annual US Street Nationals from Bradenton Motorsports Park. Watch full replays of the event on FloRacing.com
Feb 2, 2023
by Courtney Enders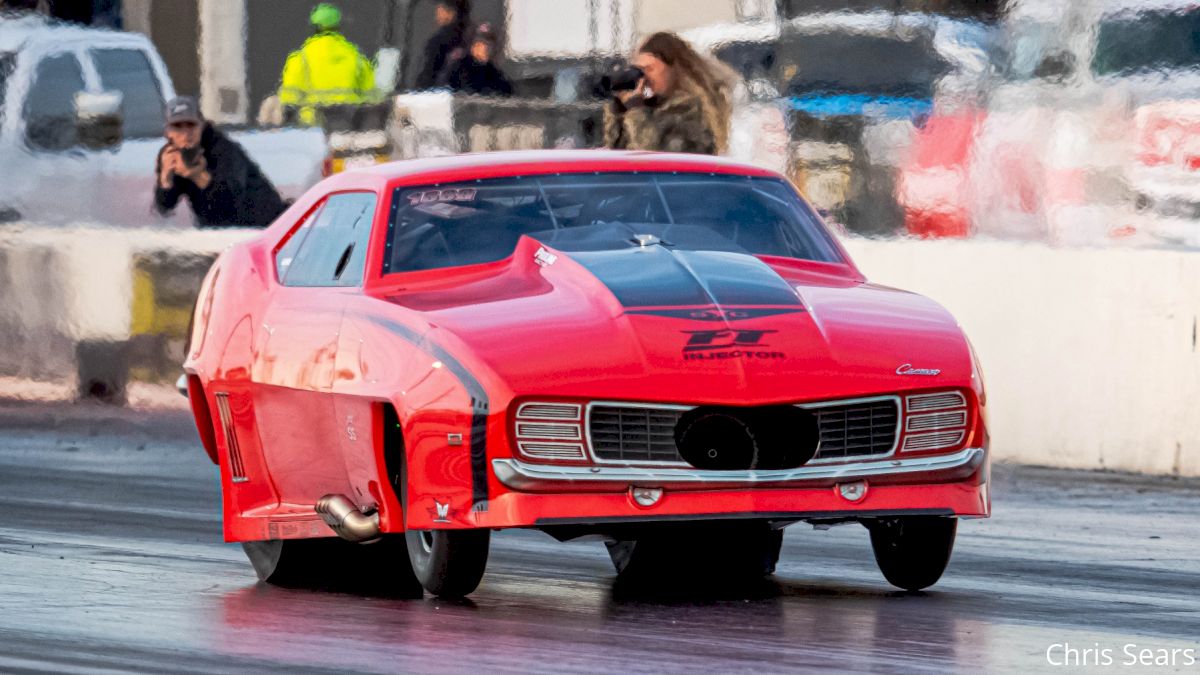 Multi-time U.S. Street Nationals presented by M&M Transmission winner Ken Quartuccio scored his first Pro Mod class win at the long-running event Sunday night at Bradenton Motorsports Park. In the Outlaw Pro Mod presented by FuelTech and PJS Racing final round, Quartuccio used a 3.652-second pass at 204.35 mph to defeat Raymond Matos and his 3.677 at 202.67 to collect the trophy and the $32,000 check.
The other U.S. Street Nationals winners are Marcus Birt in Pro 275 presented by M&M Transmission, Andy Manson in Limited Drag Radial presented by TBM Brakes and Pro Line Racing, Kenny Hubbard in X275 presented by Rife Sensors and PST Driveshafts, Shawn Pevlor in Ultra Street presented by TRZ Motorsports and Innovative Racecraft, Brad Schehr in Limited 235 presented by SPA Tools and ICE Ignition, Chris Holdorf in Outlaw 632 presented by Voss Wheelie Bars, Kevin Lumsden in Sealed Crate Motor Shootout presented by Scoggin-Dickey, NTS, and Jason Dietsch Trailer Sales, and Marques Hatton in the N/T Shootout presented by Florida N/T and Speed & Truck World.
Index class wins went to Geordan Hoagland in 5.50 Index, Bill Stepp in 6.50 Index, and Gerard Hamlik in 7.50 Index.
OUTLAW PRO MOD
As an outlaw racing veteran, Ken Quartuccio has collected wins in numerous classes at several major events. An Outlaw Pro Mod win at Bradenton has escaped him until this weekend, though. After running consistently in the 3.60s throughout qualifying and eliminations, Quartuccio used his best run of race day – a 3.652 at 204.35 – to score the final-round win over Raymond Matos and his 3.677 at 202.67. It was a wire-to-wire win for Quartuccio, who led Matos off the starting line with a .022 reaction time to Matos' .028.
"This is tremendous," Quartuccio said. "I was talking to Manny Buginga today and I said to him, 'Of everything I've ever done in my life, Pro Mod is the hardest thing I've ever done. It's so humbling. It doesn't matter if you have a lot of money or a lot of skill. You just need everything to be perfect.' This means a lot because today, I think we were just about perfect."
Quartuccio started race day from the No. 14 spot in his Jamie Miller-tuned, ProCharger-boosted '69 Camaro, winning first round over Tom Blincoe with a 3.682 at 201.97. In the upset-filled second round, he knocked out No. 3 qualifier Randy Weatherford's 4.114 with a 3.982 at 187.29. He then had a single in the third round – a 3.662 at 202.58 – when Terry Coyle couldn't make the call. A .016 reaction time paired with a 3.653 at 203.77 gave Quartuccio the semifinal win over Mike Decker Jr. and his 3.687.
Sunday's win is Quartuccio's latest memorable performance at Bradenton Motorsports Park. He also had a runner-up finish in Outlaw Pro Mod at the 50th annual Snowbird Outlaw Nationals in 2021.
"I've won a lot of races with this car, but not down here," said Quartuccio, a six-time U.S. Street Nationals winner. "This place is really special to me. Every time I feel down on my luck, I come here and I usually leave with a smile. Even losing to Melanie [Salemi at the 50th Snowbirds], it was a win for us."
With the momentum of his big win, Quartuccio is ready to take on the rest of his 2023 Pro Mod schedule, which will continue at Bradenton on March 3-5 for the $100,000-to-win Drag Illustrated World Series of Pro Mod.
"Anybody who knows us knows this car makes good laps all day long," Quartuccio said. "I'm pretty good on the tree and we don't make a lot of mistakes. Nothing ever falls off the car. I hate to say it, but when you come here, that's half the battle. Racing us, you're gonna have to go down the track every time. That's hard sometimes. I feel really good about the World Series. This is exactly what I needed to start my season and re-energize this whole team."
Continuing on the topic of his team, Quartuccio said, "I want to thank everybody, from Jamie the tuner, to Johnny [Miller], who works full-time for me on this car; Dennis, my brother-in-law; my kids, Kelsey and Kaitlin; my wife, Denise, more than anybody because she pushes me to race. She likes drag racing more than I do, I think. There's so many people I want to thank: Pro Line, ProCharger, Mark Menscer [of Menscer Motorsports], Mark Micke [of M&M Transmission], and Justin Carmack [of Carmack Engineering]."
Puerto Rico's Matos used a string of 3.60-second passes in his ProCharged '69 Camaro to qualify No. 8 in the record-setting 32-car field. His consistency continued in eliminations, where he went 3.657 to beat Eric Latino, 4.024 to beat Snowbird Outlaw Nationals winner Jim Halsey's 4.095, 3.663 to knock out No. 1 qualifier Chip King's 3.666, and finally a 3.651 to move past Mark Werdehausen in the semifinals.
PRO 275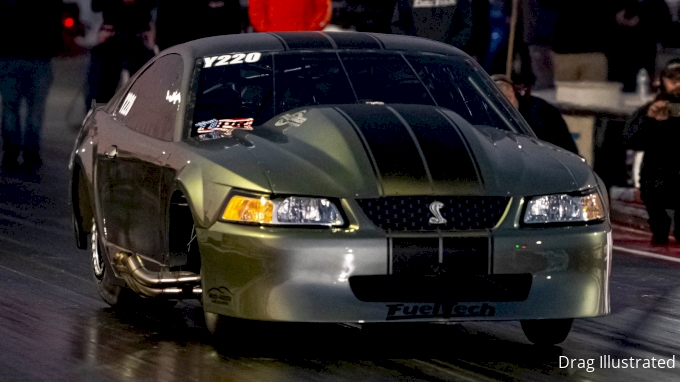 Marcus Birt left December's Snowbird Outlaw Nationals at Bradenton as the Pro 275 runner-up after losing to NHRA Top Fuel star Antron Brown by thousandths of a second in the final round. Birt found redemption at the U.S. Street Nationals, piloting Tommy Youmans' ProCharged "Salvage Title" Mustang to the event win. In the final round, he left first and recorded a 3.678 at 202.94 to beat Jason Collins and his 3.711 at 201.34 in Scott Tidwell's screw-blown '69 Camaro. The performance also tied Collins' No. 1 qualifying effort as low E.T. of the event.
"This is the way we want to start the year off," Birt said. "We're going to run this whole [FuelTech Radial Outlaws] series. We left here last time coming up a little short. I think we had the car to win, we just kind of laid back a little bit because we didn't think they were going to run as good as they did. I can't say enough about Lee [White], Kyle [Pettis], Eddie [Wilson], Jesse [Blount], and of course, Mr. Tommy for letting me drive this thing. Thanks to all the people that help us, like UPR, Pro Line, and FuelTech. We have a good team. We just have to keep the momentum going. We have a long way to go for the points championship, but that's our whole goal."
X275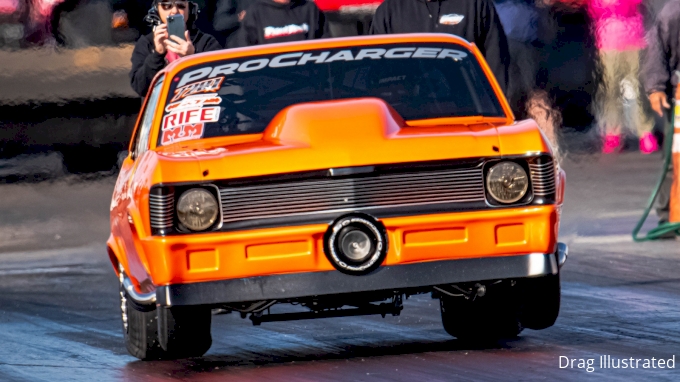 Just two months after closing out the 2022 season with an X275 win at the Snowbird Outlaw Nationals, Texan Kenny Hubbard returned to Bradenton to collect another victory at the U.S. Street Nationals. Hubbard was able to overcome offseason rule changes and a strong field of competitors to get the win. The final round saw Justin Curry leave the starting line first in his nitrous-fed '68 Camaro, but Hubbard in his ProCharged '74 Nova reached the finish line first with a 4.174 at 171.42 over Curry's 4.219 at 166.54.
"It's way huge because I've never done it before," Hubbard said of starting the season with a win. "It's just unbelievable to me to do this, especially finishing last year with two wins back-to-back and coming to win this one. It's unbelievable. Thanks to ProCharger, Mark Micke, Neal Chance Converters, Menscer shocks, and David Vasser with MethHeadz. Wiseco Pistons came through for me to get me some pistons. Without them, I couldn't have made it. Same for Naiser Racing – Jeff Naiser, Todd Naiser, and Dan Barton, who does the cylinder heads. Without those guys, I'd still be at home watching on FloRacing. I want to thank my wife, Billie; my daughter, Kyla; her boyfriend, Chase; and my crew, Kenny Rodriguez and Brian Singletary."
LIMITED DRAG RADIAL
Virginia's Andy Manson qualified No. 11 in a stacked Limited Drag Radial field before working his way through eliminations, going low of the round in multiple rounds. He set low E.T. of eliminations, a 3.904 at 193.40, in the semifinals to beat Greg Blevins Jr. and earn a spot in the final round. There, he was unopposed, as No. 8 qualifier Matt Bell couldn't return for the final. Manson lifted to a 4.815 at 109.11 in his turbocharged '96 Mustang before heading to the winner's circle.
ULTRA STREET
Like X275 winner Kenny Hubbard, Shawn Pevlor claimed his second consecutive win at Bradenton when he backed up his Snowbirds victory with another Ultra Street event title. Pevlor qualified in the third spot in his Cincinnati-based '92 Mustang, then stayed in the 4.40s once the sun went down. He met up with No. 2 qualifier Jason Spina in the final round, where Pevlor set low E.T. of eliminations with his winning 4.455 at 152.52. Spina slowed to a 9.465 in his Cocoa, Florida-based '90 Mustang in the runner-up effort.
LIMITED 235
Ft. Myers, Florida-based driver Brad Schehr had a dominant performance in Limited 235 with his '89 Mustang. He not only qualified No. 1 and won the race, but also set low E.T. of three of the four rounds. Schehr's race day included a pair of 5.008s, a 5.01, and a 4.981 at 136.52 in the final round to defeat No. 3 qualifier Eddie Ramirez and his 5.028 at 137.25 in his '88 Mustang.
OUTLAW 632
A challenging weekend in Outlaw 632 ended in a dramatic final round, where Chris Holdorf cut a perfect .000 reaction time in his Dewitt Custom Concrete '06 GTO to lead No. 1 qualifier Daryl Stewart and his Chassis Engineering '12 Camaro out of the gate. A pedalfest ensued as both drivers struggled to gain traction in their nitrous-fed hot rods. Holdorf's reaction time made the difference, as he won with a 5.282 at 150.36 over Stewart's 5.262 at 153.47.
Complete results can be found on the Bradenton Motorsports Park Facebook page.
Upcoming events at Bradenton Motorsports Park include the DCT World Cup, February 4-5; the 10th anniversary Street Car Takeover, February 24-25; and the Drag Illustrated World Series of Pro Mod, March 3-5.