2023 Lucas Oil Chili Bowl Nationals
Logan Seavey Gets Kevin Swindell Back To Chili Bowl Victory Lane
Logan Seavey Gets Kevin Swindell Back To Chili Bowl Victory Lane
Logan Seavey took car owner and four-time Lucas Oil Chili Bowl Nationals winner Kevin Swindell back to victory lane on Friday night.
Jan 14, 2023
by Brandon Paul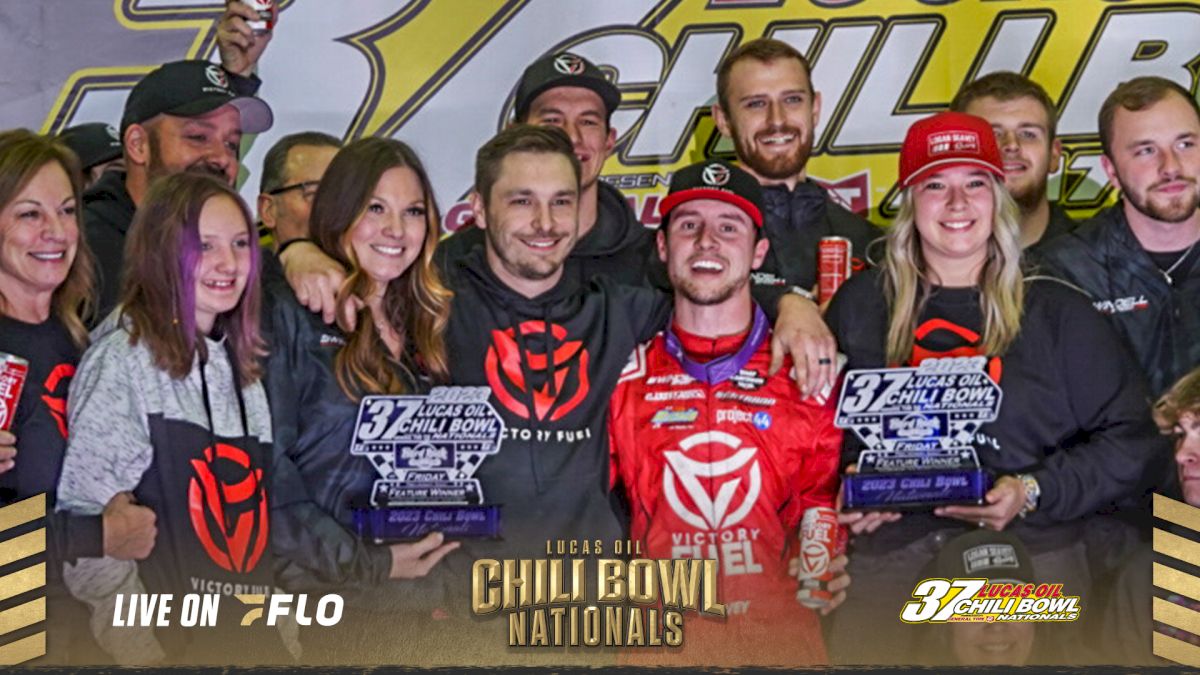 Kevin Swindell is no stranger to victory lane at the Lucas Oil Chili Bowl Nationals. As a driver, he celebrated four golden driller trophies and three preliminary night wins. But on Friday night, Swindell returned to the winner's stage in a new role as a car owner for Logan Seavey.
Starting from the pole position, Seavey led every lap of Friday night's preliminary feature to deliver Swindell his first win as a car owner inside the SageNet Center.
"It's really cool. He's the best to ever race here and for him to not be able to race anymore, this is all he can do is be a car owner," Seavey said. "To build a car, come here for the first race and start this well is really cool. I just love racing with him and he does such a good job and builds such nice race cars."
From 2010 through 2015, Swindell never finished worse than second in the Chili Bowl A-Main. A serious accident at Knoxville Raceway in August 2015 paralyzed him from the waist down and ended his career behind the wheel.
Since that accident, Swindell has embarked on a new racing journey as a team owner. On Friday night, he celebrated his biggest achievement yet in his new role.
One would think that driving for a car owner with a winning pedigree like Swindell would come with added pressure. Seavey disputed that notion and claimed that driving the Swindell Speedlab No. 39 comes with very little pressure.
"I feel like at first maybe I felt a little bit more [pressure] from being in the building, being in Sammy's pits and being around that whole atmosphere," Seavey began. "From Kevin, it's the most laid back atmosphere I've ever had while racing. I know this is obviously the biggest race for him and the one he wants to win the most, but it's just different when we get in the pits."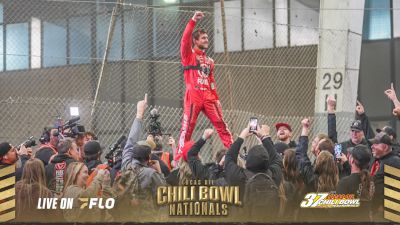 VIDEO: Logan Seavey discusses his win Friday night at the Lucas Oil Chili Bowl.
For Seavey, the win on Friday served as a confidence booster. Prior to the victory, he hadn't won a Midget race since the 2021 Turkey Night Grand Prix at Ventura Raceway.
"It's been over a year since I've won a Midget race," he said. "It's been a struggle for me. To come here with [Kevin] bumps my confidence back up where it needs to be. I know my car is going to be really good."
A rubbered up race track made it difficult for the rest of the field to challenge Seavey at any point during Friday night's race. The biggest curveball of the night came on lap 7 when an Ethan Mitchell flip into the fence resulted in an open red.
Following the red flag period, the track began to rubber up during an extended green flag run.
"The first half of the race I wasn't worried and then at the end I slowed down," Seavey said of the track conditions. "I was surprised by how worn out the tires were. I didn't think I was pushing really hard, but I guess nobody else blew [tires] either so I guess we were all in the same boat."
Justin Grant made up ground early in the race, driving from fifth to second. However, he was never able to mount a challenge for the lead. Grant, the winner of five of the last six Friday night preliminary races, finished second and locked himself into the pole shuffle.
"There was like a three or four lap section there before the rubber started coming that I felt like I was getting back to him pretty good and then the track started laying rubber on the bottom," Grant stated. "I was hoping to keep running flyers around the top and Logan would get caught up in traffic and I could get back down there but he was too far away to make anything happen at that point."
One driver who was able to benefit from the rubber was eventual third-place finisher Chase McDermand, who charged from the 15th position to put himself in a good position for Saturday night.
"I just stuck to the bottom and could really feel it starting to come off of four first," McDermand explained. "I probably ran 18 laps in the rubber. I was definitely the first one to find it and was just rolling by guys. I was hoping there wasn't going to be a yellow before the crews could tell them or they saw it themselves."
Zeb Wise raced from 11th to fourth, while Jason McDougal completed the top five.
With five nights of preliminary action completed, the alphabet soup will begin on Saturday morning. A full day of racing will set the stage for the 55-lap main event, which will be streamed live on MAVTV on FloRacing.