2023 World Series Of Asphalt Stock Car Racing at New Smyrna Speedway
New Smyrna Speedway To Be Repaved After 2023 Racing Season
New Smyrna Speedway To Be Repaved After 2023 Racing Season
New Smyrna Speedway officials confirmed the track will be repaved at the end of 2023, but the pavement is completely safe for the upcoming World Series.
Dec 30, 2022
by Rob Blount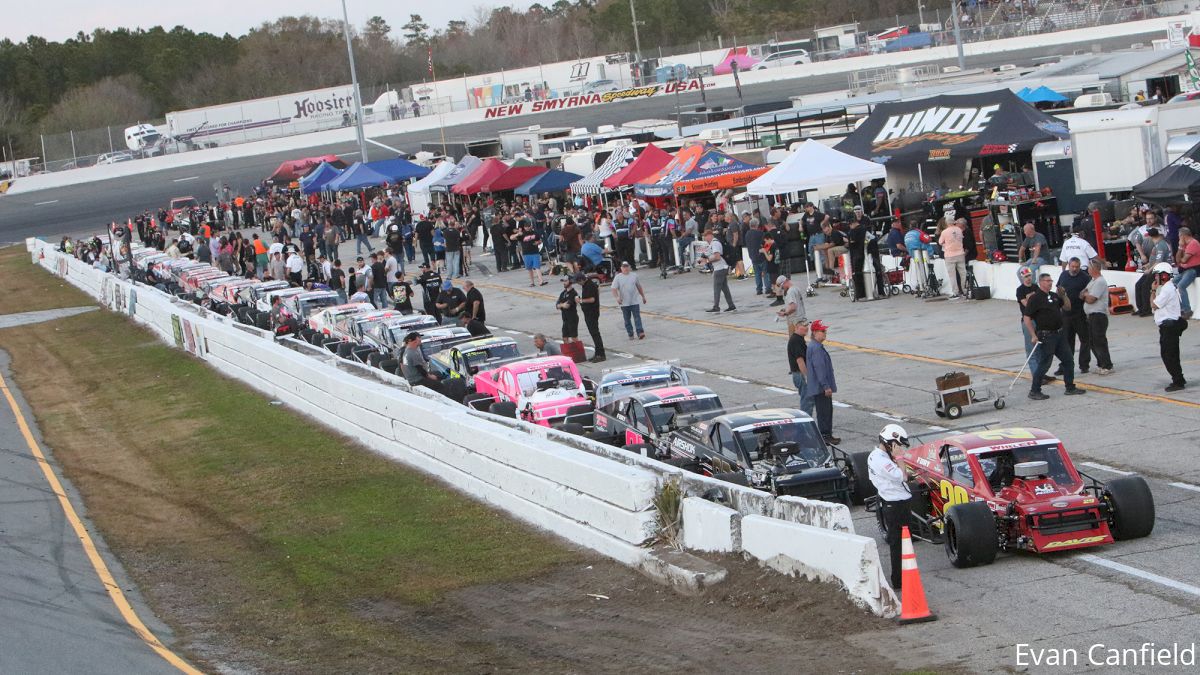 Central Florida took the brunt of two hurricanes in 2022 when Hurricane Ian first slammed the state causing wind and flood damage to multiple structures. Then Hurricane Nichole came and did even more damage to the Daytona Beach and New Smyrna Beach areas. New Smyrna Speedway canceled the Florida Governor's Cup in November due to damage from Ian, and then Nichole came through a couple of weeks later.
Rumors began to swirl that New Smyrna Speedway would be repaved during the offseason due to damage underneath the racing surface after the track had 19 inches of rain sit on it during Hurricane Ian. Since then, New Smyrna Speedway officials have confirmed that the track will indeed be repaved, but that repave will not take place until after the 2023 Florida Governor's Cup in November.
"There was no damage," explained New Smyrna Speedway General Manager, Rusty Marcus. "We've had several cars on it since we got the okay and everyone says it feels the same. But we were talking about repaving even before the storms hit. We'd already started to get quotes on it."
Marcus said that there was truth to the rumors that the track could have been repaved this offseason, as that was initially the plan. However, it wasn't because of confirmed damage to the grounds underneath the racing surface.
"There's a lot of people saying the track is destroyed, but no, it wasn't. We never said that. We said we were erring on the safe side to make sure the track was all good."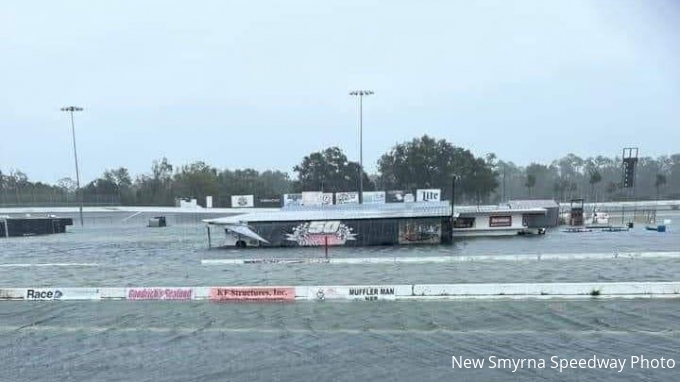 New Smyrna Speedway took 19 inches of rain from Hurricane Ian in November. The track will be repaved after the 2023 racing season.
But, Marcus said he and track owners Jane and Robert Hart decided to wait until after the 2023 racing season due to a number of reasons, one of which was the urging of Hoosier Racing Tire.
"The first company we were going to hire to do it was going to do it the week after Thanksgiving," said Marcus. "Then I got a phone call from Hoosier. They told us, 'We'll do whatever you need us to do, but we'd prefer it if you repaved it after World Series if it didn't really need to be repaved.' You get to looking at all of these factors. If we'd have paved it after Thanksgiving, it would have to sit a couple of weeks, and then we'd do a test on it. That would only give Hoosier about a month to make the tires since it's going to be a new compound once it's repaved."
The repave to the half-mile high-banked oval will come after it's 13th season of racing. Marcus said the track was last repaved in 2007. This repave will also cover the apron and pit road in addition to the racing surface itself. Marcus said that current estimates have the repave costing about $1.2 million and the surface will be a granite compound instead of shells, which should make the pavement last longer.
Marcus said New Smyrna Speedway is "full speed ahead" for the upcoming RedEye 50/50 this Saturday, and also for February's World Series of Asphalt Stock Car Racing February 10-18. However, they are still making repairs from both storms.
"We're still doing repairs because there was a lot of damage around the race track," said Marcus. "We're getting some new tech equipment, some new EMT equipment. There was 19 inches of water inside the pit office and tech shed and concessions. A lot of signs got torn down. Just little stuff that happens in a hurricane.
"We're just trying to get things put back together and hopefully better than it was before. Then we're going to continue doing stuff through the repave to make it what it really should be, and that's a first-class facility."
Race fans can watch the entire World Series of Asphalt Stock Car Racing, including the season-opener for the NASCAR Whelen Modified Tour, live on FloRacing February 10-18.