NASCAR
Top 10 NASCAR Weekly Racing Moments From 2022
Top 10 NASCAR Weekly Racing Moments From 2022
There were plenty of crazy moments from the NASCAR Advance Auto Parts Weekly Series tracks around the nation in 2022. We break down the top 10 moments here!
Dec 20, 2022
by Rob Blount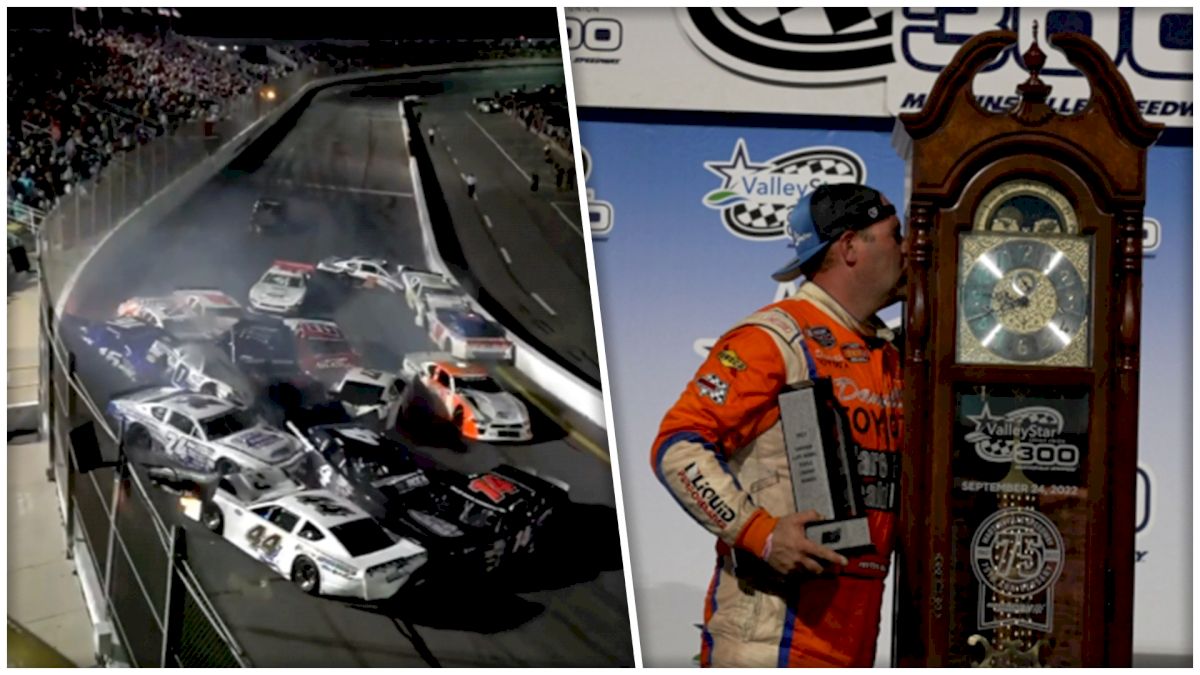 There were plenty of crazy moments from the NASCAR Advance Auto Parts Weekly Series tracks around the nation in 2022. We break down the top 10 moments here!
1. Mayhem At Martinsville
The ValleyStar Credit Union 300 for NASCAR's Late Model Stock Car division never fails to produce the fireworks, both in the sky and on the race track at Martinsville Speedway. It didn't take long for this year's race to get wild. In fact, it just took one 25-lap heat race. Andrew Grady was left quite perturbed at how Davey Callihan raced him for the final transfer position, and he made sure to let Callihan know right after the race ended. Grady walked right up to Callihan who was still in his car and unleashed a barrage of punches on Callihan before (literally) getting carried away.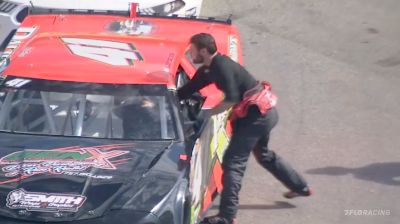 Watch: Punches Fly After First Martinsville Heat Race
Grady's punching form wasn't the only moment worth remembering from this year's Martinsville race. Peyton Sellers finally exorcised his Martinsville demons and got to take home the legendary Ridgeway Grandfather Clock after more than a decade and a half of trying.
2. Wild South Boston 200 Finish
The first race of this year's Virginia Late Model Stock Car Triple Crown was much crazier than just about anybody expected it to be. The Thunder Road Harley Davidson 200 at South Boston Speedway always provides memorable moments, but this particular race was an instant classic. We'll start off with the massive crash on the frontstretch with 12 laps to go that saw 17 cars pile into each other in turn one. The wreck began when Mike Looney got loose and got into the car next to him. They both spun and from there it was on. 17 cars in total were in the wreck, some completely destroyed, some on top of other cars. It took a red flag of more than 45 minutes to clean it all up.
After the track was cleared, Corey Heim and Jacob Borst put on a race-winning battle for the ages. Heim and Borst ran side-by-side for many of the final laps before the two drivers made contact coming out of the final corner. Heim and Borst both crashed as they came underneath the checkered flag. Heim scored the victory, one of the most memorable in the race's history.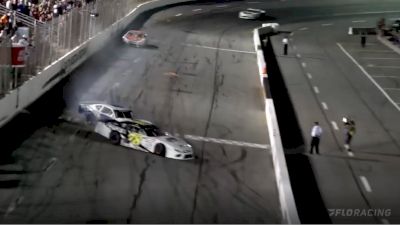 Watch: Leaders Crash After Checkered Flag In Wild South Boston 200 Finish
3. Dale Jr. Returns To His Roots
Dale Earnhardt Jr. decided to have some fun and head down to South Carolina's Florence Motor Speedway to run the South Carolina 400 in a Late Model Stock Car. It was the first time Earnhardt had been to Florence since the mid-90s. Earnhardt ran a special No. 3 Bass Pro Shops car that looked identical to the scheme his father ran in the 1998 All Star Race. Earnhardt Jr. gave that beautiful car a run for its money, climbing as high as fourth in the closing stages of the 200-lap feature before getting penalized (twice) for rough driving.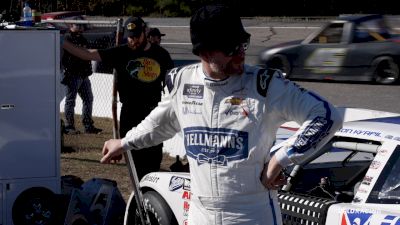 Watch: Earnhardt Jr. Returns To His Roots At Florence's SC 400
4. Byron Wins Big At New Smyrna
NASCAR Cup Series driver William Byron started off his 2022 racing season the right way. Byron returned to his Super Late Model roots driving for Donnie Wilson Motorsports and in doing so he stepped right back into his winning ways. Byron scored victories in two of the bigger Super Late Model races of the year at New Smyrna in just one week. He won the 100-lap Clyde Hart Memorial and then followed that up with the Orange Blossom 100 victory later that week.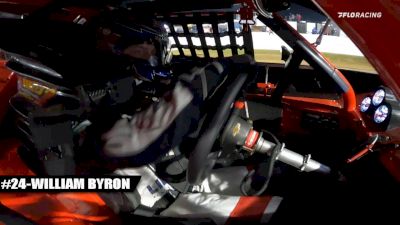 Wired Up: Listen In As William Byron Battles For The Win At New Smyrna Speedway
5. Madhouse Provides Madness
Winston-Salem, North Carolina's Bowman Gray Stadium is known for a few things: it's NASCAR's oldest weekly track, and it produces edge-of-your-seat action every Saturday night from April to August. The 2022 season was no exception with the most memorable moment of the season coming back in July during a Street Stock feature. Nate Gregg and Nick Wall got together under green and their fun continued under caution. Gregg and Wall took their cars to the center stage (the infield grass) and had a head-to-head demolition derby.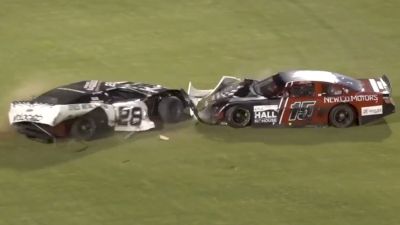 Watch: Street Stocks Play Demolition Derby Under Caution At Bowman Gray
To cap off the season, Tim Brown scored his record-extending 12th track championship in the Modified division. There's nothing wild or crazy about that outside of the fact that Brown, the all-time wins leader at Bowman Gray, didn't score a single race win all season long.
6. Nocella Moves Hirschman For Islip 300 Victory
Anthony Nocella won a chaotic Islip 300 at Riverhead Raceway after executing a perfect bump-and-run on Matt Hirschman with just a few laps remaining. Nocella and Hirschman had battled for a number of laps on a handful of restarts before being able to make the move for the win. It was a fitting ending to a race that saw the leaders crash on multiple occasions and also featured Jimmy Blewett running after JB Fortin on the backstretch. The entire race was memorable, really, but we'll say that the finish was the most memorable part.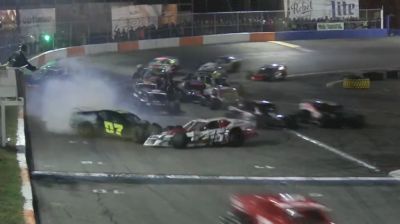 Watch: Nocella Moves Hirschman To Win Islip 300
7. Leaders Crash At All American Speedway
Roseville, California's All American Speedway is one of the more underrated bullrings across the United States. Put a bunch of Pro Late Models on a quarter-mile and you're going to get excitement. One night way back at the start of July had one of those exciting moments. In the final laps of a Pro Late Model feature, Dylan Zampa and Jason Romero were battling hard for the victory. Entering turn three on the final lap, Zampa made a dive to the bottom and Romero blocked. Zampa slammed the back of Romero's car, sending him for a spin as they came across the line.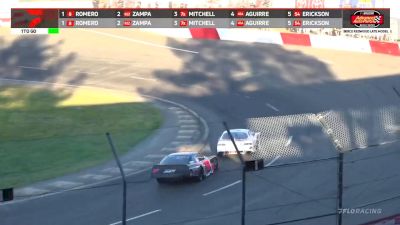 Watch: Leaders Crash Coming To Checkers At All American Speedway
8. Shotko Scores Biggest Win Of His Life
The Battle at Berlin is one of the bigger Super Late Model races of the season, attracting names like Ty Majeski, William Byron, Bubba Pollard and Erik Jones. While it might not be the absolute biggest race of the year to them, it is to Michigan native Evan Shotko, who grew up a stone's throw from the Berlin Raceway. The reasoning is pretty simple. It's the biggest race of Berlin's season, Shotko is a native of Ohio and because of those other guys we already mentioned that often make the trip to Berlin Raceway. Shotko went out and dominated the late stages of the 250-lap race, stunning the Super Late Model community with an all-time upset victory.
Watch: Shotko Scores Biggest Win Of His Life
9. Coleman Pressley and Joey Logano's Big Week
Coleman Pressley is currently best known for his work on the roof of NASCAR Cup tracks across the country as Joey Logano's spotter. In November, Pressley became a championship spotter with Logano as they dominated the season finale at Phoenix Raceway. Just six days later, Pressley was behind the wheel of a Late Model Stock Car at North Carolina's Hickory Motor Speedway in the Fall Brawl 200 with Logano spotting for him in a fun role-reversal. Pressley hadn't won a race of any kind in seven years, but there he was going to victory lane at Hickory in one of the biggest upsets of the year.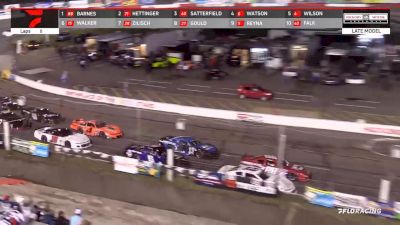 Watch: Pressley, Logano Team Up For Fall Brawl 200 Victory
10. Fryar Stays Cool In Hampton Heat
Any Late Model Stock Car race in the Southeast is hard to dominate because the quality of competition is so close, but nobody told Jared Fryar that. The former CARS Tour champion, perhaps undeservingly in hindsight, was not considered a favorite for the race win entering the Hampton Heat 200 at Virginia's Langley Speedway. With names like Bobby McCarty, Peyton Sellers, Mark Wertz, and Brenden "Butterbean" Queen in the race, Fryar was kind of forgotten about. Nobody is forgetting about Jared Fryar anymore, that's for sure. Fryar bided his time for the beginning stages of the 200-lap race, but when it was time to go he definitely went. Fryar dominated the final 50 laps, driving away from the field on numerous restarts to take the win.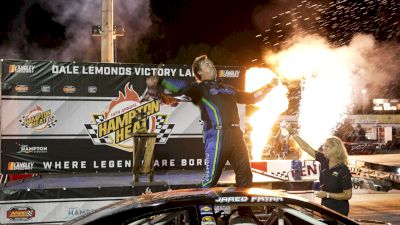 Watch: Fryar Stays Cool To Win Hampton Heat 200 At Langley