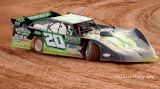 Tribute to Steve Barnett Results
Sep 22
Show Results
: Tribute to Steve Barnett, Lucas Oil Dirt Late Model Series
Jimmy Owens got the jump on pole sitter Tanner English in the Tribute to Steve Barnett 30 at Brownstown (IN) Speedway and never looked back. He won his fourth Lucas Oil Dirt Late Model Series race of the season and his third contest at Brownstown.

"Our car was very maneuverable and we could run anywhere on the track. [The track] was in really good shape tonight," Owens said. Brownstown is a quarter-mile track without a lot of room for 30 cars.

It only took four more laps for Devin Gilpin to pass English and settle into second.

Gilpin's second-place result came on the heels of a broken collarbone suffered in a rollover accident last month at the track.

"I can't believe I'm up here on the podium with Jimmy Owens and Tim McCreadie," Gilpin said. "Jimmy Owens is one of my racing idols. To comeback from the accident here last month, to get a win last week, and a second tonight is just awesome."

English slipped to eighth in the final rundown.
Tribute to Steve Barnett, Lucas Oil Dirt Late Model Series
| Finish | Start | Driver | Earnings | Heat 1 | B-Main |
| --- | --- | --- | --- | --- | --- |
| 1 | 2 | Jimmy Owens | $7,100 | 1 | |
| 2 | 3 | Devin Gilpin | $3,500 | 1 | |
| 3 | 5 | Tim McCreadie | $2,000 | 2 | |
| 4 | 9 | Josh Richards | $1,600 | 3 | |
| 5 | 6 | Darrell Lanigan | $1,400 | 2 | |
| 6 | 10 | Earl Pearson Jr | $1,300 | 3 | |
| 7 | 16 | Scott Bloomquist | $1,200 | 4 | |
| 8 | 1 | Tanner English | $1,100 | 1 | |
| 9 | 11 | Jason Jameson | $1,000 | 3 | |
| 10 | 12 | Don O'Neal | $950 | 3 | |
| 11 | 4 | Cody Mahoney | $900 | 1 | |
| 12 | 7 | Hudson O'Neal | $950 | 2 | |
| 13 | 18 | Nick Hoffman | $800 | 6 | 2 |
| 14 | 13 | Dennis Erb Jr | $750 | 4 | |
| 15 | 15 | RJ Conley | $725 | 4 | |
| 16 | 23 | Gregg Satterlee | $700 | 6 | 7 |
| 17 | 17 | Bobby Pierce | $700 | 5 | 1 |
| 18 | 21 | Jeff Wilson | $700 | 5 | 5 |
| 19 | 14 | Steve Francis | $650 | 4 | |
| 20 | 19 | Michael Chilton | $625 | 6 | 3 |
| 21 | 24 | Boom Briggs | $625 | 7 | 8 |
| 22 | 22 | Kent Robinson | $600 | 5 | 6 |
| 23 | 8 | Shannon Babb | $600 | 2 | |
| 24 | 20 | Brian Shirley | $600 | 5 | 4 |
| 25 | 25 | Jared Bailey | $600 | 6 | 9 |
Laps Led: Jimmy Owens, 1-30