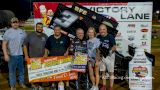 Jesse Hockett / Daniel McMillin Night 2 Results
Sep 22
Show Results
: Jesse Hockett / Daniel McMillin Night 2; American Sprint Car Series
"With about eight or nine laps to go we lost the brakes," Sammy Swindell said from Victory Lane at Lucas Oil Speedway in Wheatland, Missouri after winning night two of the Jesse Hockett / Daniel McMillin Memorial. "I was having to be really careful but I knew if we finished right up there in the top-three we'd be right up on the front row tomorrow so I didn't want to give that up."

Swindell benefited from a last-lap spin by Wayne Johnson, who failed to negotiate turns one and two after leading all 24 circuits prior. Swindell was close behind and in danger of getting swept into the incident.

"I was just hoping there was going to be enough room (to get by). I saw him start to lose it, and it was really tight where he needed to be," Swindell said.

Swindell's win came on the heels of a night one victory of the Hockett/McMillan Memorial.

Johnson fell to fifth in the final rundown.
Jesse Hockett / Daniel McMillin Night 2; American Sprint Car Series
| Finish | Start | Driver | Heat | B-Main |
| --- | --- | --- | --- | --- |
| 1 | 8 | Sammy Swindell | 3 | |
| 2 | 1 | Sam Hafertepe Jr | 2 | |
| 3 | 4 | Blake Hahn | 1 | |
| 4 | 5 | Tony Bruce Jr | 1 | |
| 5 | 2 | Wayne Johnson | 1 | |
| 6 | 10 | Matt Covington | 1 | |
| 7 | 17 | Johnny Herrera | 2 | 1 |
| 8 | 3 | Scott Bogucki | 2 | |
| 9 | 14 | Jeff Swindell | 3 | |
| 10 | 6 | Thomas Kennedy | 2 | |
| 11 | 9 | Jack Dover | 4 | |
| 12 | 7 | Jonathan Cornell | 3 | |
| 13 | 15 | Giovanni Scelzi | 1 | |
| 14 | 13 | Sean McClelland | 4 | |
| 15 | 20 | Brandon Hanks | 5 | 2 |
| 16 | 11 | Brad Loyet | 4 | |
| 17 | 21 | Dustin Barks | 1 | 2 |
| 18 | 23 | Seth Bergman | 6 | 3 |
| 19 | 18 | Skylar Gee | 2 | 1 |
| 20 | 24 | Harli White | 4 | 4 |
| 21 | 16 | Ned Powers | 4 | |
| 22 | 22 | Wade Nygaard | 6 | 2 |
| 23 | 19 | Kyle Sauder | 2 | 1 |
| 24 | 12 | Aaron Reutzel | 3 | |
| | | Josh Baughman | 6 | 12 |