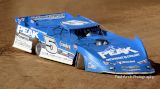 World 100 Night 2, Odd Feature Results
Sep 8
Show Results
: World 100 Night 2, Odd Feature
Things continued to look good for Clint Bowyer Racing as Darrell Lanigan teammate Don O'Neal won the Odd feature for the World 100 at Eldora Speedway in Rossburg, OH from the pole.

O'Neal was followed by Tim McCreadie who—despite making several challenges for the the lead—never made the pass.

While no one in the field had enough to match O'Neal or McCreadie, Gregg Satterlee put on a heck of a show behind them. Making his way onto the podium from seventh, he was followed by Mike Marlar who also moved forward four positions from eighth to fourth. Shane Clayton rounded out the top five in the Odd feature.

O'Neal started next to his teammate Lanigan in the World 100.
World 100 Night 2, Odd Feature
| Finish | Start | Driver |
| --- | --- | --- |
| 1 | 1 | Don O'Neal |
| 2 | 2 | Tim McCreadie |
| 3 | 7 | Gregg Satterlee |
| 4 | 8 | Mike Marlar |
| 5 | 4 | Shane Clanton |
| 6 | 10 | Kyle Bronson |
| 7 | 17 | Brandon Sheppard |
| 8 | 21 | Jonathan Davenport |
| 9 | 16 | Dale McDowell |
| 10 | 3 | Jared Miley |
| 11 | 6 | Chris Madden |
| 12 | 14 | Chris Ferguson |
| 13 | 12 | Kent Robinson |
| 14 | 19 | Billy Moyer Sr |
| 15 | 15 | Shanon Buckingham |
| 16 | 9 | Earl Pearson Jr |
| 17 | 23 | Timothy Culp |
| 18 | 24 | Mason Zeigler |
| 19 | 5 | Jacob Hawkins |
| 20 | 13 | Jeff Babcock |
| 21 | 20 | James Rice |
| 22 | 22 | Adam Bowman |
| 23 | 18 | Connor Meade |
| 24 | 11 | Jason Jameson |