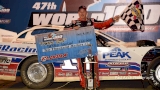 World 100 Night 2, Even Program Results
Rossburg, OH
Sep 8, 2017
Show Results
: World 100 Night 2, Even Program
After defeating Jonathan Davenport with a late pass on lap 18 Thursday night Darrell Lanigan night that effort by passing Josh Richards on the same lap in the even feature for the World 100 at Eldora Speedway in Rossburg, OH.

Jimmy Owens also made it past the pole sitter to grab the second-place spot on lap 21 and Richards settled for the final podium finish.

Hudson O'Neal barely missed the podium finishing fourth and past World 100 winner Bobby Pierce rounded out the top five.

Things continued to work in Lanigan's favor. The inversion landed on zero, so he maintained his pole going into the Saturday night's 100-lap event. Don O'Neal started next to Lanigan.
World 100 Night 2, Even Program
| Finish | Start | Driver |
| --- | --- | --- |
| 1 | 6 | Darrell Lanigan |
| 2 | 4 | Jimmy Owens |
| 3 | 1 | Josh Richards |
| 4 | 3 | Hudson O'Neal |
| 5 | 10 | Bobby Pierce |
| 6 | 12 | Jon Henry (dirt lm) |
| 7 | 16 | Scott Bloomquist |
| 8 | 21 | Frank Heckenast Jr |
| 9 | 5 | Jeep VanWormer |
| 10 | 22 | Zack Dohm |
| 11 | 23 | Chris Simpson |
| 12 | 19 | Jimmy Mars |
| 13 | 11 | Casey Roberts |
| 14 | 7 | Brian Shirley |
| 15 | 15 | Eddie Carrier Jr |
| 16 | 9 | Shannon Babb |
| 17 | 12 | Jason Feger |
| 18 | 8 | Brandon Kinzer |
| 19 | 18 | Tony Jackson Jr |
| 20 | 24 | Brent Larson |
| 21 | 2 | Dustin Nobbe |
| 22 | 14 | Mike Norris |
| 23 | 20 | Steve Francis |
| 24 | 13 | Ryan King |