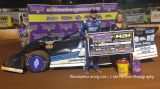 Brookshire Memorial Results
Aug 25
Show Results
: Brookshire Memorial; Ultimate Southeast Late Models Series
Ross Bailes led flag to flag to take his first Ultimate Southeast victory of the year in the Brookshire Memorial at Laurens County Speedway in Laurens, South Carolina, on Friday.

Bailes beat Dennis Franklin to the line by more than two seconds and walked away with the $4,014 payday. This was his fourth consecutive top five in Ultimate competition.

Bailes has not been running the complete season, but the second-place finish allowed both Franklin to close the points gap on Tyler Millwood.

Millwood performed well with a fifth, however, and kept Franklin from making up much ground.

Zack Mitchell finished in third and Brent Dixon took fourth to round out the top five.

Meanwhile, second-place points sitter Jason Welshan lost ground in the championship battle. He brought out the final caution of day when a mechanical problem dropped him from the sixth position.
Brookshire Memorial; Ultimate Southeast Late Models Series
| Finish | Driver |
| --- | --- |
| 1 | Ross Bailes |
| 2 | Dennis Franklin |
| 3 | Zack Mitchell |
| 4 | Brent Dixon |
| 5 | Tyler Millwood |
| 6 | Frank Coates |
| 7 | Doug Sanders |
| 8 | Josh Richeson |
| 9 | Mike Kernells |
| 10 | Brett Hamm |
| 11 | Jason Welshan |
| 12 | Tony Quarles |
| 13 | Dino Long |
| 14 | Michael Akeson |
| 15 | Anthony Sanders |
Ross Bailes, 1-40