NASCAR star Kyle Larson finally picked up his first Chili Bowl Championship in 2020 after thirteen attempts. He then went on to post a 46 win season across Midgets, Sprints, Silver Crown and even Late Models with an additional 17 2nd place finishes during the same season.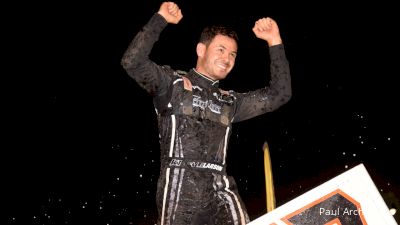 Create a free account to unlock this video!
Get Started
Already a subscriber? Log In
Kyle Larson Ready To Defend Lucas Oil Chili Bowl Title
Jan 8, 2021
After one of the greatest dirt track season's in history, Kyle Larson is feeling good heading into the 2021 Lucas Oil Chili Bowl Midget Nationals
Transcription:
Tyler:
Chase Elliott, everyone. Now we're going to see if we can chat with Kyle Larson for a bit here. I know that Mr. H probably wouldn't like you guys getting together on the racetrack, but I think he's right about assuming that you guys will probably not be in the same main at some point, but you had some quotes that came out, how much respect do you have for what Chase is doing right now?
Kyle Larson:
A lot. Like I said, it's just... I think I can kind of, I don't know, relate a little bit because running that dirt Late model was what I thought at the time a lot different than, which it is a lot different than anything I've done before, but I can't imagine racing pavement stuff all my life and then being like, "Hey, I want to go try the biggest, toughest race in the world that there is with 300 plus cars." Yeah, I think we can all respect that and like I said too, he's already done and looked way better than I thought he would. I think being a dirt racer, you kind of have a chip on your shoulder like, oh, we're better than pavement guys, blah, blah, blah, but for a guy with no dirt experience to come into Millbridge and look as good as he did, I think that just proves that good race car drivers are good in anything.
Dillon:
That's the thing too, I think you hit on it. I think everybody knew he was a good race car driver, but I think people were understanding of the challenge that faced him, but then he got in at Millbridge and I'm sure you've watched his on-board videos and everything, and he looks like he's done it for a long time. You know? I mean, he's smooth, he's doing the right things when the car gets upset. He looks like he's figuring it out, and obviously Chili Bowl is a different challenge than 12 cars at Millbridge, but you're right. He's a race car driver and he's going to figure it out, I think.
Kyle Larson:
Yeah, and too, a little bit now I've gotten to talk to him. You can see why he's so good in cup or in a stock car, because he works hard at it and as a student and wants to constantly be better. That was cool just to communicate with him and he's texted me randomly throughout these last few weeks of like, "Hey, what do you think about this?" Or like last night he sent me some of his on-board and he's like trying to judge gaps and figure out slide jobs and things like that because he knows that's kind of how you have to or that's a part of racing in midget, is trying to figure out those ways of passing people, which is stuff that he's not used to and too having no spotter as well I could imagine would be hard to get used to maybe, and different. It's definitely been awesome to see how he seems like he's really enjoyed it and I look forward to seeing how he does at Chili Bowl and then also what he does once the Chili Bowl's done.
Kyle Larson:
What other races he might run, what other types of race cars who might want to try. His fan base is already big and I think it's about to get a lot bigger.
Tyler:
One thing that I wanted to ask him, and you mentioned the fan base thing, when you said you went to the Late model deal, you were hitting a whole new fan base of dirt racing fans, which is accurate because the Late metal fans are different than the sprint car fans, and obviously the NASCAR fans are way different than all the fans he's going to get from racing on this dirt race. He doesn't need any more fans, but I think that this is going to make him one of the dirt guys, don't you think?
Kyle Larson:
Yeah, I don't know. I don't know. I mean, you still have maybe some diehard dirt fans that don't like when a true NASCAR guy comes into races, but yeah, for the most part I think he's going to just gain the respect of a lot of people. I think he'll definitely have even more people cheering for him on Sundays and probably even more people voting for him for most popular drivers, even though he doesn't need it. I think it's just great for motor sport in general, right? I mean, you have a NASCAR Cup Series Champion, coming to do some grassroots racing and bring in a lot of attention to it is only going to help grassroots dirt track racing. I think it's great and hopefully more people do it in the future.
Dillon:
Kyle, 2021 obviously is going to be a really big year for you in a number of ways, but we start things off by going back to Chili Bowl obviously, and you get to go into that building as the defending winner. I would imagine it probably in some ways feels different going back there, but in a lot of ways too, it's probably the same because I know you want to win it again, but what are you feeling this time going into the expo as the defending winner of that race that you tried so hard to win?
Kyle Larson:
Yeah, I mean, not a whole lot different I guess from what I remember. I mean, it's just been a different off season, really. I go to New Zealand and I feel like that's my time to kind of get fresh in a midget leading up to Chili Bowl and I didn't get to do that this year. It's almost like my mind these last couple of weeks has been less on the Chili Bowl, but even though I've watched every video on Flo like 10 times over. So I've done my prep and studying, but my attitude or whatever, it seems a little more laid back than what I thought it would be or what it's been in the past. I think it's going to grow as I get ready to leave on Sunday. We're going to Wichita first to hang out for Boyer's little retirement party. So I'm sure once I'm in Wichita, normally a couple hours away, I'll be ready to leave that party to get to Tulsa and get ready for my one session on Monday and then hopefully Beating Dillon Welch on Tuesday.
Tyler:
Yeah, that's right. Is Dillon Welch the toughest in the Tuesday field? I mean, I feel like Beason maybe and a few others-
Dillon:
Are you kidding me?
Kyle Larson:
I think, his last name made it on the notable drivers that are running Tuesday, so that means a lot. No, I mean, Dillon, he's always... Trust me, he might not think it, but I guarantee everybody when they see his name on the entry list or for whatever night that he's running, they all pick him as one guy that could win. I mean, I think that's pretty special and for a full-time announcer or whatever, and part-time driver, I think that's pretty cool to have drivers always noticing him.
Dillon:
Yeah. How about that Tyler?
Tyler:
Group two pick right there gets all the adrenaline rush from the greatest race car driver in the world telling him he's great.
Kyle Larson:
Group two?
Dillon:
Yeah. Group two. That's a lot of pressure. Yeah. A lot of pressure.
Tyler:
What do you got Dillon?
Dillon:
No, I mean, I don't really have much. For you, starting the year off at the Chili Bowl, I know you obviously got a lot of other stuff on your plate and everything this time of year, but how much fun is it for you to just get to go back and race in that race every year and show up there as the guy that everybody does look at as the one to beat?
Kyle Larson:
Yeah. I don't know. I guess I don't look at it that way. I just look at it as another race and you want to go there and win the big ones and that's one of the biggest of the year that I get to run. I guess, with the success that Bell and I've had there now for a while and seemed to always be contending upfront on Saturday, it just seems to build and build and make me want to win even more. So, thankfully I finally got it done last year and I know Bell's probably hungrier now than he's ever been. Chad Boat's gotten to race a lot this year as a crew chief and hone his skills doing that. So I imagine they'll be only better now. So he's definitely still the one guy to me that I think is the best in there, but I think you look at what Buddy, I think Buddy will be really, really fast this year and there's always a lot of good drivers. So definitely try and study on everybody and what their tendencies are going in and then once you get on track, you just kind of got to put it all to work and try and make a clean prelim night and then hopefully, 55 really good laps on Saturday.
Tyler:
The year you had on dirt with 46 wins, you've probably run more dirt stuff this year leading into this race than I think you have probably in what? 10, nine, 10 years or something like that. So how does that play into how confident you feel? I know you're very well aware that nothing is guaranteed there, but that has to have some impact I would imagine on just kind of how you're feeling.
Kyle Larson:
Yeah. I don't know. Honestly, maybe I just have a bad memory, but it's easy to forget about the success you had all season long and really racing cup or NASCAR stuff, and then you're sprinkling dirt races. I never really looked at it as, I ran 90 dirt races this year. I always kind of looked at it as I ran new 80 or 90 races throughout the year. So to me it didn't really matter kind of what type of car I was in racing, as long as I was racing quite a bit throughout the season. This year having success, you would think yeah, it helps your confidence and stuff go in the building, but like I said, I think my memory is so bad. It's easy to kind of forget about that.
Kyle Larson:
2021 is a totally new year, so it doesn't matter really what you did last year, you just got to keep preparing and keep working hard to being better to do as good of job or a better job the next season. Obviously my confidence is high, but it always is going to that building, but I wouldn't say it's any higher this year than years past, even after winning the Chili Bowl last year and then winning all the races we did. I know how tough that race is and it doesn't care about what type of season you had the year before.
Dillon:
Fair enough.
Tyler:
You mentioned the Boat cars and they're on a list of probably seven to eight powerhouse teams that have tremendous lineups this year that are cars that are capable of winning. You know that Boat's car is capable of winning and probably even one of the better cars in the building because you finished what, a worst of second and that car all year long? So going into that building, you know the Bell's good, but you also know that those cars are incredible.
Kyle Larson:
Yeah, yeah. For sure. I do. Getting to drive them some throughout the year, you get to figure out kind of what their strong suits are as the setups go and what their weaknesses are too. So I think that's unique for me being a driver, competing against them at the Chili Bowl and getting to feel what Christopher and Dillon and Chris Windom and Reutzel and Gio and whoever else they have, having an idea of watching their car and what they're feeling and like I said, knowing what their strong suit is with that car and also the weaknesses are, I think benefits me. So I'm glad that I got to race with Chad some this year, and like you said, we had a lot of success. I think I won five and finished second in three of them or something like that. No, I think it's just a unique opportunity for me to have been able to do that.
Tyler:
Paul Silva is a hard nut to crack. He won't let us talk to him really, which is fine because I like the allure of that, but he's obviously one of the greatest sprint car minds there is. He is probably not getting enough credit for just the incredible season that he had on the Wrench. The best to ever do it since probably Kinser did it. What's he feeling like going into the Chili Bowl this year? You guys raced a little bit out West. How excited was he to win that race last year and how hungry is he to go in there and win it again?
Kyle Larson:
You want my honest answer? I think he's hating it. I think he'd much rather be at home and not having to work on a midget. He's a sprint car guy to the core. I don't think he enjoys midget racing that much. So that's my honest answer, but I do feel like somewhere inside of him he's excited to get back to Chili Bowl. Well, I think he knows kind of what he did last year, his first time in the building as a crew chief and going out there and winning the Chili Bowl, which is a race that I had tried to win 12 years previous, him to kind of come in and help me win. I think makes him feel special. I'm sure he's excited. I know he's really off that he had to leave a day earlier. I always thought parking was Sunday and apparently he parked Saturday morning, so he had to leave a whole day early to go to Tulsa and spend another 12 days there and only race two nights.
Kyle Larson:
So that's what he doesn't like, but he is a different guy for sure, but he's the best at what he does and you're right. He just likes working on race cars and doesn't really... He doesn't want to be interviewed, he doesn't care to talk about what he's been doing, but I also joke that he loves money. Nobody loves money more than Paul. So he's probably got a plan for not talking, because I'm sure he'll release a book or something someday and try and make some money on that. No, I'm just thankful to be able to race with him in the sprint car and now my midget and have a ton of success with him. We've had a really good win percentage these last couple of years, so hopefully we can keep it going.
Tyler:
All right. So the last one I got for you, we just went to the Tulsa shootout and I interviewed all seven of those guys that won the 600 [inaudible 00:40:26]. All the small classes and the micros, the juniors. All of them have the same exact trophy, and it's an awesome Golden Driller, well, if you consider it awesome. Dean Mills says that you're just carrying around a piece of wood basically, but why is that thing so important?
Kyle Larson:
Of course he does.
Tyler:
Where have you put that thing and does it really matter to you that much as soon as you finally got that thing?
Kyle Larson:
I think for me, I won a Tulsa shootout, whatever year it was in the outlaw cart, but it was like the 25th anniversary of the shootout. I won a Silver Driller, which I was very bummed about because I wanted a Golden Driller. Then I've had to wait so long and work so hard and have a ton of heartbreak in between to finally win a Golden Driller. That trophy is definitely very important to me and it's nothing fancy. It probably doesn't cost very much money to get a bunch of those trophies, but it's the meaning behind it I think that is so awesome and what we all go there to try and win. When you hold up that driller, you're the only guy holding up that week.
Kyle Larson:
You beat 300 and some odd cars and it's just a tough race to win. It's important to me and it's at my shop. I have like a whole wall where I've got my helmet, my suit, my shoes, my gloves, the trophy and then I can't remember the guy's name, but the guy who paints those photos throughout the nights on all the prelim nights. After we won the Tuesday night prelim, he painted my car, so I bought that and hung that up. It's a cool little wall kind of dedicated to the Chili Bowl and I've got a spot for a second one. SO hopefully keep winning drillers.
Tyler:
Thanks for coming on the show, buddy. We'll see you in Tulsa. Appreciate you doing this and good luck and go get that second one, all right?
Kyle Larson:
Yeah. Thanks for having me on and thanks for everything you guys have been doing on this off season. It's kept me entertained with no racing.