The Loudpedal Podcast Clips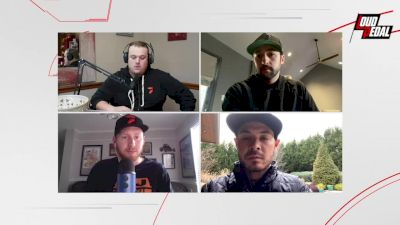 Create a free account to unlock this video!
Get Started
Already a subscriber? Log In
Loudpedal Podcast: Chase Elliott and Kyle Larson Segment
Jan 9, 2021
Chase Elliott is running the Lucas Oil Chili Bowl for the first time in his career in 2021, and the most recent winner Kyle Larson wants to see him succeed.
Transcription:
Tyler:
Yeah. It's going to be a big time for you guys. So here's my first question, and this will kind of break the ice. All right. So Dillon and I are both super excited that Larson's coming to run for Hendrick. Obviously a good opportunity for him to compete again, but also be teammates with you, which has really spawned this Chili Bowl effort and you guys are both going to attempt this on dirt. I want to know what Rick Hendrick said when you told him you were going to run in a dirt midget car at the Lucas Oil Chili Bowl.
Chase Elliott:
Yeah. He really didn't have much to say about it and I don't think he knows a ton about that race in particular, but really nothing negative. I've obviously been up front and he knows about all the things that I want to go do and this being one of them and I think he knew too when Kyle was coming along, that this was happening. I assume that that was the approach or that was kind of expected at the beginning, so I really wanted to do that anyway, and I've had a lot of interest in it. I've talked about it and two, I think Jeff, as his role has increased at HMS over the years, I think he really understands the importance of racing more and how that can help you on track on Sundays and I think he really, really understands that. Mr. Hendrick seems to be good with it, so I can't complain.
Dillon:
Kyle for you, I mean, obviously it's a kind of an interesting dynamic. You guys are teammates in the NASCAR deal, but different teams on the dirt side. You got to compete against each other at Millbridge, what did you think of Chase's kind of maiden voyage behind the wheel of the midget?
Kyle Larson:
I think he exceeded everybody's expectations probably. I thought he did really well, extremely smooth. Then you could tell each lap, he was getting more and more comfortable and it was just cool to see. Cool to see somebody you take on a challenge that's way different than I'm sure anything he's ever driven before and to go to the biggest event too, with 300 entries. He'll try his hand at it and get into the main and hopefully he'll battle for Golden Drillers. I've always had a lot of respect for Chase. I've always believed that he's extremely good and for him to, like I said, do something that's challenging and different, it's just awesome. I hope all the fans, I know all of us competitors appreciate it, but I hope all the fans can really appreciate it no matter how his week goes at Tulsa.
Tyler:
Chase, this seems to be something like, well, from the conversation we've had already, that you're not looking at it as a challenge. You're looking at it, this is what I want to do and I just want to get better at it as quickly as possible. Do you look at this as a huge challenge for you?
Chase Elliott:
Yeah. I think it's a tremendous challenge for sure, and it's just not something I grew up doing. I had to run a couple of dirt Late Model races probably five, eight, nine, 10, maybe even 10 years ago. Been a long time ago, which is nothing like that stuff, but I think the biggest thing for me is I just... Like I said, I've been kind of a fan of that type of racing and paid a lot of attention to the Chili Bowl over the past five or six years. Watched Kyle have a lot of success out there and I feel like every year we always talk about it a little bit. Probably the past four or five years when he's gone out there and raced. So I think more than anything for me, I just respect the discipline and I just feel, like I mentioned to you guys, as you get older, it gets harder to learn new things and I just felt like I'm still in my 20s and I fortunately have some opportunities to go get involved in this stuff and if I like it, which I do and I respect it, which I do, then why not go try it?
Chase Elliott:
It's going to do nothing, but just get harder to learn as you get older and felt like now was the time to go give it a shot.
Dillon:
Chase, is your dad going to come? Is he going to be there next week?
Chase Elliott:
Yeah, I think so. He's been on the fence. He's got some other stuff going on, kind of prior plans. So I don't know. I think he's going to be there as much as he downplays it, I think he'll end up showing up before it's over with. He's enjoyed watching too and we actually went out there last year. We were making our way home from Colorado last year and stopped and watched the race and I think he really enjoyed it. He's had a lot of fun with dirt racing over the years. He had a dirt Late model and he went and raced a bunch there in the early 2000s. I don't think a lot of people remember or even know about, but he got super involved in it and loved it. I think he's been excited about it too. So I think he'll end up coming out there as long as he can make it work with his schedule.
Tyler:
Larson, as you know, the track conditions are completely different on pavement as they are on dirt. It's kind of almost the opposite, right? Through the dirt night, the track gets slicker, whereas the pavement track, it's a little bit more grip throughout the night. What kind of correlations will help Chase from a stock car to going into a midget, because you've said that the momentum in a stock car is similar to what you see kind of in a midget?
Kyle Larson:
I don't know. I used to always think that a pavement track got more grip throughout a night before I actually started pavement racing, and then once you get NASCAR racing, once the rubber lays down, it actually kind of does opposite at most tracks. So to me, I think watching the track conditions is similar to kind of feeling how the track conditions might change throughout a mile and a half event somewhere where you're kind of chasing the gray, I guess you'd call it and where the grip would be and too, I think Chase is going to have a lot of people to lean on for advice and questions throughout the evening. What do you see here? When they do this with the tractors? What's that kind of do to the track or how long does it take for the bottom ware out and the top to come in?
Kyle Larson:
The good thing with Chili Bowl is they've been so consistent with their track rep over the last decade or longer that everybody who's been there each year has a good understanding of how the night transitions and all that, and he's smart too. He's done a ton of studying I can tell already. I don't think he's going to be unprepared at all. He'll probably be the most prepared driver going in there. I think he's going to do fine and he's a talented race car driver. So talented people seem to have success even when things are new to them.
Chase Elliott:
He's been too nice to me through all this, but I do appreciate all the help.
Kyle Larson:
I forgot to text you back last night.
Chase Elliott:
No, it's all good. I've worn you out so, sorry.
Kyle Larson:
No, you haven't.
Dillon:
Well, that's what I was going to say. I mean, in all reality Chase, if you're going to have a guy in your corner that's going to be willing to help you, having the guy who just won it last year and is coming off the year he's had, there's probably not a better guy to have helping you.
Chase Elliott:
Yeah. I completely agree and appreciate the help. Yes. I feel like there's a lot of people that you can lean on or want to. I think the smaller you keep that circle, the better because everybody has a different approach. I've tried to keep that pretty small honestly, between Kyle and Briscoe, that's really been the only two people I've talked too much about it and as long as they're willing to talk about it, that's probably going to be about it for me. I just think you get 45 different opinions and you get 45 different ways of looking at something and that's going to do nothing, but just hurt me more, so I think keeping that circle small is important and that's certainly my approach next week, too.
Tyler:
Do you think that this could possibly, this is for chase. Do you think this possibly could be a risk? I mean, it's not necessarily... I'm not talking about the safety side of it. I'm talking about if you don't exceed expectations, are you going to feel like it was kind of a bummer to go?
Chase Elliott:
No, I don't think so at all, honestly. I think for me, looking at it, being a fan of the event and watching the event, I see how hard it is. That's got to be one of the hardest of odds, that would have to be one of the hardest races to win in the world. I mean, from how many cars are entered and how there's no guarantees and your prelim nights and just all the racing. So I completely get the challenge and I think I understand it enough to know that it's going to be very difficult. So no, I don't think so. I'm going to go out there and give it my best shot and honestly, even if it goes really bad, I still want to do more racing and want to continue to try to learn and get better at it as time goes on.
Chase Elliott:
My result next week isn't going to deter me from wanting to try to learn. If you have a bad race in your first two races of doing it, I think you will be a pretty bad quitter if you stop there and we're done with it so that's just not me and I'm looking forward to learning.
Tyler:
You could just do what Larson did in the Late model and when the first time, right? I mean that's-
Chase Elliott:
Yeah. Right. Let me get right on that.
Kyle Larson:
250 less cars at Port Royal.
Chase Elliott:
Yeah.
Tyler:
But it's true. I guess the final thing I wanted to ask both of you and Larson first, what kind of advice can you give Chase for doing something new because you did do something like this in the Late model this year with a lot of eyeballs on it, getting into something that you've never done before and you succeeded, what kind of advice can you give him?
Kyle Larson:
I don't know. I think Chase has always had a lot of eyes on him throughout his career as a driver. I mean, his dad's Bill Elliot, so I think he's always had that pressure on him. I'm sure he doesn't feel it or care about it or whatever, but he's always had it in and I think that's probably trained him for moments like this, where he kind of steps out and does something different. So he's used to all those eyes on him and people having their opinions and I think he's done a great job his whole life of not letting that take any of his focus away from what's important and that's doing a good job on the race track or in this case, just try to learn what you can and you'll have a good time to doing it.
Kyle Larson:
As far as advice, I don't know. I mean, just on the driving side of things, I've tried to help out and I'm sure once we get to the Chili Bowl, he'll probably have a lot more questions because it's a way different racetrack than Millbridge and just the surface itself, the shape of the track, the way it races is all way different. He's only got one night of experience racing these things and there's still a ton left to learn. I think it's pretty cool that he's willing to ask me a lot of stuff and I'm excited to help him and hopefully he does an awesome job, which I think he will, as long as... Chili Bowl, I think the most important thing is just to not run into any bad luck and you'll have a good week. Well, he's a smart racer, so he'll be fine.
Tyler:
All right, Chase, well thanks so much for joining us. I mean, do you think you even have a shot at beating Larson this week? You could probably, to be in a wheel in one of the mains maybe.
Chase Elliott:
Yeah. Well, first problem is I'm not in the same main to crash him, but if we were maybe if I wrecked him when he came around to lap me, maybe potentially, but I don't foresee seeing him on track this weekend, but will give it my best shot.