Your weekly FloRacing recap/preview show with hosts Tyler Burnett and Dillon Welch.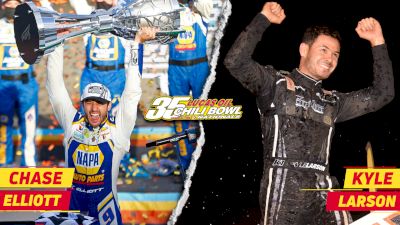 Chase Elliott and Kyle Larson | The Loudpedal Podcast (Ep. 18)
Jan 7, 2021
The 2020 Cup Champ Chase Elliott and the 2020 Lucas Oil Chili Bowl Champ Kyle Larson join the Loudpedal Podcast ahead of big week in Tulsa.
Transcription
**Begins at the 16:43 mark

Tyler (00:00):
Welcome back to episode 18 of the Loudpedal Podcast. We're now joined by the reigning Cup Series Champion, and also a guy who's going to run in the Lucas Oil Chili Bowl this year, Chase Elliott. Chase, what's up, man? Thanks for joining the show.
Chase Elliott (00:33):
Yeah, thanks for having me.
Dillon (00:35):
So the Chili Bowl, you ran Millbridge obviously, but why the Chili Bowl? What about this race has perked your interest enough to want to run it?
Chase Elliott (00:45):
I really enjoyed this race. I've been a fan of the event for probably like five, six years or so. I've paid pretty close attention to it over the past five, six years. I just think it's a really cool event for one, but not just the Chili Bowl, I think midget racing, dirt racing, sprint car racing, I've really always had a respect for that. I grew up a big Tony Stewart fan, so obviously he kind of wanted me to do that stuff I feel like as a kid. He always kind of was joking with dad about getting me in midget and Quarter Midgets and stuff when I was little. He actually gave me a Quarter Midget when I was little that never got used. So I kind of grew up with a lot of interest in it.
Chase Elliott (01:31):
Then as time has gone on, Kasey Kahne being involved and being around Kasey a lot, I've always kind of seen it and respected it, but just never been close enough to it or grew up around it to really get involved. So for me, I just felt like I... Still in my 20s and I feel like as you get older, it gets harder to learn new disciplines. I didn't grow up doing that kind of thing, but I just felt like if I was going to step out and try something new, I needed to do it before you get too old and gets harder to learn things when you get older, for sure. So I just felt like the opportunities were right, and fortunately this was the time to go give it a shot. So I'm looking forward to it. My expectations are low for sure, but I'm excited to go try to learn and honestly, to try to learn the right way. I mean, I think it's a very different thing and I'm excited to go, and like I said, give it a shot.
Tyler (02:22):
The kind of the ESPN Thunder series was a big popularity in the cup series garage back in the day. You hear Earnhardt talk about stories of watching the Midget racers and even the car owners were watching. Was that your fandom towards Tony Stewart? Was that because your dad was such a fan of watching that?
Chase Elliott (02:40):
No. It was really more just Tony always was just really kind to me as a kid. He was that other driver that would always take it two seconds out of his grid walk to stop by and pick me up or try to tickle you or whatever as a kid. When you're a little kid, that's a big deal, right? Obviously my dad was a star at the time, but you're always looking outside of that too. Outside of him and Tony was having a lot of success and he was just really kind to me and I knew he was really involved. I think he would send me little die-cast sprint cars and stuff at Christmas. Daniel Lasoski, I think was his driver at the time, I remember he would send me t-shirts and stuff of all of his dirt guys. That was really the big thing. I just felt like he was kinder than most for whatever reason and I respected that.
Dillon (03:40):
Does winning the cup championship, and I ask this because you ran the Snowball, which I know you've obviously competed in before, but you're racing the Chili Bowl, you're going to run the Rolex. Does winning the cup championship kind of ease or validate these decisions to kind of do some more unique stuff in the off season and kind of branch out and try different stuff?
Chase Elliott (04:00):
I would like to say yes, but honestly I had all this stuff planned before the end of the NASCAR season so I was fully planning on going to do the Rolex and the Chili Bowl and the Snowball Derby all before I had the NASCAR year and obviously, I didn't know how it was going to end, much like anybody else. So no. I was planning on doing anyway and luckily things kind of worked out the way they did and obviously very glad they did, but I was just as excited then as I am now to go and try new stuff as far as the Chili Bowl and the Rolex. Then also I was excited to kind of go back and run the Snowball Derby again, which I haven't done in a number of years so it's been a lot of fun.
Chase Elliott (04:41):
Racing outside of NASCAR, I feel like it's something that I've kind of lost touch with since I've been in Cup, just haven't done a lot of it. As much as I enjoy racing and as much as I still paid attention to all that stuff and watched these different types of racing, I just felt like I needed to put effort into trying to go do it because my interest was there and I always made a point to watch all this stuff. I'm just like, what are you doing? If you have the opportunity to go do it, let's go do it instead of sitting at home watching. So here we are, we're giving it a shot and see how it goes.
Tyler (05:11):
That's a great question, Dillon, because I kind of wanted to know if the pressure of winning a championship let you do this, but that's cool to see that you had this plan going into it because when I was with NASCAR and covered it, it just always seemed like you were really hard on yourself and I never understood why, because you're such a good race car driver. I feel like winning one of those championships, now you can just go chase more and it feels like you don't really have that pressure on you anymore. It seems like.
Chase Elliott (05:41):
Yeah. I don't know. I mean, I still want to perform today just as much as I did in October on the cup side and be successful there, but I did put a lot of emphasis in just enjoying those moments and enjoying the run to the championship. That was probably the thing I said the most between Martinsville and Phoenix was just trying to enjoy being there. It's a great opportunity, and unless you enjoy those big moments, man, that's going to be hard. It's going be a hard road if you don't like being there and like having that opportunity and things went our way. Yeah, and I get it. It has to go your way to win a cup title now, especially with the way the point system is, but man, if you don't enjoy being there, you're going to have a hard time. I felt like could I still be better? Absolutely. Did I enjoy that moment more than I would have two or three years ago? 100%. I did.
Chase Elliott (06:37):
Am I still going to be pissed off, mad at myself if I make a mistake and throw a race away as much as I was in 2016? 100%. Absolutely I will, but I've really tried to enjoy those moments and I felt like we did a really good job of that as a team at Phoenix.
Dillon (06:56):
Back to the dirt stuff, you raced at Millbridge whatever it was a month or so ago now, I guess, what was the biggest thing that surprised you about the racing?
Chase Elliott (07:08):
The two things for me is one, testing is not practice. Oh, I'm sorry. Testing is not racing and I think the biggest piece of that is just the track conditions. When you go test on dirt, they might kind of halfway prepare the track for you at the beginning of the day and then by the time you've run all day, you have run into a dry, slick racetrack, which is just not the track condition that you're going to see especially at the beginning of the night of a feature event and the track condition that you see there at the beginning of the night is not what it is at the end of a test. So that was a very tough thing for me to get used to because all my time in the midget prior to that race was kind of on a slick race track that wasn't really prepared a ton and I feel like those dry slick tracks kind of push you more to drive the car kind of like you would on asphalt.
Chase Elliott (08:05):
So that kind of suited me, but when you get in those moments where the track's kind of tacky and has a lot of grip, you've really got to drive the car a little differently and that's where your dirt guys who are really good is adapting to those changes and understanding not only what the track is doing right now, but what's it going to be doing in my heat race. If I'm in the first tee race, it's going to be different than what is in the second heat race and understanding those things. So that was a big one for me from that side. The second thing that was difficult and I'm still learning, and hope to learn quickly next week is just being around other cars and understanding the racing etiquette a little bit more.
Chase Elliott (08:46):
I don't know if etiquette's the right word, but just the style of what to do in certain situations, right? I think another one that kind of falls into that same category for me is how short the races are. The energy level is high from the beginning of the event because the race is so short. You can't ride around behind a guy and set him up for 15 laps. Your race is over. You've got to take your opportunities while they're there, and I think you see the guys that are successful in those types of cars, they do that. They don't mess around. If they have a percent of an opportunity, you can count on them taking it. Then on the flip side too, if you're on the receiving end of that, that's expected because that's what dirt racing is.
Chase Elliott (09:34):
For me just understanding that a little more, I just haven't got there yet. So the Chili Bowl, looking ahead to that, I think that energy level is going to be high from the get go, especially on your prelim night when heat races are short and you got to make the most of your time while you're in them. Those are the big ones for me that I'm still working through and trying to learn, and I anticipate big challenges for me next week.
Tyler (10:04):
There's very little etiquette, to be honest with you in that building. It's pretty intense now. I'm just saying.
Chase Elliott (10:12):
I think that's great. I think that's why there's you guys and myself, and a lot of people love watching dirt racing too, is because the aggression is high and the races are short and you got to make something happen and I think that gets swept under the rug when you start talking about dirt racing versus asphalt racing, the races are short. You got to do something or you're at a time period. I think less is more in a lot of ways, and I think the amount of laps in some of these events have a big factor in that.
Dillon (10:48):
What makes a good week for you Chase? I mean, what are the expectations you're putting on yourself that you leave that building next Saturday and you're satisfied?
Chase Elliott (10:56):
Yeah. I don't know. I'm not sure I've sat down and thought about what main I want to be in on Saturday.
Dillon (11:04):
Sure.
Chase Elliott (11:05):
Honestly for me, I think it's more just about trying to make all the laps and not tear a car up and just try to learn to race the right way. Sorry, my dog's sneezed. I don't know what the week brings and who knows, but I just think for me, just trying to make laps, make all the laps that I can, it's not that you get that many practice laps or anything so just making the most of my time on the racetrack and just learn as much as I can. I think whatever, if I make it to Saturday without tearing our car all to hell, then that's great. I think whatever main or feature we're in, great. I'll try to learn all the way to the time I load up and go home.
Tyler (11:53):
We're now joined by the reigning Lucas Chili Bowl Nationals Champion, join the chat here. Both of you guys from Hendrick Motor Sports. Kyle, I guess, how are you doing thanks for joining us.
Kyle Larson (12:05):
Yeah, thanks. I'm doing good. I'm just getting excited to head out to Tulsa here in a few days.
Tyler (12:13):
Yeah. It's going to be a big time for you guys. So here's my first question, and this will kind of break the ice. All right. So Dillon and I are both super excited that Larson's coming to run for Hendrick. Obviously a good opportunity for him to compete again, but also be teammates with you, which has really spawned this Chili Bowl effort and you guys are both going to attempt this on dirt. I want to know what Rick Hendrick said when you told him you were going to run in a dirt midget car at the Lucas Oil Chili Bowl.
Chase Elliott (12:41):
Yeah. He really didn't have much to say about it and I don't think he knows a ton about that race in particular, but really nothing negative. I've obviously been up front and he knows about all the things that I want to go do and this being one of them and I think he knew too when Kyle was coming along, that this was happening. I assume that that was the approach or that was kind of expected at the beginning, so I really wanted to do that anyway, and I've had a lot of interest in it. I've talked about it and two, I think Jeff, as his role has increased at HMS over the years, I think he really understands the importance of racing more and how that can help you on track on Sundays and I think he really, really understands that. Mr. Hendrick seems to be good with it, so I can't complain.
Dillon (13:38):
Kyle for you, I mean, obviously it's a kind of an interesting dynamic. You guys are teammates in the NASCAR deal, but different teams on the dirt side. You got to compete against each other at Millbridge, what did you think of Chase's kind of maiden voyage behind the wheel of the midget?
Kyle Larson (13:57):
I think he exceeded everybody's expectations probably. I thought he did really well, extremely smooth. Then you could tell each lap, he was getting more and more comfortable and it was just cool to see. Cool to see somebody you take on a challenge that's way different than I'm sure anything he's ever driven before and to go to the biggest event too, with 300 entries. He'll try his hand at it and get into the main and hopefully he'll battle for Golden Drillers. I've always had a lot of respect for Chase. I've always believed that he's extremely good and for him to, like I said, do something that's challenging and different, it's just awesome. I hope all the fans, I know all of us competitors appreciate it, but I hope all the fans can really appreciate it no matter how his week goes at Tulsa.
Tyler (14:57):
Chase, this seems to be something like, well, from the conversation we've had already, that you're not looking at it as a challenge. You're looking at it, this is what I want to do and I just want to get better at it as quickly as possible. Do you look at this as a huge challenge for you?
Chase Elliott (15:11):
Yeah. I think it's a tremendous challenge for sure, and it's just not something I grew up doing. I had to run a couple of dirt Late Model races probably five, eight, nine, 10, maybe even 10 years ago. Been a long time ago, which is nothing like that stuff, but I think the biggest thing for me is I just... Like I said, I've been kind of a fan of that type of racing and paid a lot of attention to the Chili Bowl over the past five or six years. Watched Kyle have a lot of success out there and I feel like every year we always talk about it a little bit. Probably the past four or five years when he's gone out there and raced. So I think more than anything for me, I just respect the discipline and I just feel, like I mentioned to you guys, as you get older, it gets harder to learn new things and I just felt like I'm still in my 20s and I fortunately have some opportunities to go get involved in this stuff and if I like it, which I do and I respect it, which I do, then why not go try it?
Chase Elliott (16:10):
It's going to do nothing, but just get harder to learn as you get older and felt like now was the time to go give it a shot.
Dillon (16:17):
Chase, is your dad going to come? Is he going to be there next week?
Chase Elliott (16:20):
Yeah, I think so. He's been on the fence. He's got some other stuff going on, kind of prior plans. So I don't know. I think he's going to be there as much as he downplays it, I think he'll end up showing up before it's over with. He's enjoyed watching too and we actually went out there last year. We were making our way home from Colorado last year and stopped and watched the race and I think he really enjoyed it. He's had a lot of fun with dirt racing over the years. He had a dirt Late model and he went and raced a bunch there in the early 2000s. I don't think a lot of people remember or even know about, but he got super involved in it and loved it. I think he's been excited about it too. So I think he'll end up coming out there as long as he can make it work with his schedule.
Tyler (17:07):
Larson, as you know, the track conditions are completely different on pavement as they are on dirt. It's kind of almost the opposite, right? Through the dirt night, the track gets slicker, whereas the pavement track, it's a little bit more grip throughout the night. What kind of correlations will help Chase from a stock car to going into a midget, because you've said that the momentum in a stock car is similar to what you see kind of in a midget?
Kyle Larson (17:33):
I don't know. I used to always think that a pavement track got more grip throughout a night before I actually started pavement racing, and then once you get NASCAR racing, once the rubber lays down, it actually kind of does opposite at most tracks. So to me, I think watching the track conditions is similar to kind of feeling how the track conditions might change throughout a mile and a half event somewhere where you're kind of chasing the gray, I guess you'd call it and where the grip would be and too, I think Chase is going to have a lot of people to lean on for advice and questions throughout the evening. What do you see here? When they do this with the tractors? What's that kind of do to the track or how long does it take for the bottom ware out and the top to come in?
Kyle Larson (18:22):
The good thing with Chili Bowl is they've been so consistent with their track rep over the last decade or longer that everybody who's been there each year has a good understanding of how the night transitions and all that, and he's smart too. He's done a ton of studying I can tell already. I don't think he's going to be unprepared at all. He'll probably be the most prepared driver going in there. I think he's going to do fine and he's a talented race car driver. So talented people seem to have success even when things are new to them.
Chase Elliott (19:03):
He's been too nice to me through all this, but I do appreciate all the help.
Kyle Larson (19:08):
I forgot to text you back last night.
Chase Elliott (19:10):
No, it's all good. I've worn you out so, sorry.
Kyle Larson (19:13):
No, you haven't.
Dillon (19:15):
Well, that's what I was going to say. I mean, in all reality Chase, if you're going to have a guy in your corner that's going to be willing to help you, having the guy who just won it last year and is coming off the year he's had, there's probably not a better guy to have helping you.
Chase Elliott (19:30):
Yeah. I completely agree and appreciate the help. Yes. I feel like there's a lot of people that you can lean on or want to. I think the smaller you keep that circle, the better because everybody has a different approach. I've tried to keep that pretty small honestly, between Kyle and Briscoe, that's really been the only two people I've talked too much about it and as long as they're willing to talk about it, that's probably going to be about it for me. I just think you get 45 different opinions and you get 45 different ways of looking at something and that's going to do nothing, but just hurt me more, so I think keeping that circle small is important and that's certainly my approach next week, too.
Tyler (20:13):
Do you think that this could possibly, this is for chase. Do you think this possibly could be a risk? I mean, it's not necessarily... I'm not talking about the safety side of it. I'm talking about if you don't exceed expectations, are you going to feel like it was kind of a bummer to go?
Chase Elliott (20:29):
No, I don't think so at all, honestly. I think for me, looking at it, being a fan of the event and watching the event, I see how hard it is. That's got to be one of the hardest of odds, that would have to be one of the hardest races to win in the world. I mean, from how many cars are entered and how there's no guarantees and your prelim nights and just all the racing. So I completely get the challenge and I think I understand it enough to know that it's going to be very difficult. So no, I don't think so. I'm going to go out there and give it my best shot and honestly, even if it goes really bad, I still want to do more racing and want to continue to try to learn and get better at it as time goes on.
Chase Elliott (21:15):
My result next week isn't going to deter me from wanting to try to learn. If you have a bad race in your first two races of doing it, I think you will be a pretty bad quitter if you stop there and we're done with it so that's just not me and I'm looking forward to learning.
Tyler (21:40):
You could just do what Larson did in the Late model and when the first time, right? I mean that's-
Chase Elliott (21:44):
Yeah. Right. Let me get right on that.
Kyle Larson (21:50):
250 less cars at Port Royal.
Chase Elliott (21:52):
Yeah.
Tyler (21:52):
But it's true. I guess the final thing I wanted to ask both of you and Larson first, what kind of advice can you give Chase for doing something new because you did do something like this in the Late model this year with a lot of eyeballs on it, getting into something that you've never done before and you succeeded, what kind of advice can you give him?
Kyle Larson (22:15):
I don't know. I think Chase has always had a lot of eyes on him throughout his career as a driver. I mean, his dad's Bill Elliot, so I think he's always had that pressure on him. I'm sure he doesn't feel it or care about it or whatever, but he's always had it in and I think that's probably trained him for moments like this, where he kind of steps out and does something different. So he's used to all those eyes on him and people having their opinions and I think he's done a great job his whole life of not letting that take any of his focus away from what's important and that's doing a good job on the race track or in this case, just try to learn what you can and you'll have a good time to doing it.
Kyle Larson (23:07):
As far as advice, I don't know. I mean, just on the driving side of things, I've tried to help out and I'm sure once we get to the Chili Bowl, he'll probably have a lot more questions because it's a way different racetrack than Millbridge and just the surface itself, the shape of the track, the way it races is all way different. He's only got one night of experience racing these things and there's still a ton left to learn. I think it's pretty cool that he's willing to ask me a lot of stuff and I'm excited to help him and hopefully he does an awesome job, which I think he will, as long as... Chili Bowl, I think the most important thing is just to not run into any bad luck and you'll have a good week. Well, he's a smart racer, so he'll be fine.
Tyler (24:02):
All right, Chase, well thanks so much for joining us. I mean, do you think you even have a shot at beating Larson this week? You could probably, to be in a wheel in one of the mains maybe.
Chase Elliott (24:13):
Yeah. Well, first problem is I'm not in the same main to crash him, but if we were maybe if I wrecked him when he came around to lap me, maybe potentially, but I don't foresee seeing him on track this weekend, but will give it my best shot.
Dillon (24:30):
Thanks Chase.
Tyler (24:31):
Chase Elliott, everyone. Now we're going to see if we can chat with Kyle Larson for a bit here. I know that Mr. H probably wouldn't like you guys getting together on the racetrack, but I think he's right about assuming that you guys will probably not be in the same main at some point, but you had some quotes that came out, how much respect do you have for what Chase is doing right now?
Kyle Larson (24:53):
A lot. Like I said, it's just... I think I can kind of, I don't know, relate a little bit because running that dirt Late model was what I thought at the time a lot different than, which it is a lot different than anything I've done before, but I can't imagine racing pavement stuff all my life and then being like, "Hey, I want to go try the biggest, toughest race in the world that there is with 300 plus cars." Yeah, I think we can all respect that and like I said too, he's already done and looked way better than I thought he would. I think being a dirt racer, you kind of have a chip on your shoulder like, oh, we're better than pavement guys, blah, blah, blah, but for a guy with no dirt experience to come into Millbridge and look as good as he did, I think that just proves that good race car drivers are good in anything.
Dillon (25:56):
That's the thing too, I think you hit on it. I think everybody knew he was a good race car driver, but I think people were understanding of the challenge that faced him, but then he got in at Millbridge and I'm sure you've watched his on-board videos and everything, and he looks like he's done it for a long time. You know? I mean, he's smooth, he's doing the right things when the car gets upset. He looks like he's figuring it out, and obviously Chili Bowl is a different challenge than 12 cars at Millbridge, but you're right. He's a race car driver and he's going to figure it out, I think.
Kyle Larson (26:31):
Yeah, and too, a little bit now I've gotten to talk to him. You can see why he's so good in cup or in a stock car, because he works hard at it and as a student and wants to constantly be better. That was cool just to communicate with him and he's texted me randomly throughout these last few weeks of like, "Hey, what do you think about this?" Or like last night he sent me some of his on-board and he's like trying to judge gaps and figure out slide jobs and things like that because he knows that's kind of how you have to or that's a part of racing in midget, is trying to figure out those ways of passing people, which is stuff that he's not used to and too having no spotter as well I could imagine would be hard to get used to maybe, and different. It's definitely been awesome to see how he seems like he's really enjoyed it and I look forward to seeing how he does at Chili Bowl and then also what he does once the Chili Bowl's done.
Kyle Larson (27:43):
What other races he might run, what other types of race cars who might want to try. His fan base is already big and I think it's about to get a lot bigger.
Tyler (27:54):
One thing that I wanted to ask him, and you mentioned the fan base thing, when you said you went to the Late model deal, you were hitting a whole new fan base of dirt racing fans, which is accurate because the Late metal fans are different than the sprint car fans, and obviously the NASCAR fans are way different than all the fans he's going to get from racing on this dirt race. He doesn't need any more fans, but I think that this is going to make him one of the dirt guys, don't you think?
Kyle Larson (28:26):
Yeah, I don't know. I don't know. I mean, you still have maybe some diehard dirt fans that don't like when a true NASCAR guy comes into races, but yeah, for the most part I think he's going to just gain the respect of a lot of people. I think he'll definitely have even more people cheering for him on Sundays and probably even more people voting for him for most popular drivers, even though he doesn't need it. I think it's just great for motor sport in general, right? I mean, you have a NASCAR Cup Series Champion, coming to do some grassroots racing and bring in a lot of attention to it is only going to help grassroots dirt track racing. I think it's great and hopefully more people do it in the future.
Dillon (29:23):
Kyle, 2021 obviously is going to be a really big year for you in a number of ways, but we start things off by going back to Chili Bowl obviously, and you get to go into that building as the defending winner. I would imagine it probably in some ways feels different going back there, but in a lot of ways too, it's probably the same because I know you want to win it again, but what are you feeling this time going into the expo as the defending winner of that race that you tried so hard to win?
Kyle Larson (29:54):
Yeah, I mean, not a whole lot different I guess from what I remember. I mean, it's just been a different off season, really. I go to New Zealand and I feel like that's my time to kind of get fresh in a midget leading up to Chili Bowl and I didn't get to do that this year. It's almost like my mind these last couple of weeks has been less on the Chili Bowl, but even though I've watched every video on Flo like 10 times over. So I've done my prep and studying, but my attitude or whatever, it seems a little more laid back than what I thought it would be or what it's been in the past. I think it's going to grow as I get ready to leave on Sunday. We're going to Wichita first to hang out for Boyer's little retirement party. So I'm sure once I'm in Wichita, normally a couple hours away, I'll be ready to leave that party to get to Tulsa and get ready for my one session on Monday and then hopefully Beating Dillon Welch on Tuesday.
Tyler (31:11):
Yeah, that's right. Is Dillon Welch the toughest in the Tuesday field? I mean, I feel like Beason maybe and a few others-
Dillon (31:22):
Are you kidding me?
Kyle Larson (31:22):
I think, his last name made it on the notable drivers that are running Tuesday, so that means a lot. No, I mean, Dillon, he's always... Trust me, he might not think it, but I guarantee everybody when they see his name on the entry list or for whatever night that he's running, they all pick him as one guy that could win. I mean, I think that's pretty special and for a full-time announcer or whatever, and part-time driver, I think that's pretty cool to have drivers always noticing him.
Dillon (32:03):
Yeah. How about that Tyler?
Tyler (32:05):
Group two pick right there gets all the adrenaline rush from the greatest race car driver in the world telling him he's great.
Kyle Larson (32:10):
Group two?
Dillon (32:12):
Yeah. Group two. That's a lot of pressure. Yeah. A lot of pressure.
Tyler (32:20):
What do you got Dillon?
Dillon (32:22):
No, I mean, I don't really have much. For you, starting the year off at the Chili Bowl, I know you obviously got a lot of other stuff on your plate and everything this time of year, but how much fun is it for you to just get to go back and race in that race every year and show up there as the guy that everybody does look at as the one to beat?
Kyle Larson (32:48):
Yeah. I don't know. I guess I don't look at it that way. I just look at it as another race and you want to go there and win the big ones and that's one of the biggest of the year that I get to run. I guess, with the success that Bell and I've had there now for a while and seemed to always be contending upfront on Saturday, it just seems to build and build and make me want to win even more. So, thankfully I finally got it done last year and I know Bell's probably hungrier now than he's ever been. Chad Boat's gotten to race a lot this year as a crew chief and hone his skills doing that. So I imagine they'll be only better now. So he's definitely still the one guy to me that I think is the best in there, but I think you look at what Buddy, I think Buddy will be really, really fast this year and there's always a lot of good drivers. So definitely try and study on everybody and what their tendencies are going in and then once you get on track, you just kind of got to put it all to work and try and make a clean prelim night and then hopefully, 55 really good laps on Saturday.
Tyler (34:11):
The year you had on dirt with 46 wins, you've probably run more dirt stuff this year leading into this race than I think you have probably in what? 10, nine, 10 years or something like that. So how does that play into how confident you feel? I know you're very well aware that nothing is guaranteed there, but that has to have some impact I would imagine on just kind of how you're feeling.
Kyle Larson (34:42):
Yeah. I don't know. Honestly, maybe I just have a bad memory, but it's easy to forget about the success you had all season long and really racing cup or NASCAR stuff, and then you're sprinkling dirt races. I never really looked at it as, I ran 90 dirt races this year. I always kind of looked at it as I ran new 80 or 90 races throughout the year. So to me it didn't really matter kind of what type of car I was in racing, as long as I was racing quite a bit throughout the season. This year having success, you would think yeah, it helps your confidence and stuff go in the building, but like I said, I think my memory is so bad. It's easy to kind of forget about that.
Kyle Larson (35:31):
2021 is a totally new year, so it doesn't matter really what you did last year, you just got to keep preparing and keep working hard to being better to do as good of job or a better job the next season. Obviously my confidence is high, but it always is going to that building, but I wouldn't say it's any higher this year than years past, even after winning the Chili Bowl last year and then winning all the races we did. I know how tough that race is and it doesn't care about what type of season you had the year before.
Dillon (36:11):
Fair enough.
Tyler (36:13):
You mentioned the Boat cars and they're on a list of probably seven to eight powerhouse teams that have tremendous lineups this year that are cars that are capable of winning. You know that Boat's car is capable of winning and probably even one of the better cars in the building because you finished what, a worst of second and that car all year long? So going into that building, you know the Bell's good, but you also know that those cars are incredible.
Kyle Larson (36:42):
Yeah, yeah. For sure. I do. Getting to drive them some throughout the year, you get to figure out kind of what their strong suits are as the setups go and what their weaknesses are too. So I think that's unique for me being a driver, competing against them at the Chili Bowl and getting to feel what Christopher and Dillon and Chris Windom and Reutzel and Gio and whoever else they have, having an idea of watching their car and what they're feeling and like I said, knowing what their strong suit is with that car and also the weaknesses are, I think benefits me. So I'm glad that I got to race with Chad some this year, and like you said, we had a lot of success. I think I won five and finished second in three of them or something like that. No, I think it's just a unique opportunity for me to have been able to do that.
Tyler (37:48):
Paul Silva is a hard nut to crack. He won't let us talk to him really, which is fine because I like the allure of that, but he's obviously one of the greatest sprint car minds there is. He is probably not getting enough credit for just the incredible season that he had on the Wrench. The best to ever do it since probably Kinser did it. What's he feeling like going into the Chili Bowl this year? You guys raced a little bit out West. How excited was he to win that race last year and how hungry is he to go in there and win it again?
Kyle Larson (38:21):
You want my honest answer? I think he's hating it. I think he'd much rather be at home and not having to work on a midget. He's a sprint car guy to the core. I don't think he enjoys midget racing that much. So that's my honest answer, but I do feel like somewhere inside of him he's excited to get back to Chili Bowl. Well, I think he knows kind of what he did last year, his first time in the building as a crew chief and going out there and winning the Chili Bowl, which is a race that I had tried to win 12 years previous, him to kind of come in and help me win. I think makes him feel special. I'm sure he's excited. I know he's really off that he had to leave a day earlier. I always thought parking was Sunday and apparently he parked Saturday morning, so he had to leave a whole day early to go to Tulsa and spend another 12 days there and only race two nights.
Kyle Larson (39:27):
So that's what he doesn't like, but he is a different guy for sure, but he's the best at what he does and you're right. He just likes working on race cars and doesn't really... He doesn't want to be interviewed, he doesn't care to talk about what he's been doing, but I also joke that he loves money. Nobody loves money more than Paul. So he's probably got a plan for not talking, because I'm sure he'll release a book or something someday and try and make some money on that. No, I'm just thankful to be able to race with him in the sprint car and now my midget and have a ton of success with him. We've had a really good win percentage these last couple of years, so hopefully we can keep it going.
Tyler (40:19):
All right. So the last one I got for you, we just went to the Tulsa shootout and I interviewed all seven of those guys that won the 600 40. All the small classes and the micros, the juniors. All of them have the same exact trophy, and it's an awesome Golden Driller, well, if you consider it awesome. Dean Mills says that you're just carrying around a piece of wood basically, but why is that thing so important?
Kyle Larson (40:43):
Of course he does.
Tyler (40:45):
Where have you put that thing and does it really matter to you that much as soon as you finally got that thing?
Kyle Larson (40:56):
I think for me, I won a Tulsa shootout, whatever year it was in the outlaw cart, but it was like the 25th anniversary of the shootout. I won a Silver Driller, which I was very bummed about because I wanted a Golden Driller. Then I've had to wait so long and work so hard and have a ton of heartbreak in between to finally win a Golden Driller. That trophy is definitely very important to me and it's nothing fancy. It probably doesn't cost very much money to get a bunch of those trophies, but it's the meaning behind it I think that is so awesome and what we all go there to try and win. When you hold up that driller, you're the only guy holding up that week.
Kyle Larson (41:56):
You beat 300 and some odd cars and it's just a tough race to win. It's important to me and it's at my shop. I have like a whole wall where I've got my helmet, my suit, my shoes, my gloves, the trophy and then I can't remember the guy's name, but the guy who paints those photos throughout the nights on all the prelim nights. After we won the Tuesday night prelim, he painted my car, so I bought that and hung that up. It's a cool little wall kind of dedicated to the Chili Bowl and I've got a spot for a second one. SO hopefully keep winning drillers.
Tyler (42:42):
Thanks for coming on the show, buddy. We'll see you in Tulsa. Appreciate you doing this and good luck and go get that second one, all right?
Kyle Larson (42:51):
Yeah. Thanks for having me on and thanks for everything you guys have been doing on this off season. It's kept me entertained with no racing.