2022 Blue Gray 100 at Cherokee Speedway
Rig Fire Another Setback For Kyle Strickler
Rig Fire Another Setback For Kyle Strickler
Dirt late model driver Kyle Strickler suffered a setback earlier this month when his team's race car hauler caught on fire in Tennessee.
Nov 18, 2022
by Kevin Kovac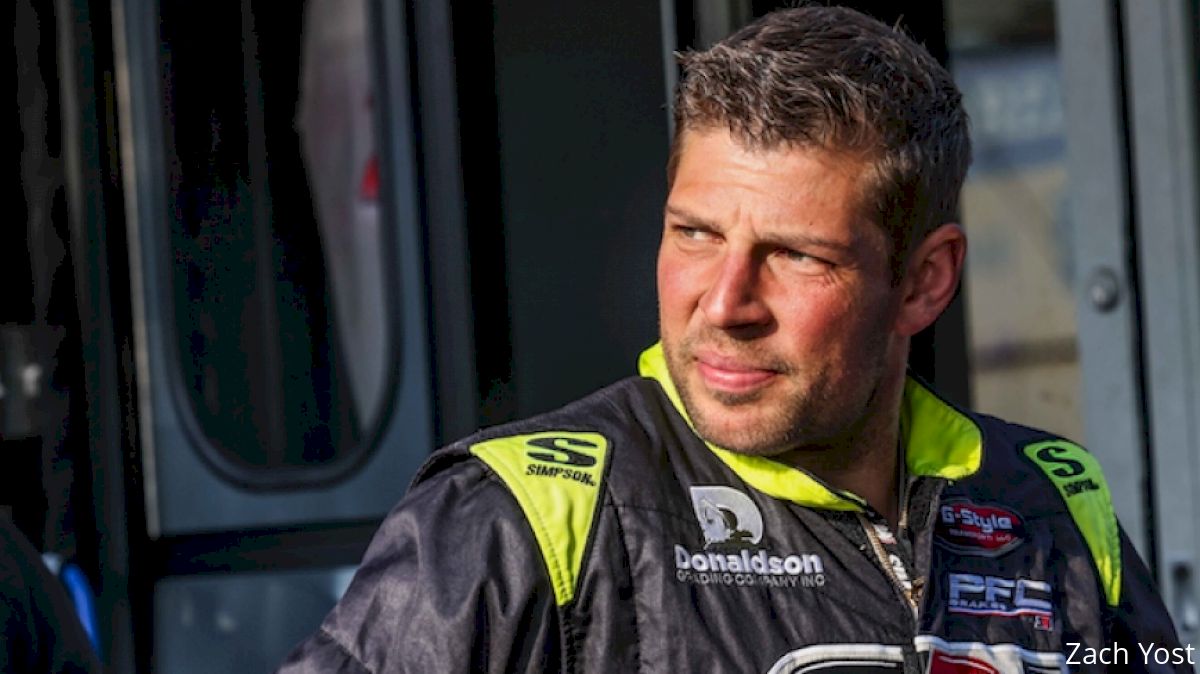 When Kyle Strickler's phone rang in the overnight hours of Nov. 7, he groggily awakened from a deep sleep inside his home in Mooresville, N.C., and didn't answer in time. Moments later, though, the 39-year-old driver's car owner, Charlie Donaldson, dialed him up and this time Strickler took the call.
The news Donaldson had to tell Strickler wasn't good.
"It was like 2 o'clock in the morning and I'm like, 'What in the hell's going on?' " Strickler recalled. "Charlie called me and said, 'The rig's burning up. You need to call the truck driver.' "
That revelation immediately brought Strickler to life. The first call had come from a friend of Donaldson's who was behind the wheel of the team's race car hauler after agreeing to handle transporting Strickler's Dirt Late Model and open-wheel modified to Nevada's Las Vegas Motor Speedway Dirt Track for last weekend's XR Super Series-sanctioned Duel in the Desert. Donaldson's hired truck driver had left the team's shop the evening of Nov. 6 — after Strickler prepped his Late Model following the completion of the World of Outlaws Case Late Model Series-sanctioned World Finals at The Dirt Track at Charlotte in Concord, N.C. — but ran into serious trouble on Interstate 40 about an hour east of Nashville, Tenn.
"I guess he had just stopped for fuel and had gotten back on the road and the trailer caught on fire," Strickler said. "I called him and he was hunting a fire extinguisher and he said, 'Man, this thing is burning up bad.' "
The precise reason for the inferno remains uncertain, but Strickler said it appeared that the front axle of the trailer flared up as it was rolling along the highway and spread quickly throughout the inside of the transporter. Area fire departments quickly responded to the scene and were able to extinguish the fire without damage to the toterhome or the race cars riding on the upper level of the trailer, but the trailer itself and a vast majority of its contents didn't fare as well.
Rehashing the incident while standing in the Las Vegas Motor Speedway Dirt Track's pit area — Strickler went ahead with his scheduled flight to Vegas and picked up a Late Model ride from Jerry Schram of Vancouver, Wash. — the Sinking Spring, Pa., native deemed the trailer a likely writeoff.
"(The firefighters) were trying to get the (back) gate open and the firefighters I think thought it was a normal door," Strickler said. "They didn't realize it was a liftgate, so they took their Jaws of Life and tried to cut through it. Then they hit beams and they couldn't get the door open so they cut a huge hole in the back door, and there's a huge hole burned in the right side from the fire.
"It started at the front axle of the trailer and just burned up all the stuff there right in the middle — the crash cart and pit box, all the tools in that part of the trailer, both my helmets. Fortunately I didn't have my (driver) suits in there — they were in the toterhome — and thankfully it didn't get to the fuel (barrels) because it would have really made the whole thing go up."
VIDEO: Kyle Strickler discussed his nickname, the droop rule and more earlier this year on an episode of SuaveTalk.
The hauler and trailer, of course, is the same rig that Hall of Famer Scott Bloomquist of Mooresburg, Tenn., had specially built a few years ago. It proved to be snakebit with mechanical and other problems before Bloomquist stopped using it and Donaldson purchased it last year for Strickler to use.
As Strickler noted, apparently the black cloud that once hung over the transporter hasn't entirely disappeared.
"It's cursed," Strickler said with a snicker. "I think Scott's got the aliens on it."
Strickler headed to his shop soon after learning of the fire and hastily cleaned out the team's smaller enclosed modified trailer to make room for the cars and parts that could be retrieved from the burned-out trailer. He departed with the modified trailer late in the morning and reached the damaged trailer around 5 p.m. on Nov. 7.
"They towed (the trailer) right down the street," Strickler said. "The crazy thing was, it was 3 miles from (fellow racer) Ricky Weiss's shop. That Ricky called me and said, 'Where you at?' I told him and he said, 'That's right where I live.' He was 3 miles around the corner, so he came (to help), and we pried the back gate open and at least got all our stuff out, because with that insurance deal nothing covers the contents."
According to Strickler, the team's spare engine that was stored in a cabinet made it through the fire relatively unscathed. Other expensive items, including the spring smasher and shock dyno, weren't seriously damaged.
"We took everything we could get out of the trailer and just piled it in our modified trailer and took it back home," Strickler said.
But nothing inside the trailer totally escaped the fire.
"Man, I've never had anything like that burn up before, and it's crazy how much damage it does," Strickler said. "Just the smoke … even stuff that didn't get hot, there's smoke and soot on everything and it smells absolutely terrible. Fortunately the cars are gonna be good, but they have a lot of smoke damage.
"I think we'll be able to salvage a lot of the parts and components, but everything's gonna have to be cleaned. We didn't even put anything in the shop when we got back (to North Carolina). I washed the Late Model, two hours I spent just washing and scrubbing. And that fire extinguisher stuff, it's very corrosive. When they spray it on there, everything immediately rusts. I got most of it all off, but it's gonna be a long process getting it cleaned up. It's one helluva mess."
Strickler looked on the bright side of the situation. "It could've been a lot worse," he said.
There wasn't enough time for Strickler to regroup and make a cross-country trip to pull double-duty with Donaldson's equipment at Las Vegas, but the fire didn't keep him home. Strickler and Co. maintained their plans and flew to Sin City last Wednesday.
"Charlie had almost $20,000 invested in airlines (flights) and rooms for everybody," Strickler said of his team owner, who operates Donaldson Grading and KAT Industries. "We brought 10 people with us to come out here to enjoy a Vegas trip and race, too. My wife (Brittany) came out with me — we're kid-free so we're gonna enjoy Vegas. Charlie and Melanie, my car owners, they're out here, too."
And Strickler landed a last-minute deal to compete in the Super Late Model portion of the Duel in the Desert. He was connected to Schram, a big figure in Northwest dirt track racing who fields several cars, has owned racetracks (Oregon's Willamette Speedway in Lebanon and Cottage Grove Speedway) and occasionally races himself.
"My old crew chief on the modified, Austin Bloom, he's from Oregon and knows (the Schram family) real well so he got us hooked up," Strickler said. "Some modified buddies know them too, and they got us in touch with them (Wednesday) night so we come over and talked to him and worked something out."
Strickler had something desirable to bring to the table: good positioning in the XRSS points to almost guarantee him entry to each of the weekend's three features, plus he was eligible for the circuit's Triple-Double Bonus that would double his payoff in Saturday's 50-lap finale. So Strickler climbed into Schram's 2022 Longhorn Chassis — the same brand Strickler has run all season — and despite racing underpowered with a steel-block engine under the hood, transferred through a B-main two of the three nights (he used a provisional on Friday) and registered finishes of 18th, 18th and 20th to bring the team a cool $9,000 in earnings, including $5,000 Saturday thanks to the double payoff.
"At least we were able to race have some fun," Strickler said. "It's not a complete disaster anyway."
The fire was one more forgettable moment in Strickler's difficult 2022 season — he's winless in Late Model competition, though he has captured a handful of modified victories in limited starts — but he wasn't planning to let it be the final memory of his campaign. He said upon his return for Las Vegas he would work to prepare his Late Model for this Sunday's Carolina Clash Super Late Model Series-sanctioned Blue-Gray 100 at Cherokee Speedway in Gaffney, S.C., before capping his season with the Dec. 2-3 XRSS Sunshine State 50 weekend at All-Tech Raceway in Ellisville, Fla.
"When we get back we're gonna have a big mess to clean up for sure," Strickler said. "That's the only time I've had anything burn up like that and it's crazy how much stuff … even stuff not even close to it was completely covered and burnt and smells absolutely terrible, so we have to wash everything.
"We have our small modified trailer that we're gonna have to put some work into it to get the Late Model into it, but we'll be racing for sure."
Finding a new trailer to replace the fire-damaged rig won't be easy in a hauler market that's gone wild, but he'll work with Donaldson to figure out a solution.
"We'll have some work to do before Speedweeks in January," Strickler said, "but we'll get something done."
Ten Things Worth Mentioning
1. So much for Billy Moyer gently riding off into life without racing. The Hall of Fame driver, who turned 65 on Oct. 19, not only has tallied some strong finishes in recent weeks behind the wheel of his Tim Lance-owned machine — his $12,500 third-place run in Saturday's finale at Las Vegas followed a runner-up placing in Oct. 22's World of Outlaws Case Late Model Series feature at 81 Speedway in Park City, Kan. — but over the past few months he reactivated his legendary race shop in Batesville, Ark. Moyer put his home and garage up for sale last year as he backed away from racing and shifted his focus to his partnership in an RV and boat dealership in Lake Havasu City, Ariz., but he hasn't sold the property and and in fact has been spending most of his time there preparing Lance's equipment with his longtime crewman Steve Norris. "Junior (his son Billy Moyer Jr.) said I retired from (team) ownership," Moyer quipped with a smile after Saturday's feature at Las Vegas. "That was a good way to put it."
2. Moyer said he's enjoying racing with Lance, the central Illinois businessman who competes occasionally. "He's a great guy," Moyer said of Lance. "We're still a little behind on some stuff; we don't have the latest and greatest engines, but we got good stuff and he bought me this new (Longhorn) car. He's trying to do what we need." Lance has entrusted the entirety of his team to Moyer since midway through the summer. "I've got the cars in Arkansas," he said. "We worked out of his shop (in Illinois) and when this car was new we put it together at (the late C.J.) Rayburn's (in Indiana), but the rest of the time I've been at home. We got a general manager out there running my place (in Arizona) so I don't have to be there all the time."
3. Manpower is a little short, though, for Moyer as he's ramped back up to prepare cars for himself and Lance, who also raced at Las Vegas. "We're definitely working our butt off … working Steve's butt off for sure," Moyer said. "It's just us two, and Carla (Moyer's girlfriend and Rayburn's daughter) has been a trouper working on this thing to help us the last month." Moyer planned to take Lance's equipment back to Arizona after the Duel in the Desert and work on it there until returning to action in January's Wild West Shootout at Vado (N.M.) Speedway Park.
4. Tanner English of Benton, Ky., thought he had a car that was better than his fifth-place finish in Saturday's Duel in the Desert finale, but he struggled to run the half-mile track's dominant outside lane. "I don't know where to zig or zag when it's like that," he said. "That's not my forte. I get to dreading every corner."
5. Coming off a Rookie of the Year campaign on the WoO circuit, the 29-year-old English was pleased with a Las Vegas trip that saw him make his debut as the driver for Shawn and Lisa Martin's Viper Motorsports. "It'll be nice to go home and sleep a little bit and not worry so much," said English, who finished preparing the Longhorn car he drove at Vegas in a whirlwind 13-hour stretch after he returned home from Nov. 5's World Finals finale at Charlotte. "I've had this on my mind for two weeks now and wanted to come out here and perform on top of that. I wanted to come out here and do good, and I think we did that (with finishes of fourth and 12th in the event's other features). We started off on the right foot (with Viper). He's excited and I'm really excited, so I think we're gonna start off good next year."
6. Black Diamond Race Cars owner Ronnie Stuckey of Shreveport, La., oversaw his 18-year-old son Clayton's assault on Las Vegas, which included a feature start Friday after the teenager transferred through a heat race. Clayton was eliminated from the feature by a bumper-bending run-in with the track's thick cushion and failed to qualify Saturday after a similar incident tore off his car's right-front fender, prompting the elder Stuckey to note that his boy received an education. "That cushion is treacherous," Ronnie said. "When you race in Mississippi, Louisiana, that area of the country where (Clayton) has been racing, you don't get many 12-inch cushions like this. We're gonna have to go find some tracks with big cushions so he can get some practice."
7. Ross Robinson of Georgetown, Del., wore a big smile before the start of last Friday's action at Las Vegas after seeing the 2023 Lucas Oil Late Model Dirt Series schedule. He took note of the April 28 date at his hometown's Georgetown Speedway, which will join the Lucas Oil tour for the first time with the $18.049-to-win Melvin L. Joseph Memorial. "I'm licking my chops about that one," said Robinson, who followed the Lucas Oil Series for the first time this season. "If I'm ever gonna have a shot to win (a Lucas Oil race), that would be it. I can't wait."
8. Jonathan Davenport was accompanied to Las Vegas by his wife, Rachel, and the couple's son Blane, who celebrated his 10th birthday during the trip. Among the young Davenport's fun times in Vegas: a ride on the Fremont Street zipline with racers Boom Briggs and Darrell Lanigan, who flew out to spectate at the Dirt Track, and a photo with a pair of feather-adorned dancers.
9. Ten drivers who made the long haul to Las Vegas were eligible for the XRSS Triple-Double bonus, an incentive program that doubled the purse payout in Saturday's feature for the racers who entered May's Colossal 100 at The Dirt Track at Charlotte in May and September's Kokomo Dirt Nationals at Kokomo (Ind.) Speedway as well as all three Vegas shows. XRSS would have been on the hook for a maximum of $112,500 in bonuses if the 10 eligible drivers finished in the top-10 spots in the finale, but ultimately the series was responsible for $52,000 in bonus money. Jonathan Davenport picked up the biggest bonus with his $20,000 runner-up finish doubling to $40,000 (the same as winner Bobby Pierce); other drivers who saw their earnings multiply were fourth-place Tim McCreadie ($17,000 total), fifth-place Tanner English ($13,000), ninth-place Ross Robinson ($9,000), 19th-place Jeff Smith ($5,000), 20th-place Kyle Strickler ($5,000), 22nd-place Brandon Overton ($5,000), 23rd-place Jimmy Owens ($5,000) and 24th-place Shane Clanton ($5,000). (Brenden Smith was eligible for the bonus but didn't start the feature.)
10. XR officials announced dates for the 2023 Duel in the Desert with some alterations. Nov. 8-11 is set for the Super Late Models and stock cars, preceded by the modifieds and sport modifieds running Nov. 1-4. Running all four divisions each of the three nights this year created marathon programs that saw the support division features, which were contested following the Late Model headliners, run into the wee hours.