2022 Hunt the Front's Southern Showcase at Deep South Speedway
Second Hunt The Front Southern Showcase Paying $22,000 To The Winner
Second Hunt The Front Southern Showcase Paying $22,000 To The Winner
The second Hunt the Front Southern Showcase will see the highest single-day payout in the history of the Deep South Speedway
Nov 17, 2022
by Rob Blount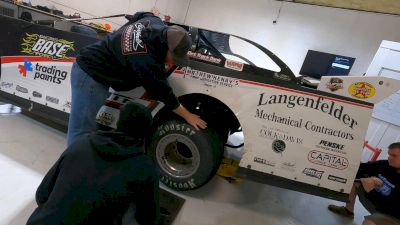 The second annual Hunt the Front Southern Showcase will take place this weekend on November 18 and 19 at Loxley, Alabama's Deep South Speedway and will bring some of dirt Super Late Model racing's best to the 4/10-mile clay oval.
For those that still haven't heard of "Hunt the Front," it's a YouTube channel run by Joseph and Jonathan Joiner, two Late Model drivers from Florida. The brothers started the channel to document the difficulties of running a race team at the grassroots level, and to commemorate their successes.
Since starting their channel in 2019, Hunt the Front has already amassed more than 122,000 subscribers. Most of their videos pull in hundreds of thousands of views.
In 2021, the Joiners decided to promote a race. That race became the Hunt the Front Southern Showcase. It was a two-night affair that brought drivers such as Brandon Overton, Ashton Winger, Max Blair and more fight for the $20,000 main event check.
This weekend, the Southern Showcase is back for round two, and is set to be the highest paying weekend of racing to ever take place at the Deep South Speedway. On Friday night, the winner of the 25-lap preliminary feature will take home $5,000. Saturday's 50-lap main event winner will deposit a nice $22,000 into their bank account, which is the highest single-day payout in Deep South Speedway history.
Race fans in the area are encouraged to head out to Deep South Speedway to support the Hunt the Front Southern Showcase event in person, but both nights of racing will stream live on FloRacing for those fans that cannot attend at the track.
Hot laps are scheduled to begin at 6 p.m. CT/7 p.m. ET on Friday night. Hot laps will begin at 5 p.m. CT/6 p.m. ET on Saturday night.