2022 Short Track Super Series Cajun Swing at Ark-La-Tex Speedway
"Super" Matt Sheppard Takes STSS Cajun Swing Win At Ark-La-Tex Speedway
"Super" Matt Sheppard Takes STSS Cajun Swing Win At Ark-La-Tex Speedway
Matt Sheppard put on a clinic at the Ark-La-Tex Speedway as part of the Short Track Super Series' Cajun Swing Thursday night
Nov 11, 2022
by FloRacing Staff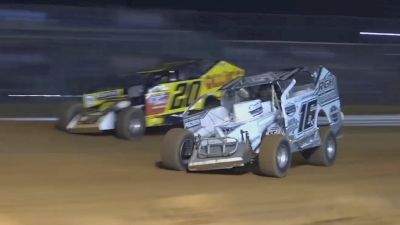 VIVIAN, LA – After two weeks of what he described as a nightmare, Matt Sheppard returned to dominance on Thursday night, leading 32 of the 35 laps at the Ark-La-Tex Speedway in Vivian, La., on night three of the Ollie's Bargain Outlet Cajun Swing Presented by Wegner Automotive for his 31st career Bob Hilbert Sportswear Short Track Super Series (STSS) Fueled By Sunoco victory.
With the win, Sheppard claws within five triumphs of Stewart Friesen on the STSS all-time win list while increasing his total to a record five Cajun Swing victories in his career.
"It's a really awesome feeling to be back in Victory Lane," Sheppard rejoiced. "I love racing here at Ark-La-Tex; hats off to the track crew for widening it out and allowing us to move high and low.
"We had a really good race car and could rip the lip pretty good," he added.
Sheppard started on the inside of the second row behind pole sitter Joe Brown and Danny Creeden as the 26-car field barreled to the green. Creeden launched from the outside lane to grab the advantage over Sheppard, Steve Davis, Tyler Siri and Brown.
David Schilling, who drew No. 10 in the redraw for the third consecutive race, advanced a handful of positions in the first couple circuits and, as Sheppard took the lead on lap three, "The Thrilling" was blitzing into the top five.
Schilling, aboard the Ollie's Bargain Outlet No. 20, took fifth on lap four, drove by Siri for fourth on lap six and then around Davis for third on lap seven. As Schilling shot through the field, his row-five partner Ryan Godown took sixth.
With Sheppard driving away from the leaders and entering lapped traffic, Schilling was stalking Creeden for the runner-up spot with 10 hectic laps on the scoreboard. By lap 15, Godown had entered the top five and then passed Davis for fourth in a chaotic battle through lapped traffic.
The first caution didn't come until lap 18 and, on the restart, Sheppard, from the outside lane, led Schilling, Creeden, Godown, Davis and Andy Bachetti to the green. The outside row benefitted from quite a launch off of turn four, propelling Godown around Creeden for third and Bachetti around Davis for fifth.
On lap 19, just before the second yellow of the race, Bachetti ripped around the outside of Creeden for fourth. So, on the restart on lap 22, Bachetti and Godown, the two winners from Wednesday night, lined up in the second row behind Sheppard and Schilling.
Bachetti again used the outside to his advantage on the restart, powering around Godown for third, but on lap 25, suffered a mechanical failure and pulled off the racetrack.
With a comfortable lead and some impressive handling of slower traffic, Sheppard cruised to his first win of the week and a $4,000 payday, ahead of Schilling and Godown.
Schilling, who, despite starting 10th in all three races, captured his third top-five finish and second consecutive runner-up result with an impressive march through the field.
"I tried my hardest," Schilling said of his attempt to get to Sheppard. "He could get in better than me and then had a little better launch coming off too.
"The track definitely had some character tonight, but we could really maneuver well; we were in left field a couple weeks ago, but we've just been tuning on it and tuning on it and can hopefully take this into Friday and Saturday," Schilling said.
Godown, who won the first feature on Wednesday and came just two laps from sweeping the night, finished on the podium again, in third.
"It was a unique racetrack," Godown said. "It got tough to navigate traffic and I was stuck on the bottom for too long.
"We'll get it tightened up and go for it again," he added.
Erick Rudolph, who started outside the redraw in 16th, advanced into the top five yet again to finish fourth and Creeden notched his first top five of the week in fifth.
Finishing sixth through 10th, respectively, were: Davis with his second straight top 10; Rusty Smith, who progressed from 13th; Darren Smith; Siri and Craig Whitmoyer.
Friday night's program has been canceled due to rain.
One more night remains on the Ollie's Bargain Outlet STSS Cajun Swing Presented by Wegner Automotive, both coming at the Boothill Speedway in Greenwood, La. Saturday night's finale offers $20,000 to the winner for 50 laps around the high-banked oval.
A complete information center for the Ollie's 'Cajun Swing' presented by Wegner Automotive has been posted on the STSS website at: https://shorttracksuperseries.com/event-info/
The entire five-night swing will be broadcast live to a national audience on FloRacing (www.floracing.tv) as part of the $150 annual subscription.
To learn more about the Short Track Super Series Fueled By Sunoco, visit www.shorttracksuperseries.com, e-mail bdmotorsportsmedia@gmail.com, check out 'Short Track Super Series' on Facebook or @ShortTrackSS on Twitter or Instagram.
To learn more about the Short Track Super Series Cajun Region, visit www.shorttracksuperseriescajun.com, call Tim Bates at 318.773.7704 or e-mail TCBMotorsports@aol.com. Like "Short Track Super Series Cajun Region" on Facebook or follow @shorttrackss_cajun_region on Instagram.
Ollie's Bargain Outlet, Inc., founded in 1982, is America's largest retailer of closeouts and excess inventory, offering real brands at real bargain prices. Famous for its signature catch-phrase "Good Stuff Cheap", Ollie's has a huge selection of famous brand name merchandise in every department – food, books, housewares, toys, electronics, domestics, clothing, furniture, health and beauty products, flooring, seasonal items, pet supplies, and so much more – at up to 70 percent off the fancy stores' prices. You never know what you'll find at one of Ollie's 430+ "semi-lovely" stores. For more information, visit www.ollies.us. Like Ollie's on Facebook or find them on Twitter at @OlliesOutlet. Ollie's Bargain Outlet Holdings is a publicly traded company on NASDAQ under the ticker symbol OLLI.
The Short Track Super Series is presented by American Racer/Lias Tire, Sunoco Race Fuel, Insinger Performance, FloSports, Bob Hilbert Sportswear, BDR Speed, Halmar International, Ollie's, River Valley Builders, Hurlock Auto & Speed, Velocita-USA, St. Lawrence Radiology, Franklin Products, Design for Vision & Sunglass Central, Belmont's Garage, Precision Hydraulic & Oil, Prime MAC Tools, F.X. Caprara Car Companies, Behrent's Performance Warehouse, Beyea Custom Headers, Bicknell Racing Products, Dirt Track Digest, EIBACH, Elite Welder Testing & Training, Flach Performance Products, Henry's Exhaust, Hig Fab, Penske Racing Shocks, Schultz Racing Fuel Cells, Spyder Filters, Superior Remodeling, Teo-Pro Car, VAHLCO, Wegner Automotive & Wilwood.
'CAJUN SWING' NIGHT NO. 3 RESULTS SUMMARY – ARK-LA-TEX SPEEDWAY NOVEMBER 10, 2022
Bob Hilbert Sportswear Short Track Super Series Fueled By Sunoco Modified Cajun Swing Event No. 3 Feature Finish (35 laps): MATT SHEPPARD, David Schilling, Ryan Godown, Erick Rudolph, Danny Creeden, Steve Davis, Rusty Smith, Darren Smith, Tyler Siri, Craig Whitmoyer, Rex King, Jr., Koty Adams, J.R. Hurlburt, Korey Keimig, Dale Wester, Andy Bachetti, Tommy Rascoe, Corey Oltz, Joe Brown, Jack Lehner, Kodey Keimig, Thomas Holt, David Forbis, Jody Mayne, Caleb Dillard, John Lutes, Jr.
Did Not Qualify: Chase Hatton, Rob Litton, Brother Fowlkes, Jim Introne, Jr., Mike Krompegal, Glenn Stone, Joe Boswell, Anthony Meek, Brent Buckley
Accurate Collision of Pompano Heat Winners ($50 each): J.R. Hurlburt, Jack Lehner, Joseph Brown, Danny Creeden
Behrent's Performance Warehouse Bonuses ($50 Gift Cards): Erick Rudolph (fourth), Tyler Siri (ninth), J.R. Hurlburt (13th) & David Forbis (23rd)
Beyea Custom Headers Worst Redraw ($50): Andy Bachetti (Redrew 12th)
BDR Speed Bonus ($50 Certificate): Jack Lehner (20th)
Day Motor Sports American Racer Tire Giveaway (FREE Tire Certificate): Craig Whitmoyer (10th)
EIBACH Springs Bonus ($100 Certificate): Steve Davis (sixth)
Fastline Performance Bonuses ($100 Certificates): Koty Adams (Top Louisiana Driver – 12th) & Korey Keimig (Top Texas Driver – 14th)
Henry's Exhaust Bonus ($50 Certificate): Rex King, Jr. (11th)
Penske Racing Shocks Bonuses: Matt Sheppard (winner – $150); David Schilling (second – $75); Ryan Godown (third – $50)
Schultz Fuel Cell Bonus ($100 Certificate): Craig Whitmoyer (10th)
Shed Road Auto Parts Hard Charger ($100): Erick Rudolph (16th to fourth)
VAHLCO Wheels Heat Winners ($50 Gift Cards): J.R. Hurlburt, Jack Lehner, Joseph Brown, Danny Creeden
Wilwood Disc Brakes 'Lucky 7' Bonus ($75 Certificate): Rusty Smith (seventh)