Lucas Oil Late Model Dirt Series
Devin Moran Doubles Down For The 2023 Season
Devin Moran Doubles Down For The 2023 Season
Saying Devin Moran "checked all the boxes," Double Down Motorsports owner Roger Sellers has announced that the Ohio driver will join the team in 2023.
Oct 25, 2022
by FloRacing Staff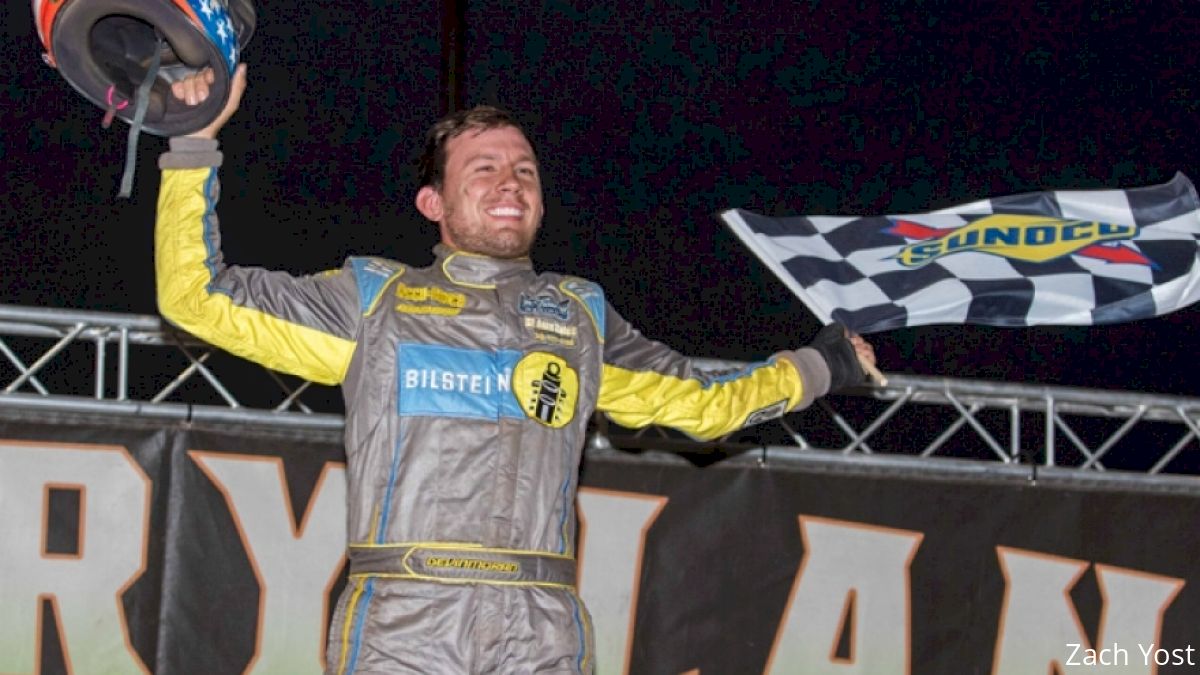 Saying Devin Moran "checked all the boxes," Double Down Motorsports team owner Roger Sellers this evening announced the 28-year-old Dresden, Ohio, driver as the team's new driver on the Lucas Oil Late Model Dirt Series.
The team, formerly based in Morristown, Tenn., will relocate to the Ohio shop of Devin's Hall of Fame father Donnie Moran and Moran will field factory-supported Longhorn Chassis tentatively carrying the No. 99m.
"This is a situation that I've been looking for my entire career really. To have the resources and equipment that Roger has in his arsenal and to be able to race out of dad's shop is really just a dream come true," said Moran, who last week announced an amicable parting with five-year team owner Tye Twarog. "I'm excited to be in Longhorn Chassis with Bilstein Shocks again next year and I think we are putting together all of the pieces to make a serious national championship run next season!"
Sellers, whose two-year driver Hudson O'Neal of Martinsville, Ind., announced his departure to fill the vacant seat of the Shinnston, W.Va.-based Rocket Chassis house car for 2023, said he considered shuttering his racing operations but was enthused by the "great fit" with Moran. Shifting the team's base north worked perfectly because Sellers also plans to lease his Morristown shop to four-time Lucas Oil Series champion Earl Pearson Jr. of Papich Racing.
"Devin brings a lot to the table," Sellers said in the team press release. "He's great with sponsors and on social media and everyone can see what kind of talent he possesses behind the wheel. He comes from a great family with a rich racing background and he'll have the full support from me and my family."
Moran, who has 10 victories in 78 starts in 2022, including four on the Lucas Oil Series, will be returning to that national tour full time for the first time since 2020. Moran, who was the 2017 Rookie of the Year on the World of Outlaws Case Late Model Series, finished in sixth in Lucas Oil points in 2019 (with one victory) and eighth in 2020 (going winless). He has six career Lucas Oil Series victories.
The team, which will also compete in other major events in 2023, has yet to name a crew chief. Double Down will continue to field a car part time for Robby Moses of Maryville, Tenn., the son-in-law of Sellers. For more team information, visit devinmoranracing.com or doubledownmotorsports.net.