2022 Castrol Gateway Dirt Nationals
A Look At Gateway Dirt Nationals Late Model Prelim Rosters
A Look At Gateway Dirt Nationals Late Model Prelim Rosters
Preliminary night rosters for the Late Model portion of the Gateway Dirt Nationals in St. Louis have been released.
Oct 24, 2022
by Brandon Paul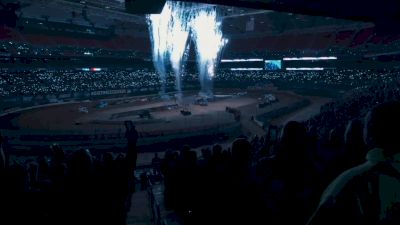 The excitement is already building for December's Gateway Dirt Nationals inside The Dome at America's Center in St. Louis. On Sunday evening, event officials released the preliminary night rosters for the Dirt Late Model portion of the event.
This year's field of drivers of 146 drivers have been split into two nights of preliminary racing on Thursday, December 1 and Friday, December 2. Each preliminary night will feature hot laps, qualifying, heat races, b-mains and a $5,000-to-win feature.
Two nights of preliminary racing will set the stage for last chance qualifiers and the $30,000-to-win main event on Saturday, December 3.
With a field of 73 drivers battling during each night of preliminary action, it goes without saying that fans will be able to watch some of the sport's biggest stars both Thursday and Friday night.
Thursday's preliminary field is highlighted by two-time Gateway Dirt Nationals winner Bobby Pierce, who won both the 2017 and 2018 versions of the event. He'll be joined by national stars Brandon Sheppard and Ricky Thornton, Jr., as well as regional standouts like Shannon Babb, Gordy Gundaker, Ryan Unzciker and Jason Feger.
Friday's field will be just as competitive with two-time defending race winner Tyler Carpenter leading the way in his bid for a third straight win inside the dome. A host of national stars will once again be in action with Devin Moran, Hudson O'Neal, Scott Bloomquist and Tyler Erb all on Friday night's roster. NASCAR Truck Series competitor Carson Hocevar, UMP Modified standout Mike Harrison and Pennsylvania standout Mason Ziegler will also be in action on the second preliminary night.
Fans can find the full rosters for Thursday and Friday's preliminary nights below.
Tyler Carpenter and Shannon Babb have each won a pair of preliminary features over the course of the five previous editions of the race. Hudson O'Neal, Gordy Gundaker, Bobby Pierce and Myles Moos have also collected prelim wins.
Fans unable to make it to St. Louis to watch the excitement at "The Dome" will be able to watch all three nights of racing live on FloRacing. If you're not already a FloRacing subscriber, click here to sign up today.
Gateway Dirt Nationals Preliminary Night Rosters
| | |
| --- | --- |
| Thursday | Friday |
| Adam Elliott | Alan Brown |
| Austin Fox | Amelia Eisenschenk |
| Austin Theiss | Andy Picklesimer |
| Blake Higginbotham | Austin Horton |
| Bob Gardner | Austin Howes |
| Bobby Pierce | Austin Seelig |
| Brandon Tibaldi | Brady Lear |
| Brandon Sheppard | Brent Rhodes |
| Braxtin Barber | Buddy Brogan |
| Brayton Laster | Carson Hocevar |
| Brian Speelman | Casey White |
| Brian Wolfmeier | Chris Nash |
| Chad Zobrist | Cody Bauer |
| Chase Burda | Cody Holtkamp |
| Chris Simpson | Colin Shipley |
| Chris Fetter | Colton Collins |
| Chris Carpenter | Cyle Forgy |
| Colt Smith | Daniel Jacober |
| Dakota Smith | David Seibers |
| Daniel Adam | Delbert Crum |
| Dewayne Kiefer | Derek Fetter |
| Doug Tye | Devin Moran |
| Erik Thorne | Dylan Knowles |
| Freddie Carpenter | Garrett Alberson |
| Gordy Gundaker | Gregory Kimmons |
| Jacob Ulrich | Harry Hanson |
| Jacob Kolwyck | Hudson O'Neal |
| Jacob Magee | Jadon Frame |
| Jake Miller | Jason Hiett |
| James Walters | Jason Welshan |
| Jason Wagner | Jeremy Crisp |
| Jason Feger | Jesse Lowe |
| Jayme Zidar | Jody Knowles |
| Jeff Neubert | Jonathan Lee |
| Jeffrey Ledford | Josh Lewis |
| Jeffrey Shackelford | Justin Green |
| Jim Rogers | Justin Reed |
| Joe Denby | Justin Carter |
| Joel Willman | Kenny Collins |
| John Winge | Kyle Lear |
| Jonathan Woods | Lance Brasington |
| Jordan Barbee | Landen Zakalowski |
| Josh Boller | Mason Ziegler |
| Justin White | Mario Gresham |
| Kevin Smith | Mark Whitener |
| Kylan Garner | Max Nelson |
| Kyle Hammer | Max Baker |
| Kyle Wiser | Megan Sanders |
| Logan Brown | Mike Harrison |
| Matt Koch | Mike Provenzano |
| Matthew Tribble | Mike Spatola |
| Michael King, Jr. | Moran Alexander |
| Patrick Kelley | Myles Moos |
| Preston Farmer | Nathan Carpenter |
| Quentin White | Nicky Pennington |
| Rachel Carpenter | Oscar McCown |
| Ricky Thornton, Jr. | Patrik Daniel |
| Robbie Stuart | Robert Ardy |
| Ronnie Smith | Rockett Bennett |
| Rusty Schlenk | Ruben Mayfield |
| Rusty Griffaw | Rucker Orr |
| Ryan Montgomery | Rylee Knoll |
| Ryan Wilson | Scot Cimfl |
| Ryan Unzicker | Scott Bloomquist |
| Scott Bell | Steve Sheppard, Jr. |
| Scott Rhoades | Timothy McKeehan |
| Shannon Babb | Timothy Welch |
| Steve Fairbanks | Todd Brennan |
| Tanner Collins | Trevor Gundaker |
| Tanner English | Tyler Carpenter |
| Tegan Evans | Tyler Erb |
| Timothy Welch II | Wil Herrington |
| William Stile | Zach Wohlers |