2022 USAC Harvest Cup at Tri-State Speedway
Tri-State Harvester: USAC Midgets Take A Bow With Midwest Finale
Tri-State Harvester: USAC Midgets Take A Bow With Midwest Finale
Thomas Meseraull has made a habit of changing the narratives at Haubstadt, Indiana's Tri-State Speedway in recent years. He'll be there again this weekend.
Oct 7, 2022
by FloRacing Staff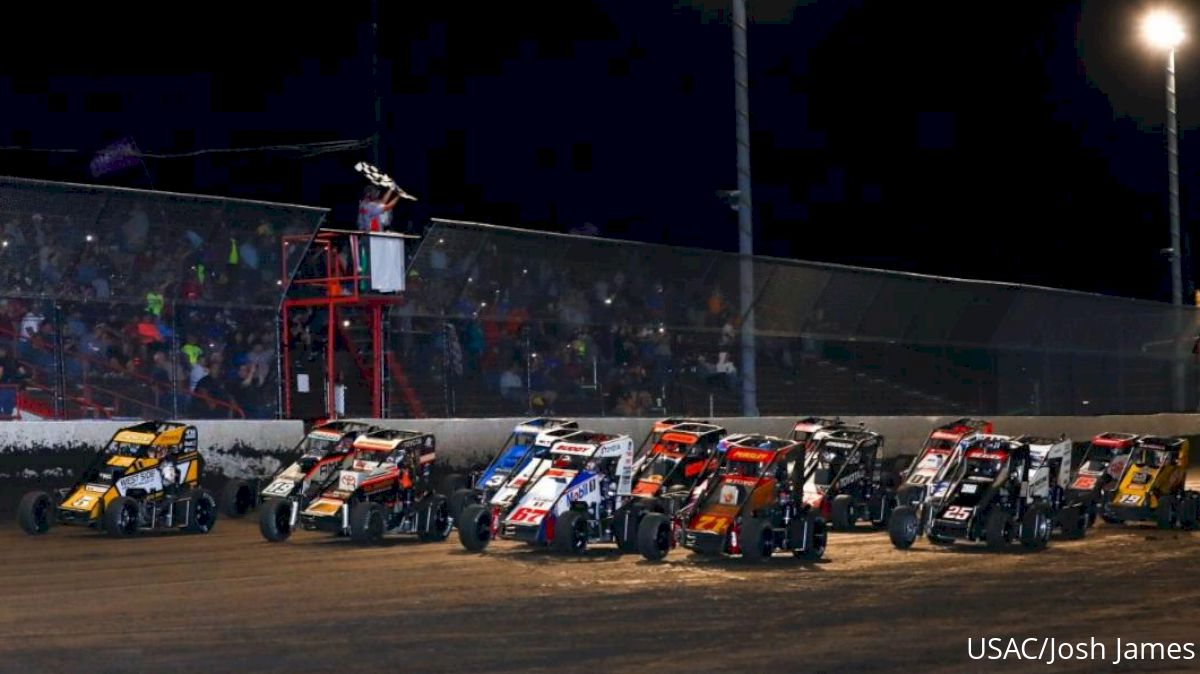 Thomas Meseraull has made a habit of changing up the narratives at Haubstadt, Indiana's Tri-State Speedway in recent years.
Two years ago, the San Jose, California, driver erased two decades of frustration by scoring his first career USAC NOS Energy Drink Midget National Championship feature victory.
One year ago, Meseraull became the first driver ever to score multiple USAC National Midget victories at the track, ending a string of 12 consecutive series races held at the 1/4-mile dirt oval since 1969, in which a different winning driver emerged.
This past June, Meseraull once again paced the field to become the first three-time USAC National Midget winner at The Class Track and now holds the belt as the undisputed king of midget racing at The Class Track.
Saturday night, Meseraull will attempt to keep the roll going in his RMS Racing number 7x during Harvest Cup at Tri-State, the final USAC National Midget event in the Midwest this year, before the series heads west.
Meseraull's USAC Midget experience at the track goes back more than a decade. He finished 10th in 2010, third in 2011, eighth in 2019 and third once more in June 2021. He also possesses the 10-lap record set in October 2021, a time of 2:17.42, which broke his own previous record from 10 years earlier.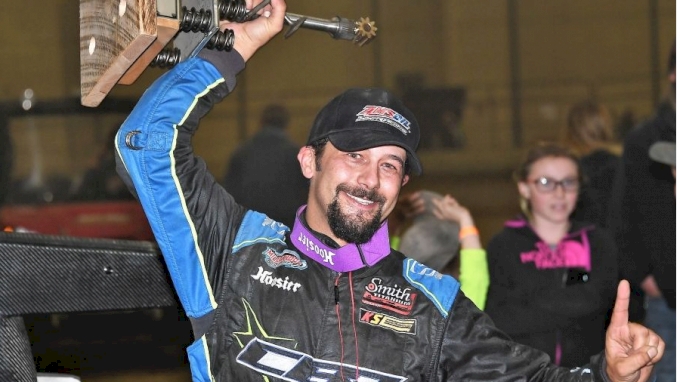 Over the past four USAC Midget events at Tri-State, only Kyle Cummins has put a halt to Meseraull's winning streak. By now, everyone is cognizant of his scores of wins in USAC AMSOIL National Sprint Car and MSCS competition at the track.
However, he's yet to finish outside the top 6 in each of his five midget starts at the track. His victorious run in the summer of 2021 is sandwiched between a pair of third-place results, a fifth and a sixth.
No driver has won more USAC features at @TSS_Haubstadt than @k_cummins3c.

6 @AMSOILINC National Sprint + 1 @NosEnergyDrink National Midget

That first midget win at the Haubstadt, Ind. track in '21 was the first of his USAC career.

This Saturday night, he'll try to take two. 🎬 pic.twitter.com/HajPTs67M4

— USAC Racing (@USACNation) October 7, 2022
Zach Daum (Pocahontas, Illinois) captured his first career USAC National Midget victory at Tri-State back in the 2011 Hut 100. He's also was a top-5 runner in 2010, finishing fifth. Most recently, he slotted into the sixth position in June.
Justin Grant (Ione, California) has finished inside the top 10 in all five of his USAC Midget starts at Tri-State. He earned hard charger honors in the 2019 TSS USAC Midget Harvest Cup feature, ripping through the field to finish fifth, after starting 16th.
In the 2021 Harvest Cup, he took third for his best series result at the track. The July 2021 TSS Indiana Sprint Week winner also has a pair of eighth-place finishes and a ninth-place effort with the midgets on his TSS resume.
Buddy Kofoid (Penngrove, California) has progressively finished higher in each of his USAC Midget appearances at Tri-State. He finished 12th in his 2020 debut, followed by 10th and ninth in 2021, to go along with a runner-up result in June in a race that involved several fireworks, so to speak, as he and Grant tussled for the position near the end.
The lucky number for Daison Pursley (Locust Grove, Oklahoma) at Tri-State has been four in his last two go-arounds at Tri-State, finishing an impressive fourth in both 2021 rounds.
They're joined by KKM's Tri-State experienced pilots, who both finished inside the top 10 in June of this year - Taylor Reimer (Bixby, Oklahoma) scoring a seventh and Dominic Gorden (Clovis, Califorinia) notching a 10th.
Their Keith Kunz/Curb-Agajanian Motorsports teammates include Kaylee Bryson (Muskogee, Oklahoma), who knows how to charge at Tri-State. She bolted from 22nd to ninth in the fall of 2021. This June, she made the biggest advancement of the season with a 22nd-to-fourth surge.
Bryant Wiedeman (Colby, Kansas) took eighth in the 2021 Harvest Cup, while Brenham Crouch (Lubbock, Texas) tallied a best of 14th in June.
Mitchel Moles and Chase McDermand will team up on CB Industries' weekend roster for Tri-State. Both made their Tri-State debuts in June of this year with both turning in impressive performances.
Moles, the top-rated rookie (Raisin City, California) traveled 10th to third in that night's feature, while McDermand made a similarly magnificent advancement from 16th to eighth.
Cannon McIntosh (Bixby) has been a top-10 finisher at Tri-State, collecting a seventh-place finish in June 2021.
Chance Crum (Snohomish, Washington) posted a 15th in the 2021 Harvest Cup, while Ethan Mitchell (Mooresville, North Carolina) finished 17th in June in the same event that both Jacob Denney (Galloway, Ohio) and Hayden Reinbold (Gilbert, Arizona) made their Tri-State debuts, finishing 21st and 22nd, respectively.
First-time Tri-State USAC Midget feature starting hopefuls include BCRA Midget champion Maria Cofer (Macdoel, California), Midwest Mini Sprint Association standout Jeff Schindler (Evansville, Indiana), micro sprint talent Talin Turner (Basehor, Kansas) and more.
Up Next
Next up on the USAC calendar are a pair of National Midget outings this weekend, with the ninth running of the Peoples National Bank Jason Leffler Memorial at Wayne County Speedway in Wayne City, Illinois, on Friday and the Harvest Cup at Haubstadt, Indiana's Tri-State Speedway on Saturday.
Border Warrior. 👊@DaumMotorsports is 1 of 3 drivers to win both the #LefflerMemorial at Wayne City & a USAC @NosEnergyDrink National Midget race at @TSS_Haubstadt.

He'll try to double up Fri. at Wayne City & Sat. at Tri-State.

** @BryanClauson & @BradyBacon are the others. pic.twitter.com/aIjBgfJf94

— USAC Racing (@USACNation) October 6, 2022
Saturday night's 30-lap race will be the 15th USAC National Midget event held at Tri-State Speedway since the series' debut at the track in 1969, won by two-time series champion Mike McGreevy.
On Saturday at Tri-State, the pits will open at 3 p.m. Central, with the grandstands opening at 4 p.m., the drivers' meeting happening at 4:30 p.m. and hot laps at 5:30 p.m., followed immediately by qualifying and racing.
Adult general admission tickets are $25, students aged 13-18 are $20 and kids aged 12 & under are free. Pit passes are $30 for members and $35 for non-members.
Also racing at the Harvest Cup are the Midwest Sprint Car Series and the Midwest Mini Sprint Association.
Both of this weekend's USAC NOS Energy Drink Midget National Championship events can be watched LIVE on FloRacing. Click here to watch.