2022 Tezos All Star Circuit of Champions at Fremont Speedway
Tezos All Stars Conclude Season This Weekend At Fremont
Tezos All Stars Conclude Season This Weekend At Fremont
The Tezos All Star Circuit of Champions will conclude the 2022 season this weekend with the Jim and Joanne Ford Classic at Fremont Speedway.
Oct 6, 2022
by FloRacing Staff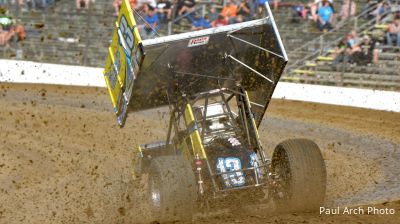 BROWNSBURG, IN -- For the final time this season, the Tezos All Star Circuit of Champions presented by Mobil 1 will hit the highway, setting the compass for northwest Ohio where the Series will invade the historic Fremont Speedway in Fremont, Ohio, for the annual Jim and Joanne Ford Classic on Friday and Saturday, October 7-8. Dubbed the Classic Ink USA All Star Season Finale, the two-day spectacle will award a total winner's share equaling $16,000, the bulk of which, $10,000, to the finale champion. Friday's Jim and Joanne Ford Classic preliminary winner will earn $6,000.
Adding some extra flavor to Fremont Speedway's season-ending program, a 2022 All Star champion will be crowned at the conclusion of the weekend, and nobody is in a better position than "Sunshine" Tyler Courtney. The defending Series champion, who earned his first-ever title during his first-ever try, sits on top of the standings by 120 markers, translating that Courtney's sheer presence at Fremont Speedway will clinch his second title in as many tries.
Tyler Courtney is also the most recent winner during All Star Circuit of Champions competition, doing so in Eldora Speedway's annual 4-Crown Nationals on Saturday, September 24. The win, Sunshine's seventh of the All Star season, was as rich as it was fashionable, securing the Indianapolis native a $10,000 score; his first All Star triumph since Lake Ozark's Beach Brawl sweep in late July.
Buch Motorsports' Justin Peck is currently second in the All Star driver chase, followed by Hunter Schuerenberg, Cap Henry, and Zeb Wise.
Although he is second in the title chase, Peck, a Monrovia, Indiana, native, is on top of the stack in wins, leading all full-timers with eight triumphs. Anthony Macri, a Central Pennsylvania hotshot and reigning Tuscarora 50 champion, also owns eight victories in 2022.
Weekend Agenda: Jim and Joanne Ford Classic
Friday, October 7
Gate Times: 3:30 p.m.
Driver's Meeting: 5:15 p.m.
Saturday, October 8
Gate Times: 2:00 p.m.
Driver's Meeting: 4:15 p.m.
For those who can not witness the All Star Circuit of Champions live and in person, FloRacing.com, the official media partner and broadcast provider of the All Stars, has you covered. To access live and on-demand racing action from the All Star Circuit of Champions, visit FloRacing.com and become an annual PRO subscriber. Race fans can see all the USAC and dirt late-model action they want in addition to Eldora Speedway's slate of races and those of the All Star Circuit of Champions. The subscription unlocks access to premium content across the entire FloSports network. Watch the events across all screens by downloading the FloSports app on iOS, Android, Apple TV, Roku, Amazon Fire and Chromecast.