2022 NASCAR Pinty's Series at Delaware Speedway
Brandon Watson Earns First NASCAR Pinty's Win in Season Finale at Delaware
Brandon Watson Earns First NASCAR Pinty's Win in Season Finale at Delaware
Brandon Watson claimed his first career NASCAR Pinty's Series victory in the season finale at the Delaware International Speedway
Sep 26, 2022
by NASCAR Roots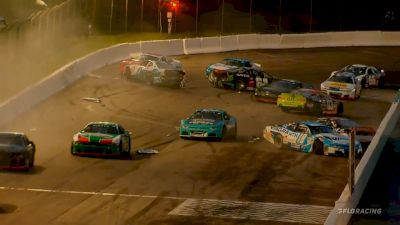 As one driver took the checkered flag on his first career NASCAR Pinty's Series victory, another did so and won their first career series championship.
Brandon Watson survived some late-race carnage and a hard-charging Donald Theetge en route to his maiden win in the series, coming in his 17th career start. Watson had collected three top-five and eight top-10 finishes entering the Fall Brawl at Delaware Speedway but earned his first victory and 2022 Jostens Rookie of the Year honours in the process.
By starting the race, Marc-Antione Camirand clinched the 2022 NASCAR Pinty's championship, his first series title in his fifth full-time season, 27-points over Kevin Lacroix.
Camirand garnered three wins this season, his new career-high, and set career bests in nearly every statistical category in his championship season.
The closing laps of the race were halted late for a wild wreck, involving Alex Tagliani and Andrew Ranger with both cars going airborne and heavy damage being sustained to multiple competitors.
Lacroix, Treyten Lapcevich and D.J. Kennington rounded out the top five while Alex Labbe, J.P. Bergeron, L.P. Dumoulin, Camirand and Dexter Stacey completed the top 10 finishers.
The Pinty's Fall Brawl will air on TSN on Sunday, October 2nd at 12:00 p.m. ET; it airs on RDS2 on Saturday, October 8th at 1:30 p.m. ET.