2022 4-Crown Nationals at Eldora Speedway
Tyler Courtney Inches Closer To All Stars Title With Eldora Win
Tyler Courtney Inches Closer To All Stars Title With Eldora Win
Tyler Courtney collected his seventh Tezos All Star Circuit of Champions win of the season during the 4-Crown Nationals at Eldora Speedway.
Sep 25, 2022
by FloRacing Staff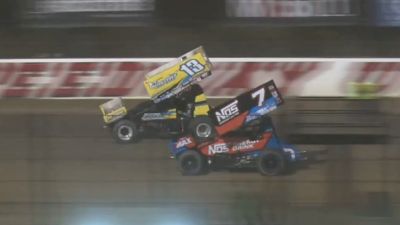 ROSSBURG, OH -- Snapping what was to become an unexpected winless spell with the Tezos All Star Circuit of Champions presented by Mobil 1, Indianapolis, Indiana's Tyler Courtney is back in victory lane, doing so in Eldora Speedway's annual 4-Crown Nationals on Saturday, September 24. The win, Sunshine's seventh of the All Star season, was as rich as it was fashionable, securing the defending Series champion a $10,000 score - his first All Star triumph since Lake Ozark's Beach Brawl sweep in late July.
In addition, the victory added to Courtney's All Star championship lead, all but securing a second consecutive title with only two events remaining on the 2022 calendar. Courtney's sheer presence in Fremont Speedway's season ending Jim & Joanne Ford Classic on October 7-8 will clinch his second title in as many tries.
Although Sunshine was in command for 29 of the 30 circuits, commencing his winning march from the front row, Buch Motorsports' Justin Peck, who started from the outside of row two, did not go down without a fight. In fact, the Monrovia, Indiana, native and All Star championship contender did all he could to outduel the ace of the Clauson Marshall Racing No. 7BC, actually sneaking by Courtney to lead at exactly halfway. Despite his attempts to maintain the top spot, Courtney quickly returned the favor, getting back by Peck at the exit of turn four on lap 16.
"Obviously, Justin and I had a run-in last weekend at Lincoln. I take full responsibility for that, and hats off to him for racing me tonight like I always intend to race him," Tyler Courtney expressed. "He knows how to get around these places this year, and everytime we get back to places like Eldora, it always seems like it's him and I battling up front. It's been fun racing him and the Buch team all year. It was definitely hard-fought tonight…this is awesome."
Peck would hold on to finish second, followed by Aaron Reutzel, Rico Abreu, Travis Philo, and Greg Wilson, who charged 17 positions to earn the evening's Hercules Tires Hard Charger Award.
The Tezos All Star Circuit of Champions presented by Mobil 1 will conclude the 2022 season with the annual Jim and Joanne Ford Classic at Fremont Speedway in Fremont, Ohio, on Friday and Saturday, October 7-8. A $16,000 weekend, the All Stars and Ohio's finest will battle in a $6,000-to-win preliminary on Friday, followed by a $10,000-to-win finale on Saturday.
For those who can not witness the All Star Circuit of Champions live and in person, FloRacing.com, the official media partner and broadcast provider of the All Stars, has you covered. To access live and on-demand racing action from the All Star Circuit of Champions, visit FloRacing.com and become an annual PRO subscriber. Race fans can see all the USAC and dirt late-model action they want in addition to Eldora Speedway's slate of races and those of the All Star Circuit of Champions. The subscription unlocks access to premium content across the entire FloSports network. Watch the events across all screens by downloading the FloSports app on iOS, Android, Apple TV, Roku, Amazon Fire and Chromecast.