2022 ValleyStar Credit Union 300 at Martinsville Speedway
Peyton Sellers Holds Off Carson Kvapil For Elusive Martinsville Victory
Peyton Sellers Holds Off Carson Kvapil For Elusive Martinsville Victory
It took a green-white-checkered finish to decide the 2022 ValleyStar Credit Union 300 at Martinsville Speedway in Ridgeway, Virginia
Sep 25, 2022
by NASCAR Roots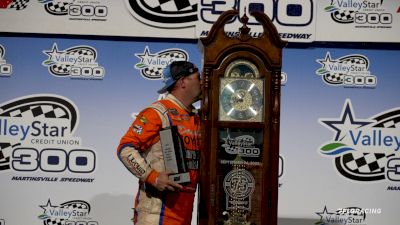 MARTINSVILLE, Va. — For 14 years, a victory had eluded Peyton Sellers in the prestigious ValleyStar Credit Union 300 at Martinsville Speedway.
Despite racking up numerous accomplishments such as five South Boston Speedway track championships and two Advance Auto Parts Weekly Series titles, Sellers could never quite manage to join other Late Model Stock elites in winning the discipline's most cherished event.
Any doubts prevalent in Sellers' ability to visit Victory Lane at Martinsville were erased on Saturday evening when he held off JR Motorsports driver Carson Kvapil on a green-white-checkered restart to finally bring home a grandfather clock in his 15th Late Model Stock appearance at the historic facility.
The cathartic triumph for Sellers came as a full-circle moment for his career in many different aspects.
"I used to ride in the Jesse Jones hot dog truck with my grandpa to [Martinsville] when I was kid," Sellers said. "I would sit in Turn 1 and watch the races while he delivered hot dogs. I grew up going to Martinsville, I grew up going to Clarence's Steakhouse and all I've ever wanted to do was to be a short track racer. It's a huge thing for me and my family to be where we're at right now."
Sellers still remembers the day he was tabbed to drive the iconic No. 26 Clarence's Steakhouse Late Model Stock during the early 2000s.
Despite being inexperienced at the time, Sellers made the most of his opportunity and would embark on a successful career that saw him find success in many different forms of stock car racing like the ARCA Menards Series East and West Series before finding a home in that same No. 26.
Now boasting one of the most efficient Late Model Stock operations along the East Coast, Sellers knew the hard work he, his family and crew put into their cars would eventually pay off with a grandfather clock at Martinsville.
That moment appeared set in stone for Sellers after passing 2016 ValleyStar Credit Union 300 winner Mike Looney during the final 25 laps, but two late-race cautions pitted Sellers against an even mix of rookies and veterans to settle the 2022 running of the event.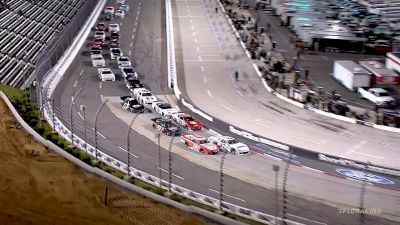 Highlights: 2022 ValleyStar Credit Union 300 at Martinsville Speedway
While Sellers believed the racing had been clean and exciting the entire evening, he knew that trend could easily change with a grandfather clock and $32,000 on the line.
"I felt comfortable with the quality of drivers around me, but you expect anything [at Martinsville]," Sellers said. "When they called me clear off Turn 2 on that last restart, I had to put together a good [Turns] 3 & 4 to give myself a little breathing room coming to the white [flag].
"My legs were cramping those final 25 laps and the emotions were going, but it was sure excitement. They gave me the checkered flag and I made another lap just because I didn't believe it."
Even with the prestige of a Martinsville win on the line, Kvapil had no intention of moving a seasoned veteran like Sellers for the win.
Having absorbed many lessons from Josh Berry, who led wire-to-wire in the 2019 ValleyStar Credit Union 300, Kvapil got an idea of what to expect out of Martinsville but was still left to battle a car that was not to his liking for most of the weekend.
A long run was what Kvapil believed was needed for him to chase down Sellers for the win, but he was proud to have a clean battle with the veteran and intends to study the weekend carefully to prepare for next year's ValleyStar Credit Union 300.
"Hopefully Peyton gained some respect for me tonight," Kvapil said. "This was our first time really racing side-by-side together and I could have moved him out of the way, but I didn't want to do that. I wanted to gain some respect and not be that guy."
Holding off Kvapil for the ValleyStar Credit Union 300 victory was not the only accomplishment Sellers enjoyed on Saturday evening, as he also nabbed his fourth Virginia Late Model Triple Crown championship.
Sellers commended Martinsville president Clay Campbell and everyone at Martinsville for continuing to bolster the tradition that has made the facility special to him and so many short track drivers since it first opened in 1947, adding that he is already looking forward to bringing home a second grandfather clock next year.
Until that day comes around, Sellers intends to place the grandfather clock inside Clarence's Steakhouse as a way to give back to the people who took a chance on a promising Virginia short track racer over two decades ago.
"[This clock] belongs at Clarence's and I'm going to give it to them," Sellers said. "If I get a second one, I'll put it right in front of my TV. I'll quit watching TV and watch that thing tick and chime."