2022 ValleyStar Credit Union 300 at Martinsville Speedway
Massive Entry List Released For ValleyStar Credit Union 300 At Martinsville
Massive Entry List Released For ValleyStar Credit Union 300 At Martinsville
More than 80 drivers are already entered for Saturday's ValleyStar Credit Union 300 at Virginia's Martinsville Speedway
Sep 20, 2022
by Rob Blount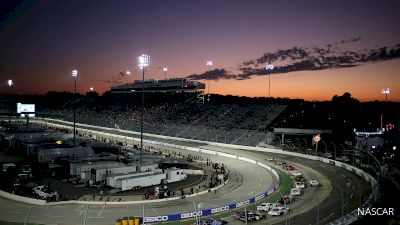 Martinsville Speedway officials released the preliminary entry list for this weekend's running of the ValleyStar Credit Union 300, the most prestigious event in Late Model Stock Car Racing, and boy is it stacked.
More than 80 cars make up the entry list as of Monday evening, with a few more entries still expected to trickle in over the next few days leading into Friday's qualifying session. So far 12 states are represented on the entry list with North Carolina leading the way with more than 35 entries, and Virginia not far behind with more than 26 entries. Texas, California, Tennessee, South Carolina, Michigan, Wisconsin, Kentucky, Georgia, and Pennsylvania all have representation as well.
Headlining the entry list is the two front-runners for the NASCAR Advance Auto Parts Weekly Series national championship, Virginia's Peyton Sellers, and North Carolina's Layne Riggs. Both drivers are still currently awaiting the call to tell them if they are the 2022 national champion, and both drivers are seeking their first grandfather clock.
The most recent NASCAR Camping World Trucks Series race winner is also on the entry list. That driver is Seymour, Wisconsin's Ty Majeski, who just captured his first NCWTS win a couple hours southwest at the Bristol Motor Speedway. Majeski is racing with Chad Bryant Racing, the team that he has two wins in two races with. Majeski won the 2020 and 2021 South Carolina 400 at the Florence Motor Speedway.
Speaking of the NASCAR Camping World Trucks Series, multi-time NCWTS winner and two-time ValleyStar Credit Union 300 winner, Timothy Peters is returning to the discipline of racing he grew up in this weekend at Martinsville.
Another driver to watch is the defending winner of this prestigious event, Amelia, Virginia's Landon Pembelton. Pembelton became the youngest winner of the ValleyStar Credit Union 300 at Martinsville with his stunning victory last year at 16 years old.
JR Motorsports finally scored a victory in this race with Josh Berry in 2019. This year the team heads back to Martinsville with second-generation racer, Carson Kvapil. The son of 2003 NASCAR Camping World Trucks Series champion, Travis Kvapil, grew up in a household that did not hear the chimes of a Martinsville grandfather clock. The current CARS Tour points leader is making his first Martinsville Speedway start this weekend.
The ValleyStar Credit Union 300 is also the finale for the Virginia LMSC Triple Crown, with the Thunder Road Harley Davidson 200 at South Boston Speedway, and the Hampton Heat 200 at Langley Speedway making up the other two rounds. Entering the final round, Mark Wertz leads the Triple Crown standings over Mason Diaz and Hampton Heat winner, Jared Fryar.
Corey Heim, from Marietta, Georgia, won the Thunder Road Harley Davidson 200 at South Boston Speedway in July, but was unable to compete in the Hampton Heat 200 due to prior obligations. He will not be able to win the Virginia LMSC Triple Crown, but he's more focused on getting his first grandfather clock. Heim came close in 2018, but ultimately was scored second-place in one of the most controversial ValleyStar Credit Union 300's in recent years.
In addition to being the richest and most prestigious Late Model Stock Car race of the year, it is also arguably the hardest race to win all year. Every starting position for the 200-lap main event is determined by the finishing order of four 25-lap heat races. There is no last-chance race. And if you do make the feature, then you've got to deal with 200 laps around one of the most challenging short tracks in the country.
This race is so difficult to run that out of more than 80 drivers currently entered, just four of them have actually won this race. Mike Looney is the most recent past winner from 2016. Jake Crum won this race in 2009, Jason York won it one year prior to Crum in 2008, and Timothy Peters is a two-time winner of this race with wins coming in 2017 and 2005.
Race fans that cannot make it to Martinsville Speedway to attend the event in person can watch every lap of the ValleyStar Credit Union 300 live on FloRacing beginning Saturday, September 24 at 3 p.m. ET.
ValleyStar Credit Union 300 Entry List (as of September 19, 2022)
| | | |
| --- | --- | --- |
| Car | Driver | Hometown |
| 7 | Dylan Ward | Walkertown, North Carolina |
| 1 | Trent Barnes | Forest Hill, Maryland |
| 99 | Doug Barnes Jr. | Forest Hill, Maryland |
| 0 | Landon Pembelton | Amelia, Virginia |
| 2 | Ryan Wilson | Randleman, North Carolina |
| 17 | Jason Myers | Hurt, Virginia |
| 15 | Kres VanDyke | Abingdon, Virginia |
| 5 | Jaiden Reyna | Cornelius, North Carolina |
| 95 | Sam Yarbrough | Myrtle Beach, South Carolina |
| 21 | Mike Darne | Mooresville, North Carolina |
| 41 | Davey Callihan | Fredericksburg, Virginia |
| 24 | Mason Diaz | Manassas, Virginia |
| 11 | Blaise Brinkley | Sanford, North Carolina |
| 88 | Brad Housewright | Kingsport, Tennessee |
| 19 | Jessica Cann | Trinity, North Carolina |
| 78 | Corey Heim | Marietta, Georgia |
| 1 | Daryn Cockram | Draper, Virginia |
| 51 | Matt Cox | Longs, South Carolina |
| 21 | Steve Zacharias | Myrtle Beach, South Carolina |
| 73 | Bruce Anderson | South Boston, Virginia |
| 99 | Austin Somero | Landrum, South Carolina |
| 28 | Ryan Glenski | Mooresville, North Carolina |
| 07 | Jamie Byrd | Mount Airy, North Carolina |
| 14 | Jonathan Worley | Kingsport, Tennessee |
| 19 | Colby Stottlemeyer | Dauphin, Pennsylvania |
| 07 | Chase Dixon | Abingdon, Virginia |
| 97 | Daniel Silvestri | Ashburn, Virginia |
| 07 | Riley Neal | Walkertown, North Carolina |
| 5 | Carter Langley | Zebulon, North Carolina |
| 55 | Mark Wertz | Chesapeake, Virginia |
| 4 | Parker Eatmon | Mooresville, North Carolina |
| 88 | Dustin Rumley | Brown Summit, North Carolina |
| 6 | Clark Houston | Hickory, North Carolina |
| 1 | Michael Faulk | Huntersville, North Carolina |
| 2 | Braden Rogers | Bakersfield, California |
| 81 | Mini Tyrrell | Manassas, Virginia |
| 8 | Thomas Scott | Mebane, North Carolina |
| 71 | Jake Crum | Taylorsville, North Carolina |
| 50 | Ross "Boo Boo" Dalton | Greensboro, North Carolina |
| 1 | Jamie York | Reidsville, North Carolina |
| 18 | Jason York | Reidsville, North Carolina |
| 03 | Brenden "Butterbean" Queen | Chesapeake, Virginia |
| 1 | Andrew Grady | Youngsville, North Carolina |
| 99 | Layne Riggs | Bahama, North Carolina |
| 15 | Ryan Millington | Statesville, North Carolina |
| 44 | Conner Jones | Fredericksburg, Virginia |
| 2 | Brandon Pierce | Oak Ridge, North Carolina |
| 41 | Magnum Tate | Easley, South Carolina |
| 87 | Mike Looney | Catawba, Virginia |
| 51m | Ryan Matthews | Wake, Virginia |
| 11 | Timothy Peters | Danville, Virginia |
| 57 | Eddie Johnson | Midlothian, Virginia |
| 71 | Katie Hetinger | Dryden, Michigan |
| 45 | Andrew "Bryce" Applegate | Simpsonville, Kentucky |
| 75 | Cory Dunn | Salem, Virginia |
| 90 | Terry Carroll | Williamsburg, Virginia |
| 91 | Justin Carroll | West Point, Virginia |
| 01 | Camden Gullie | Durham, North Carolina |
| 57 | Jimmy Mullins | Bassett, Virginia |
| 14 | Jared Fryar | Trinity, North Carolina |
| 31 | Cole Bruce | Fredericksburg, Virginia |
| 77 | Connor Hall | Cale, North Carolina |
| 66 | Ty Majeski | Seymour, Wisconsin |
| 5 | Dexter Canipe Jr. | Conover, North Carolina |
| 09 | Riley Gentry | Easley, South Carolina |
| 21 | Tommy Neal | Rural Hall, North Carolina |
| 12 | Austin Thaxton | South Boston, Virginia |
| 90 | John Goin | Scottsville, Virginia |
| T2 | Travis Truett | Conway, South Carolina |
| 8 | Carson Kvapil | Mooresville, North Carolina |
| 26 | Peyton Sellers | Danville, Virginia |
| 12 | Kaden Honeycutt | Aledo, Texas |
| 22 | Bobby McCarty | Madison, North Carolina |
| 8 | Tate Fogleman | Durham, North Carolina |
| 8b | Chase Burrow | King William, Virginia |
| 57 | Rajah Caruth | Concord, North Carolina |
| 81 | Adam Murray | Bailey, North Carolina |
| 91 | Chris Elliott | Bullock, North Carolina |
| 28 | Connor Mosack | Mooresville, North Carolina |
| 31 | Clay Jones | Lucama, North Carolina |