2022 Lucas Oil Late Model Nationals at Knoxville Raceway
Jonathan Davenport Gets His First Knoxville Late Model Nationals Win
Jonathan Davenport Gets His First Knoxville Late Model Nationals Win
Jonathan Davenport made a late charge on the top side of the race track to win Sunday's Lucas Oil Late Model Nationals at Knoxville Raceway.
Sep 19, 2022
by FloRacing Staff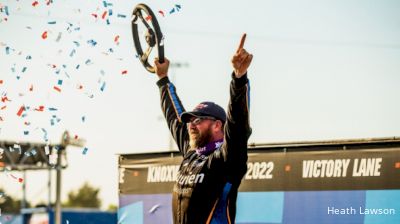 KNOXVILLE, Iowa — Jonathan Davenport's master plan at Sunday's unusual late afternoon event at Knoxville Raceway didn't include blasting around the high side to desperately get back to the front. But sometimes you do what you've got to do.
That was where Dirt Late Model racing's top-ranked driver from Blairsville, Ga., found himself after a pair of miscues when he lost the lead amid traffic on the ninth lap and then chose the wrong lane on a restart a few laps later. In danger of dropping back to fourth position entering the race's late stages, Davenport let it all hang out to track down surprising home-state leader Tyler Bruening in the 18th annual Lucas Oil Late Model Knoxville Nationals.
"I finally said 'to hell with it' and just started just going to the top and spinning the hell out of it," said Davenport, who started outside the front row. "Normally not my style, but this is the way you've gotta do it at Knoxville, even (under) the sun. I was afraid (the track surface) was gonna start rubbering before I could get to Tyler there, but I guess we held on just long enough."
Finally regaining the second spot with eight laps remaining, the 38-year-old Davenport closed in on Bruening and dove underneath him entering turn one on the 48th of 50 laps, securing yet another crown jewel victory during a magical season of 21 victories and more than $1.7 million in earnings for Double L Motorsports.
Davenport's first Knoxville Nationals victory by 1.116 seconds over Bruening narrowed the list of major victories he lacks in his career to just a few — the Dirt Track World Championship among them — but he'll worry about that later while savoring a full-fender victory at the Sprint Car Capital of the World.
"There's so many different circumstances that could've worked out different," Davenport said in victory lane. "But man, this is a good feeling to finally get one here."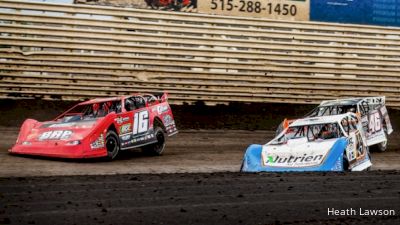 VIDEO: Watch highlights from the Lucas Oil Late Model Nationals at Knoxville.
Decorah, Iowa's Bruening, who led laps 11-47 and came within a whisker of capturing his first-ever national touring victory, held on for second with 11th-starting Brandon Sheppard of New Berlin, Ill., third. Ricky Thornton Jr. of Chandler, Ariz., was fourth and Earl Pearson Jr. of Jacksonville, Fla., who swapped the second spot with Davenport several times, rounded out the top five.
Two major players weren't around at the finish. Lucas Oil Late Model Dirt Series points leader Tim McCreadie of Watertown, N.Y., steered his smoking car off the track on the 14th lap with a DNF that allowed Sheppard to cut the lead in the title chase to 100 points down from 195. And polesitter Bobby Pierce of Oakwood, Ill., who stole the lead from Davenport the ninth lap, lasted just two laps out front before his engine expired, forcing him pitside during a lap-11 caution and handing the lead to Bruening.
Knoxville's Late Model showcase is traditionally on Saturday evening, but a deluge of Saturday rain and threat of more Sunday evening shifted the event to Sunday afternoon. When hot laps and a consolation race left the track on the verge of being a one-laned bore, Knoxville's crew went back onto the historic half-mile oval for a massive reworking of the surface.
While drivers during the lengthy break fretted about tire wear and the unlikelihood of multiple-grooved racing, officials elected to cut the feature to 50 laps from its scheduled 75. (The 75 laps was new this year after officials had cut it down from 100 to avoid a fuel stop). And overcast skies that arrived before the 30-car feature rolled didn't bring rain but gave the sunbaked surface a fighting chance.
With the race avoiding the worst fears of a lousy event, the event wasn't looking so good for Davenport before a dozen laps were complete.
"We didn't have the best race car by far, and I made a mistake, first in lapped traffic (on the ninth lap). I thought I might could roll 'em on the outside and let Bobby around me," Davenport said. "Then I chose the bottom (on a lap-11 restart) and I thought that would be better, and let Tyler around me there."
With Pierce's demise handing the lead to Bruening, Davenport spent much of the race's middle stages battling Pearson for the second spot, knowing that he needed to get clear for a shot at Bruening, along with avoiding dropping to the fourth spot behind the charging Sheppard.
"Me and Earl raced — I was trying to race Earl as clean as I could there but I had to get by him — I got a big run on Tyler one time getting in (turn) one on the start," Davenport said. "I could have blasted on in there, but I knew this was gonna be you know his first crown jewel, so I didn't want to take it away from him like that."
Instead Davenport was forced to wait until the closing laps as he cut Bruening's one-second lead on lap 43 to nothing in diving under him entering turn one on lap 48.
"Normally at the end of these races here in Knoxville, they're usually won on the top. But obviously this is a this is a totally different deal here (racing during the daytime so) if I was gonna win one, it'd probably be this one because everything's so different here," Davenport said. "My guys give me just a great car that I could finally go around the top and be comfortable here. I just didn't worry about tearing the tires off of it and I knew the worst was gonna run was top-five, but we was gonna go for a win there. Brandon almost got by me and that that would have spoiled the party."
Despite failing shy yet again in national touring competition, Bruening held his head high during his postrace interview, bemoaning the race wasn't just a little shorter than the updated 50-lap distance.
"I don't know, when you're out front for 48 of 50 laps, it's pretty tough to move out of your line that's worked the whole race. I didn't see my guys stick-signaling there until I was getting off a (turn) four and I could hear (Davenport's) engine by that point" as he geared up for the winning pass.
"We had a hell of a race car," said Bruening, the Skyline Motorsports teammate of Shane Clanton, Thursday's preliminary winner. "It was fun to run up front. Just got beat by the best in the world right now. I'd like to think that maybe he was a little nervous for at least half the race there."
Added Bruening: "Hell, we're just a small-town team from Iowa trying to make it with the big dogs, so super-proud, super-happy with our performance here. I'm disappointed but I'm happy, too."
Sheppard's points gain accompanied his pleasure for a third career top-five finish at Knoxville's major event.
"It feels really good to run in this run good in this race, you know. We've had a lot of good runs here so I kind of expected to run good to a certain extent, but we had a really good car there. Man, I wish it was more laps now because I think we were getting better there at the end," he said. "It's unfortunate for Timmy, but we all have bad luck, you know what I mean? So that's part of the game. He's still got a pretty good lead so we've still got a lot of work to do. Him and his team, they're really great points racers, and I feel like we're really good, too. So I'm sure it's gonna be close at the end, but we're just going to do the best we can do and it's going to play out the way it plays out."
Four cautions slowed the race, all between laps 10-22. Justin Zeitner stopped to draw a lap-10 yellow, then Hudson O'Neal slapped the turn-one fence on the 11th lap after breaking a shock (Pierce retired during the caution). Aaron Marrant fell off the pace for a lap-20 caution and Chris Simpson stopped to draw the final slowdown on lap 22.
McCreadie's departure came after 13 laps and two-time race winner Jimmy Owens retired after a single lap. Mike Marlar of Winfield, Tenn., who had won Knoxville's finale in his previous three visits, wasn't a threat during the weekend and parked on the 30th lap while running 21st.