2022 Lucas Oil Late Model Nationals at Knoxville Raceway
Knoxville Prelim Win Is The Turnaround Bobby Pierce Sought
Knoxville Prelim Win Is The Turnaround Bobby Pierce Sought
After parking his car on Thursday, Bobby Pierce bounced back by winning Friday's Lucas Oil Late Model Nationals preliminary feature at Knoxville Raceway.
Sep 17, 2022
by Kyle McFadden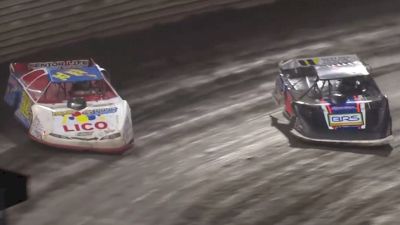 KNOXVILLE, Iowa — With his gung-ho driving style and affinity for the cushion, it's often overlooked that Bobby Pierce is christened the Smooth Operator.
On Friday's final preliminary night of the Lucas Oil Knoxville Late Model Nationals at Knoxville Raceway, there was no way to miss the 25-year-old's path to victory: a clinic of how to effectively exploit the half-mile's advantageous but tricky inside berm.
"We were rolling good around the bottom for a change," Pierce said. "I was telling my dad, luckily we were good on the bottom because the top side was a long way around there tonight. It widened out really good. It was really good racing."
Bypassing his perceived bread and butter most of the evening by making headway around the very bottom of the black-dirt oval also powered Pierce to the pole position of Saturday's 75-lap, $50,000 crown jewel event.
Staying along the lines of versatility, Pierce's $7,000 win Friday became his third victory in eight days at three of the most venerable racetracks in all of dirt racing in Ohio's Eldora Speedway, Fairbury (Ill.) Speedway and Knoxville.
"It says a lot about the team right now," said Pierce, who won his World 100 prelim at Eldora last Friday before winning Tuesday's Castrol FloRacing Night in America event at Fairbury. "We're really able to maybe go anywhere. I wouldn't say anywhere because I know down South I might be in trouble, but besides that, this says a lot about the team."
If Pierce were to win Saturday's Knoxville Nationals at the Sprint Car Capital of the World, the victory would join his assortment of other crown jewels already won in his young career with the World 100, North-South 100, Show-Me 100 and Silver Dollar Nationals. And for that to happen, he's going need to fend off the driver everyone talks about these days in Jonathan Davenport, the six-time crown jewel winner this season set to start from outside the front row.
Through the prelims at the World 100 last week, there was a strong notion that Davenport seemed destined for another overwhelming triumph on the biggest of stages. That turned out to be true when Davenport won his fifth World 100 in eight years. On Saturday, perhaps the ball is now in Pierce's hands.
"I don't think I have the car to win (at Knoxville) because I don't know what the car to win feels like here," assessed Davenport of his prospects for a Knoxville victory.
Whether Davenport's keeping secrets or not, Pierce's outing Friday was as encouraging as it gets after he failed to qualify for Thursday's prelim, which wasn't from a lack of effort, but rather an act of avoiding too much effort.
On Thursday — when demanding track conditions made it supremely difficult to pass — Pierce parked his No. 32 that adorns a livery inspired by fictitious race car driver Ricky Bobby from the movie "Talladega Nights" and hoped to somehow rebound the following night with a better points performance.
Pierce had been among the many drivers that vocalized their frustrations with the opening night racing surface, saying "they need to give us a better racetrack. We come here to race and that's not racing."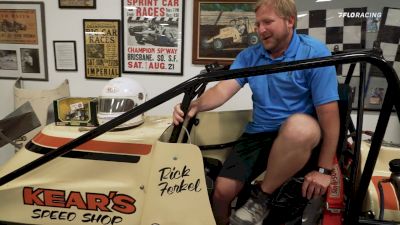 VIDEO: FloRacing's Derek Kessinger tours the Sprint Car Hall of Fame at Knoxville Raceway.
The Oakwood, Ill., driver also bemoaned his World 100 performance last Saturday and wished the Eldora track surface hadn't been so bottom dominant, which saw Davenport, the polesitter, win convincingly while Pierce could hardly utilize the top in a 14th-to-sixth drive.
Pierce was able to relieve those tensions Friday to win his heat from sixth and drive to his 18th win of the year from the fifth-starting spot. In hindsight, Pierce believes some frustrations that pertained to Thursday's difficult track conditions had carried over from Eldora only a handful of days ago.
"I still feel like there's some tension still," Pierce said. "Whenever we go to a big half-mile like this, we want the track to be in as perfect shape as it can be because if not it can be so hard on motors. I think there was like seven people that blew their engines yesterday? Of course it was hard on stuff.
"Tonight, they made up for it, I feel like, not because we won. The track tonight was good. It was finally wide where we could move around on it and make some moves. I know the aero it still an issue with guys that were mid-pack or whatever. We came from sixth from the heat race and won. Came from fifth in the feature and won. We turned it around and it was good. For us, tonight, it was a complete turnaround. To not making the show to winning, it's crazy.
"I was a little worried and a little skeptical early with all the water they were putting on it. Luckily the surface was really hard. It eventually turned into being a really good racetrack … a lot of fun. A really good night for us. We had some luck on our side in a heat race we needed. Starting sixth in the heat is tough with that invert. Winning that was big."
Growing up around the bullrings of Illinois, Pierce didn't know what to initially think of the Knoxville half-mile. He likes to think he's conformed well to the uniqueness of the Marion County Fairgrounds oval in his limited appearances.
In four prior Saturday night starts, Pierce has three top-eight finishes, including a third-place run behind Mike Marlar and Scott Bloomquist in 2016. In 2018, Pierce was tracking down eventual winner Jimmy Owens before he hopped over the cushion and tumbled back to seventh.
If there's anything Friday showed, it's that his fifth attempt at the Knoxville crown could end euphorically.
"Of course, tomorrow is the big one. Just winning here in general, it's a pretty big win," Pierce said. "This place is very tough. It takes a really good car and really good everything. You have to have everything come your way. It's such a unique track I feel like with how it races when it gets a certain way like it did tonight. It's very unique, like how it has that lip down there. You can ride around that lip.
"The history it has with the sprint cars and everything. Of course, them trying to make the Knoxville Late Model Nationals a big thing will never be anything as big as the sprint cars, or anywhere close, but it still holds a lot of prestige. The prestige it has is big for sure."