2022 Tezos ASCoC Dirt Classic at Lincoln Speedway
Lance Dewease Dominates Dirt Classic Qualifier At Williams Grove
Lance Dewease Dominates Dirt Classic Qualifier At Williams Grove
Lance Dewease led all 30 laps en route to winning Friday's Tezos All Star Circuit of Champions Dirt Classic qualifier at Williams Grove Speedway.
Sep 17, 2022
by FloRacing Staff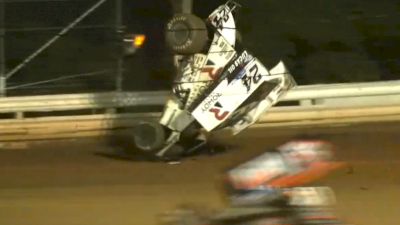 MECHANICSBURG, PA -- For the second time in three tries, Fayetteville, Pennsylvania's Lance Dewease is a Tezos All Star Circuit of Champions presented by Mobil 1 main event winner, adding his additional check to the victory column during Williams Grove Speedway's Dirt Classic Qualifier on Friday, September 16. The victory, resulting in a $7,000 payday for the National Sprint Car Hall of Famer, was acquired from the front row, leading all 30 circuits at the world-famous paperclip to ultimately clinch a starting spot in Lincoln Speedway's $20,000-to-win Dirt Classic IX.
Myerstown, Pennsylvania's Brent Marks chased Dewease to the final checkers, followed by TJ Stutts, Buddy Kofoid, and Danny Dietrich.
"I knew if we got a good start, it was going to be tough to pass us…the track was so fast tonight," Lance Dewease expressed in Williams Grove Speedway victory lane. "The corners actually widened out more than what I thought they were going to. I kept glancing up at the scoreboard and wondered to myself if Brent [Marks] was going to get going there late. We took advantage of our draw and got ourselves here."
Quick from the start, Dewease's march at the front of the field was relatively unchallenged. It was not until a late run-in with traffic that gave Dewease a fit. Stuck behind a lapped car with ten remaining, the momentum shift allowed Stutts and Marks to close, but as soon as Dewease was able to clear the slower competitor, the now 44-time All Star winner ran away.
After laps of trying, Marks would eventually get by Stutts with two laps remaining.
As noted, the All Stars will cap their final weekend in Posse Country with the $20,000-to-win Dirt Classic IX at Lincoln Speedway in Abbottstown, Pennsylvania, on Saturday, September 17. One of the highest paying programs on the 2022 All Star campaign trail, the special event will utilize a twin heat race format with passing points setting the bench for the A-Main lineup.
For those who can not witness the All Star Circuit of Champions live and in person, FloRacing.com, the official media partner and broadcast provider of the All Stars, has you covered. To access live and on-demand racing action from the All Star Circuit of Champions, visit FloRacing.com and become an annual PRO subscriber. Race fans can see all the USAC and dirt late-model action they want in addition to Eldora Speedway's slate of races and those of the All Star Circuit of Champions. The subscription unlocks access to premium content across the entire FloSports network. Watch the events across all screens by downloading the FloSports app on iOS, Android, Apple TV, Roku, Amazon Fire and Chromecast.