2022 Tuscarora 50 at Port Royal Speedway
Anthony Macri Hard Charges To First Tuscarora 50 Win
Anthony Macri Hard Charges To First Tuscarora 50 Win
Anthony Macri charged from his 10th row starting position to win Saturday's Tezos All Star Circuit of Champions Tuscarora 50 at Port Royal Speedway.
Sep 12, 2022
by FloRacing Staff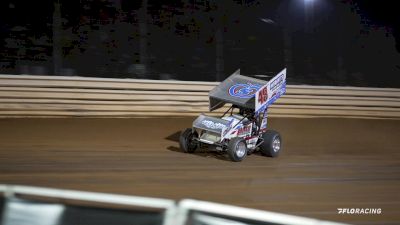 PORT ROYAL, PA -- If scoring a first-ever Tuscarora 50 title was not enough, Dillsburg, Pennsylvania's Anthony Macri secured his place in the Port Royal Speedway and Tezos All Star Circuit of Champions presented by Mobil 1 history books by accomplishing the illustrious feat from row ten, hard-charging his way from 19th to the top of the running in 41 circuits. Resulting in Macri's eighth All Star triumph of the season, this one worth $60,000, Macri utilized a lap 41 restart to power his way to the front, squeezing by now five-time Port Royal Speedway track champion, Logan Wagner, at the top of turn four.
Macri was forced to start 19th after not transferring through his respective heat race. Contact with the outside retaining wall, occurring while battling for the lead with Brian Brown, would cause significant damage forcing the crew to make heavy repairs. Luckily, the team was an automatic starter in Saturday's finale as a result of their Thursday night preliminary win.
"Man, I don't know what to say…I'm pretty speechless right now," Anthony Macri said, driver of the J&S Classics/Valley Supply/C&D Rigging/No. 39M sprint car. "What happened in the heat there with Brian Brown was just a racing deal. These guys busted their asses to get this car ready for the feature. I was actually crying and acting like a little girl in the lounge thinking that I threw the whole night away. These guys never gave up on me, and I figured I wouldn't give up on them in the feature. I kinda lit a fire under my butt and just tried to pass as many cars as I could."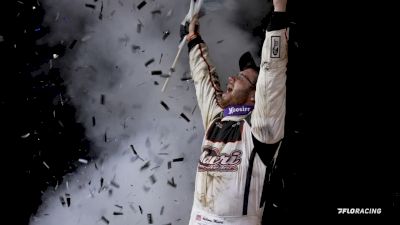 VIDEO: Anthony Macri talks to FloRacing's Tyler Burnett about his big Tuscarora 50 win.
Although aggressively making progress through the field, Macri really made his presence known after a lap 30 restart, passing Gerard McIntyre for fourth on lap 32, then scooting by the "Myerstown Missile" Brent Marks for third on lap 36. Just two circuits later, the 2022 Weikert Memorial and Keith Kauffman Classic champion was second, squeezing by "Double-D" Danny Dietrich with a familiar run off of corner number four. Caution flags would appear again on lap 41 ultimately setting up Macri's aforementioned winning move around Logan Wagner.
Macri would end the 50-lapper unchallenged, leading Brent Marks, who nailed down the runner-up spot on lap 41, Danny Dietrich, Justin Whittall, and Logan Wagner.
Apollo, Pennsylvania's Sye Lynch would go on to win the evening's Non-Qualifiers Race, not only earning a $2,000 payday for his efforts, but also solidifying his spot in the 2023 Tuscarora 50.
A last lap pass over Jeff Halligan would give Lynch the victory, actually leading the first nine circuits before losing command to the same individual.
The All Star Circuit of Champions will return to competition with visits to Lincoln Speedway and Williams Grove Speedway on Friday and Saturday, September 16-17. The weekend will be headlined with Lincoln's annual Dirt Classic awarding $20,000.
For those who can not witness the All Star Circuit of Champions live and in person, FloRacing.com, the official media partner and broadcast provider of the All Stars, has you covered. To access live and on-demand racing action from the All Star Circuit of Champions, visit FloRacing.com and become an annual PRO subscriber. Race fans can see all the USAC and dirt late-model action they want in addition to Eldora Speedway's slate of races and those of the All Star Circuit of Champions. The subscription unlocks access to premium content across the entire FloSports network. Watch the events across all screens by downloading the FloSports app on iOS, Android, Apple TV, Roku, Amazon Fire and Chromecast.