2022 Short Track Super Series Elite at Utica-Rome Speedway
Stewart Friesen Wins Nearly Non-Stop New Yorker 50 At Utica-Rome
Stewart Friesen Wins Nearly Non-Stop New Yorker 50 At Utica-Rome
Stewart Friesen led all 50 laps of Sunday's Short Track Super Series Elite New Yorker 50 at Utica-Rome Speedway.
Sep 6, 2022
by FloRacing Staff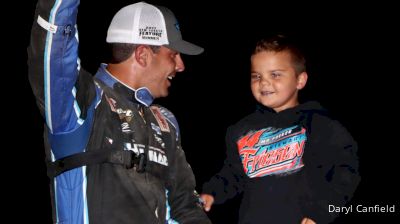 VERNON, NY — 'The New Yorker' belongs to Stewart Friesen. From his pole starting position, Friesen led all 50 laps – 49 of which went non-stop – to claim the third round of the historic five-race Halmar International 'Elite' Series and $25,000 in earnings at the Utica-Rome Speedway, an event under the Bob Hilbert Sportswear Short Track Super Series (STSS) Fueled By Sunoco banner.
Friesen becomes the third different winner on the 'Elite' Series, joining Ryan Godown (Cherokee Speedway) and Matt Sheppard (Orange County Fair Speedway) as the only winners to capture victories and the $25,000 payday that follows.
The event also served as the eighth race of the River Valley Builders North Region.
"This feels so good," an ecstatic Friesen said in Victory Lane. "We've been looking forward to this series since it was announced and just had no luck. What a great race car tonight."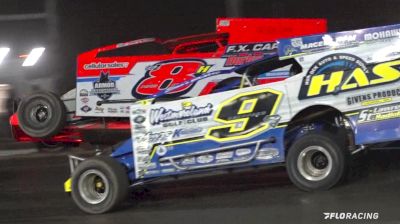 VIDEO: Take a look at behind-the-scenes sights and sounds from Utica-Rome Speedway.
Entering Sunday night, Friesen sat just 16th in points after an 18th-place finish at Cherokee and a 14th at OCFS. His night wasn't easy, though, as the Halmar-sponsored No. 44 drew the 10th spot in Qualifier No. 3, but quickly advanced to finish as the runner-up, locking into a redraw position.
After drawing the pole, Friesen and Ryan Godown led the 30-car field to the opening green before the only caution of the race slowed proceedings on the second lap. When the race restarted for the second and final time, Friesen led Demetrios Drellos, Godown, Jimmy Phelps, Max McLaughlin, Tim Fuller, Peter Britten and Matt Sheppard, the 10th-place starter.
While Friesen ran away and hid from Drellos, a massive brawl for the final spot on the podium ensued. Godown, McLaughlin and Phelps waged war for a dozen laps and, as they began maneuvering lapped traffic, Fuller and Britten entered the fray.
Sheppard was moving quickly, though, gliding under Britten for seventh on lap five, then snatched sixth from Fuller just two laps later and broke into the top five on lap 11 when he blitzed the top around Phelps.
While Sheppard was inching forward, McLaughlin continued to work on Godown for third. "Mad" Max utilized the middle, just a groove below Godown but just couldn't clear the No. 26; the pair entered Sunday as the top-two contenders in the Elite Series championship hunt, a title worth $25,000.
Finally, after switching to the extreme bottom right around the infield tires, McLaughlin took third and surged ahead on lap 16. Phelps and Britten continued battling up until Britten pulled off the track and into the pits on lap 19.
On lap 20, as the race neared halfway, McLaughlin surrendered the third spot when he went over the embankment through the middle of turns one and two. Sheppard slipped by and on to the podium, as he, McLaughlin, Phelps, Godown and Fuller were all within a few car lengths.
With Sheppard separating from that group, Phelps and teammate McLaughlin ran side by side as Godown and Fuller did the same just behind them. On lap 34, Mat Williamson entered the fun, passing Godown for seventh, then Phelps for sixth on lap 43.
Up front, Sheppard closed on Drellos while slicing through lapped cars and eventually made the pass on lap 42. But, without any cautions after lap one, the driver of the No. 9s settled for the runner-up spot as Friesen lapped up to 12th and crossed the line with more than a five-and-a-half second gap over Sheppard.
"We had a great race car tonight," Friesen said. "We've had a really tough couple of months, but our team has worked really hard and it feels really good to finally pick up a big win.
"At the All Star (Circuit of Champions) race, I parked next to Sunshine (Tyler Courtney) and told him that the bottom usually is the place to be and then Justin Peck ripped the lip the whole race to win," Friesen said with a laugh. "Tonight, I just tried to get rolling up there and figured I'd be alright."
In a tremendously competitive field, Sheppard advanced from 10th to second in a virtually non-stop race.
"When it's caution free and Stew is on the pole and you draw No. 10, you're just not going to make up that distance," Sheppard said on the home stretch. "We had another really good race car, good enough to drive to second, but we just didn't have luck on our side tonight; we've had it a lot lately, just not tonight."
As Friesen maneuvered lapped traffic, he was taking notice where Sheppard, who has 11 wins at the 'Home of Heroes', ran on the speedway.
"Matt's been so good all year and I saw him creeping up the leaderboard all race, I just needed to keep moving" he said.
Drellos, who has a podium finish at the 'Slate Valley 50' at the Devil's Bowl Speedway this year, matched his career-best STSS result in third.
"Tonight had fantastic racing," Drellos happily mentioned. "This track: smooth, slick, no holes is just how I like it."
The remainder of the top five – Fuller and Williamson – came on strong late in the race. Fuller started fifth, dropped as far back as eighth before surging back to fourth in the final 10 laps. Williamson, the 11th-place starter, was ninth on lap 19 and still eighth with 16 to go but was able to grab fifth in the waning laps.
Making up positions six through 10, respectively, were: McLaughlin, who stashed away another top-10 finish in Elite Series action, his third in three races; teammate Phelps with a strong seventh-place result; Billy Decker finished eighth and spent the entirety of the 50-lap event inside the top 10; Godown wound up ninth, also his third top-10 finish in Elite Series competition, and firmly in the hunt for the $25,000 championship; and Larry Wight needed a provisional after losing a rear in his qualifier and surged from 26th to 10th to stay in contention for the title while entering the night in third.
In the Worthington Industries Crate 602 Sportsman main event, Matt Janczuk took the lead on lap 15 and scored yet another feature win, cashing in $1,000 over Willy Decker Jr., Payton Talbot, Rocco Leone and Allan Hodge.
Josh Coonradt also banked $1,000 in the Next Generation Graft Pro Stocks and Connor Prokop won the $500-to-win Fastline Performance Limited Sportsman race.
In two weeks, the Halmar International Elite Series and the River Valley Builders North Region resume at the Fonda Speedway for the 'Fonda 200.' The winner will earn $53,000 and all feature starters will cash in $1,000 at the massive spectacle at the 'Track of Champions,' scheduled for Thursday, Sept. 15 and continuing through Saturday, Sept. 17.
To learn more about the Short Track Super Series Fueled By Sunoco, visit www.shorttracksuperseries.com, e-mail bdmotorsportsmedia@gmail.com, check out 'Short Track Super Series' on Facebook or @ShortTrackSS on Twitter or Instagram.